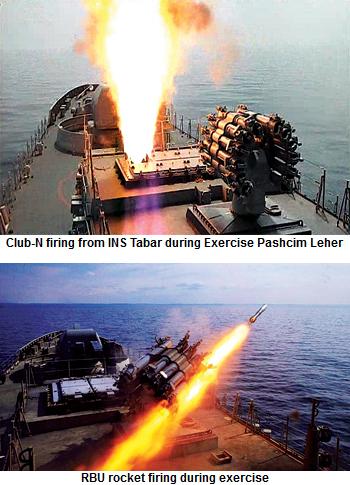 The Western Naval Comand on November 11, 2016, concluded a major operational exercise conducted at the vast expanse of the Arabian Sea. Although such exercise is carried annually during the campaign season in both eastern and western theatres, the scale of this year's exercise was upped substantially, owing to prevailing tense environment in the western theatre. The nine-day-long exercise, which began on November 2, 2016, was thus appropriately code-named as Exercise Paschim Leher (XPL). XPL was configured to extensively test the combat readiness and efficiency of the Command at sea, including the vital aspects of mobilisation and operational synchronisation.
All components in the three dimensions of the naval warfare were enshrined in XPL with the participation of large number of ships, submarines and aircraft. The exercise comprised both the operational and tactical phases. Various manoeuvres and deployments were exercised, in a networked environment, with the participation of a large number of both ancillary and shore support units and agencies also participating.
As is customary the coordinated exercise also saw participation of Indian Air Force, with a number of aircraft, and Indian Coast Guard units. Proactive operations as well as defensive operations were exercised, including various contingencies off the coasts of Gujarat, Maharashtra, Goa and Karnataka. XPL most successfully accomplished its operational objectives.