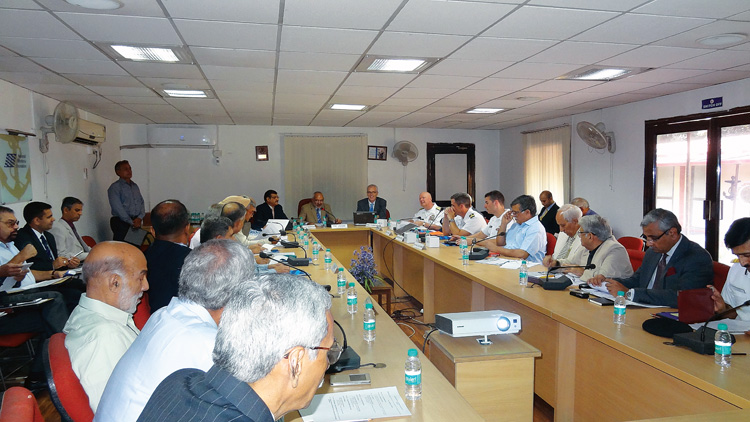 The bilateral conference in progress
The Seventh sesion of the bilateral conference between the National Maritime Conference (NMF) and Centre for Naval Analyses (CNA) was held from October 13-14, 2016. The mutually agreed upon theme for the Conference was "Towards India-US Joint Strategic Vision: Convergence and Challenges". The concept note of the conference enshrined the perspective that the Asia-Pacific region will be the driver for the global economic growth in the 21st century. Within the ambit of this perspective, cautionary signals were and continue to be hoisted that this region will remain most volatile with a multitude of security challenges which have the potential to destabilise the region.
"US-India Joint Strategic Vision for the Asia-Pacific and Indian Ocean region" was announced after the visit of President Barack Obama to India as the chief guest for in Republic Day the 2015. The vision has now been further strengthened with the signing of a number of important pacts between the two countries, the most notable being the Logistics Exchange Memorandum of Agreement (LEMOA) and the renewal of the Defence Framework Agreement for 10 years, the most important element of which is the Defence Technology and Trade Initiative (DTI).
Introductory Session
Admiral D.K. Joshi (Retd), Chairman, NMF
In his welcome address highlighted that China, by its economic and military capacity, is the most significant player in the region. It is the largest trading partner for India and second largest for the US. While China's remarkable economic growth is welcome across the world, its strategic aspirations and consequent actions have created regional tensions that have the potential to destabilise the region. Chinese maritime claims in the South China Sea (SCS) threaten freedom of navigation (FoN) and sovereign rights of other claimant states. The recent Award by the Arbitration Tribunal has denied legality to Chinese activities in the SCS but has been met with hostile rhetoric from China.
Thus the two-day conference was designed to examine convergences of views and interests in the Indo-US relations that may be used to further strengthen the bilateral relations. It also aimed to identify divergences that may hamper the fulfilment of the potential that this partnership has.
Dr Eric Thompson, Vice President and Director of CNA Strategic Studies, recognised the growing importance NMF-CNA Bilateral Conference and complimented the organisers for choosing the themes which will contribute to meaningful dialogue, exchange of views and ideas to further strengthen the relations between two countries.
Session I: Geopolitical and Security Environment and Opportunities
Chair — Vice Admiral R.K. Pattanaik (Retd)
The Chair reiterated the relevance of Indo-Pacific-contiguous geographical entity for India as the centre for global economic and strategic interest. He pointed out that although piracy in the Western Indian Ocean has declined, at the same time extra-regional powers have increased their presence in the maritime domain. Terrorism being the epicentre in the region and increasing threat of use of tactical nuclear weapon by Pakistan should be serious cause for concern.
CNA: Dr Eric Thompson
Dr Eric Thompson in his presentation highlighted that the trans-regional and global dimensions come into play for the US interest and geostrategic perspectives. Washington is facing aggressive behaviour in diplomatic, financial, political domain and cooperation in climate change. PLA is becoming progressively more global present due to expansion and military modernisation. Russia's perceptions of international laws and norms seem significantly different from the US. It is expanding its military infrastructure and ballistic capabilities and positioning itself again in Cuba.
NMF: Dr Vijay Sakhuja
Dr Vijay Sakhuja highlighted economics shaping political and military discourse in the Indo-Pacific, importance of trade and energy flows, strategic tapestry to include dependence on sea-lanes, economic prosperity intertwined with maritime security, cooperation overload in the IOR-IONS, (Indian Ocean Region-Indian Ocean Naval Symposium), Asia-Pacific Economic Cooperation (APEC), East Asia Summit (EAS), ASEAN Defence Ministers' Meeting Plus (ADMM+), Indian Ocean Rim Association (IORA) and Western Pacific Naval Symposium (WPNS). Thereafter he pointed out the challenges emerging in the region such as patterns and dynamics of alliances and partnerships in Asia, strategic autonomy/realist mutation of alliance, naval interoperability, neo-maritime security issues, environment and ecology.
Session II: PCA Arbitration in South China Sea (SCS): China's Approach to Regional Security
Chair – Rear Admiral Jeffrey Harley, President of the US Naval War College
Rear Admiral Jeffrey Harley explained the broad contours of the disputes arising over the SCS. He highlighted salient features of the case presented by the Philippines before the Permanent Court of Arbitration (PCA) and the hostile rhetoric and threatening military action by China, post the verdict.
NMF: Commander Prakash Gopal
China's expansive maritime claims have created an unprecedented maritime situation that could not be seen to be solved in the foreseeable future. At the core of the SCS disputes is FoN to allow free movement of trade within the area, which has gained more relevance in the wake of PCA Award. FoN operations by the US are perceived as militarisation of the region which the Chinese leadership uses to ratchet up national sentiments and divert domestic attention from absurd maritime claims.
CNA: Rear Admiral Michael McDevitt (Retd)
President Duterte of the Philippines has infused a stasis in the SCS dispute. Consequently, there is no movement forward as everyone is waiting for him to make a move with China/Russia. He still wants a security alliance with the US, even if he leans towards China. If President Duterte could resolve Scarborough Shoal, then it would remove a Sino-US flashpoint and portends good for the international system. Chinese have concerns with Vietnam for Spratly Islands as it controls 21 of those islands. Vietnamese should be encouraged to dig in and make it difficult for China. FoN should not be used as a deterrent continuously as it would lose its relevance.
Session III: Indo-US Strategic Convergence
Chair – Vice Admiral S.P.S. Cheema (Retd)
The Chair explained that the strategic convergence has become a geopolitical reality in the post-Cold War era. This phenomenon has led convergence in virtually every field. There are more than 50 bilateral dialogue mechanisms in existence. There is a bipartisan will on either side to expand cooperation between the US and India.
CNA: Rear Admiral Michael McDevitt (Retd) - (Dr Satu Limaye)
Strategic convergence is the new mantra for the US and used only for India. Indo-US relations are characterised by Five Convergences of Interests—Convergence on security to encompass wide range of maritime and broader issues to ensure prosperous and stable Asia; Convergence of India's AEP and the US Pivot to Asia; Convergence in 'Make in India' and DTTI; Convergence on Counter-terrorism and Holding rule of Law in Asia; and Peaceful resolution of disputes.
NMF: Captain G.S. Khurana
Captain Khurana stated that the centre of gravity of world's economic power is shifting. The US Maritime Strategy in 2007 had announced shift from Atlantic-Pacific to Indo-Pacific. He identified four key determinants of Strategic Convergence; India's Strategic Autonomy, Combined Military Exercises to Combined Operation, Upholding International Law and norms and defence trade and industrial cooperation. Defence trade and industry cooperation can play a key role in reinforcing India-US strategic partnership.
Session IV: Indo-US Naval Cooperation: The Way Ahead
Chair: Dr Eric Thompson
NMF: Cdr Dinesh Yadav
Indian Maritime Security Strategy (IMSS) 2015 included the term 'Net Security Provider'. India seeks a role as a 'Net Security Provider' in the region rather than being 'Net Provider of Security' as a 'Regional Policemen'. The way ahead for cooperation is best served through defence acquisitions being the major enabler of strategic partnership, and transfer of technology to achieve the following:
Balance between ambitious expectations and deliverable realities – Joint Patrols and Coordinated Operations.
Arriving at mutually agreed shared interests.
Ratification of CISMOA and BECA and linking these Tier-II agreements with Malabar.
Expansion of Malabar to include Australia, Singapore and Indonesia.
Placement of Indian liaison officers at US CENTCOM, US AFRICOM and US PACOM.
CAN: Cdr Mathew Trite — (William Wesley)
He presented the following way ahead:
Malabar remains the keystone of our defence relationship.
COMCASA – Communications Compatibility and Security Agreement.
BECA – Basic Exchange and Cooperation Agreement for Geospatial Intelligence.
Deterrence (HA/DR) to Maritime Security/Power Projection with all domain access, including cyber up to Sea Control and Joint Power in the Maritime Domain.
Engagement in Multilateral and Interagency Forums – IONS, WPNS and ARF.
Information sharing – ReCAAP, IC (international maritime bureau), IFC.
SE Asia Maritime Security Initiative – effort to work with our allies and partners in SE Asia to build greater regional capacity to address a range of maritime challenges.
Opportunities – CARAT, SEACAT exercises; Pacific Partnership (humanitarian assistance project of USN); Bilateral and multilateral PASSEX of opportunity; MPRA collaboration; Submarine cooperation.
Session V: Perspective of Blue Economy and SDG 2030
Chair: Vice Admiral S.K. Jha (Retd)
During the Session Cdr Kapil Narula, NMF deliberated upon the salient aspects of the blue economy (BE) by bringing out that the BE comes from the lens of development and broader maritime agenda. He gave a detailed historical perspective of the BE. BE is hotly debated among the economists, environmentalists, strategic and maritime analysts, etc. BE is integration of ocean economy development with principles of social inclusion, environmental sustainability and innovative, dynamic business models. Rear Admiral Michael McDevitt (Ms Nilanthi Samarnayake) shared his perspective on this issue which was in convergence with deliberations during the Session.
Session VI: Panel Discussion - Managing Divergences in Strategic Outlook
The concluding session was the summation of the proceeding of the conference in the shape of panel discussion. The participants from NMF were Admiral D.K. Joshi (Retd), and Dr Vijay Sakhuja from CNA; Dr Eric Thompson and Rear Admiral Jeffrey Harley.
The PCA ruling makes it very clear that there are no land features in the SCS hence EEZ cannot be drawn from it. Ideas like Indian Ocean Rim of the Pacific Exercise (RIMPAC) with either IN or USN could be experimented. It also emerged that not inviting China every year for the Malabar and inviting Japan and other partner countries like Australia, Singapore and Indonesia. sends wrong signal to China. Japan may well want flexibility of not participating in Malabar if there are heightened tensions in the East China Sea or for any other such reasons. It will be more beneficial to retain Malabar in its original shape of Indo-US event.