The profile of Next-Generation Missile Vessel will make the platform very potent and ideally suited for Low Intensity Maritime Operations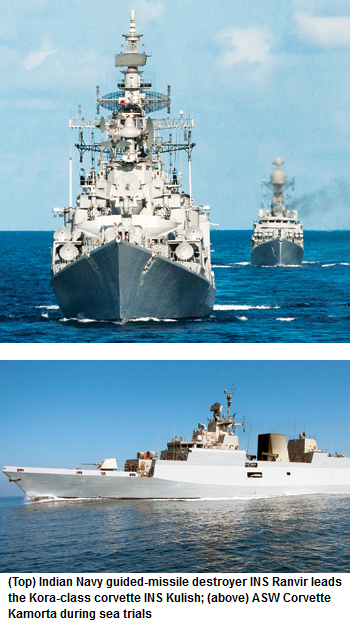 Next-Generation Missile Vessels (NGMVs) is a newly inducted programme into the Maritime Capability Perspective Plan. Under this programme Indian Navy (IN) intends to acquire six advanced missile corvettes. The main capabilities that NGMVs are envisaged to possess are surface warfare capabilities, advanced stealth features like low radar cross section (RCS), acoustic, magnetic and Infrared (IR) signatures, etc. The ships in this class are expected to be armed with anti-ship or land attack missiles, making the platform truly lethal and of high deterrence value. Accordingly in early February 2015, the Ministry of Defence issued a Request for Information (RFI) under 'Buy & Make (Indian)' category of the Defence Procurement Policy 2013 for six new missile corvettes by initiating NGMVs programme. The main aim of the RFI is to finalise the specifications, contours and profile of the NGMVs to meet IN's futuristic requirements after which the requests for proposal will be issued to the selected vendors. The RFI stipulated that the responses from Vendors that meet certain minimum qualifying criteria including the key stipulations that it should be a shipyard that has built vessel(s) of similar types and specifications will only be entertained.
Succeeding paragraphs contain salient features of the RFI aims to make NGMVs lethal and futuristic.
Range and Speed
The range of the ship should not be less than 2,800 nautical miles (about 5,185 km) at sustained economical speed and 1,000 nautical miles (1,852 km) at maximum speed. The maximum speed of the ship should not be less than 35 knots (about 65 kmph). The maximum sustained speed should not be less than 25 knots (about 46 kmph). The ship should be capable of operating at low speed of 10 knots for at least eight hours continuously. Restriction in engine hours should not be an overbearing consideration, to enable flexibility in tasking.
Endurance
The ship should be able to sustain at sea at economical speed for a minimum of 10 days without Operational Turn Around, with 25 per cent reserve fuel remaining on board. The ship should also have the ability to undertake astern fuelling from tankers/capital ships to increase its endurance at sea.
Propulsion
The propulsion system should be able to provide the requisite power to weight ratio required for the ship. The propulsion system should also cater for greater endurance and operations in low speed regimes during Low Intensity Maritime Operations (LIMO) or exclusive economic zone (EEZ) patrols. The main engines should be capable of achieving the rated speed at 85 per cent Maximum Continuous Rating (MCR) of the engine. The propulsion system should be suitably designed to meet the stealth requirements of the ship. The ship's MCR should have automate and remote monitoring and indication and control capability for all machinery including power generation and distribution.
Weapons
The ship should carry a minimum of eight surface-to-surface missiles (SSM). The ship should be fitted with a Point Defence Missile System (PDMS) for providing credible near 360-degree anti-missile defence (AMD) coverage to the ship. It should be able to engage sea-skimming missiles, flying 3-5 metres above sea level, up to a maximum of Mach 3. A gun with stealth features having range not less than 15 km and capability to carry out surface-to-surface, surface-to-air and AMD engagements should be fitted. It should have the facility to be remote using fire control radar as well as electro-optical (EO) sight. The close in weapon system (CIWS) should be with radar and EO guided to double up as LIMO weapon. The placement of CIWS should be such that it provides near 360-degree AMD protection without requirement of course alteration. The ship should be fitted with suitable chaff system to provide passive electronic counter measures capability against in-coming missiles. It should be capable of firing chaff in all-round directions in distraction, seduction and centroid modes.
Stealth
The design of the ship should incorporate features to minimise RCS and IR signatures. IR suppression features should be added onto the ship's exhaust system. Stealth fittings should be considered. The hull should be made of DMR 249A steel (jointly developed indigenously by DRDO/SAIL) and superstructure is to be made of DMR 249A steel/aluminium. Shock mounts and low vibrations to ensure low acoustic noise should also be an integral part of the design.
Conclusion
The RFI on NGMVs leaves out specifics of displacement, though it appears that it could be a 2,000-2,500 tonne vessel, a class smaller than the Kamorta class ASW Corvettes, indigenously designed by DGND (SSG) and built by the Garden Reach Shipyard and Engineers Limited, Kolkata, but larger than the Kora and Khukri class corvettes also from the GRSE stables.
NGMVs could well be an advanced version of Goa Shipyard Ltd. built Saryu class, NOPVs but with powerful weapons package to include SSMs, PDMS, AMD capabilities, etc. However, as against Saryu class, NOPV fitted for carrying Dhruv, light combat helicopter, NGMV does not cater for a helicopter on board. Nevertheless the NGMVs profile will make the platform very potent and ideally suited for LIMO deployments.
A significant and conceptual change in the architecture of this programme is to keep IN's in-house Design Bureau relieved, so as to facilitate the naval architects to focus and concentrate on further consolidation and up gradation of their design infrastructure and capabilities on higher end and futuristic technology platforms.
There are very clear indications that the project will be assigned on an open competition among the private and public sector shipyards within the country. This indeed is a forward looking step to ensure speedy and efficient execution of the project, duly factoring in the orders in hand. This will be a step in the right direction to promote shipbuilding infrastructure within the country and the mission 'Make in India' a success. This programme holds significant promise for the private sector shipyards to engage and develop infrastructure and skill sets for building lethal frontline warships.
The RFI has kept the door ajar for consultations on design and the associated transfer of technology (ToT) for development and construction of the vessels for both public and private sector shipyards. Besides making ToT and its absorption a reality the project upholds immense scope for further expansion and future upgrades through follow-on programmes as the requirement of this futuristic platform can only increase and not decrease.