This year there was an impressive international flotilla complement with an enlarged US Maritime Pavilion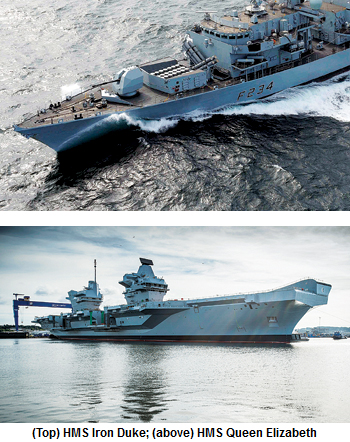 Defence and Security Equipment International (DSEI), the world's leading defence and security event which was held from September 15 to 18 in London, attracted over 30,000 visitors, particularly to witness the technological advances being made by the Royal Navy.
Along with a dedicated Naval Zone, the Senior Service also had three warships present and a twice daily display of Royal Marines capability. The tone was set on day one when the First Sea Lord Admiral Sir George Zambellas focused on the issues of technology and innovation and their role in the Navy's future.
The biennial DSEI exhibition was held in London's ExCel Centre with more than 30,000 people attending over a four day period, with top level international military staff, procurement officials and industry representatives all in attendance.
Her Majesty's Ships Iron Duke, Tyne and Hurworth were alongside to promote technological and equipment developments and act as a platform for industry.
DSEI is recognised around the world as a milestone opportunity to evaluate the full spectrum of maritime defence and security products, technologies and equipment, from the latest warships and craft design to advanced new systems for surveillance, communication, weapons, sensors and navigation.
Impressive International Flotilla
This year there was an impressive international flotilla complement with an enlarged US Maritime Pavilion. Meanwhile, the Zone's dedicated seminar theatre focused on topics of current importance to the maritime community included; maritime security, power projection including amphibious and carrier group forces capabilities, future naval ship design, the future role of offshore patrol vessels (OPVs) and the latest developments in minehunting.
DSEI's venue in London's docklands provided an ideal setting for demonstrations, including high-speed craft for tackling piracy and terrorist threats, unmanned underwater vehicles and other underwater devices
This year it included an expanded marina and in-depth scenarios, encompassing current and future threats to maritime security and naval warfare. This facility offered exhibitors a unique theatre to showcase their related products, technologies and services; providing an environment in which their products were designed to operate, as well as an audience of representatives from potential export markets.
Key exhibitors in the Naval Zone at DSEI 2015 included MST, Startpoint (UK Maritime Mission Systems), Griffon, Vitavox, Analox, Roodberg Trailer, Royal Navy and Cammell Laird. Exhibitors on display outside include Teledyne Marine Systems, C-Truk, James Fisher Defence, Thyssen-Krupp, Navantia, Lurssen, Wartsila, Drumgrange and many more.
DSEI worked closely with various nations in providing a variety of warships and research vessels to be available to visit at the show. This year welcomed more visiting warships than ever before at DSEI, showcasing a greater range of capabilities. The dock provides a valuable platform for demonstrations of new systems and equipment from the innovative maritime sector. The ships at the show included Royal Navy Type 23 Frigate HMS Iron Duke; Royal Navy River class HMS Tyne; Royal Navy Hunter class MCMV HMS Hurworth; Royal Canadian Navy Halifax class HMCS Winnipeg; Belgian Navy Coastal Patrol Vessel BNS Castor; German Navy K130 class Corvette FGS Ludwigshafen; Indian Navy Talwar class INS Trikand and Sea Owl Naval Training Ship VN Partisan.
Waterborne Demonstrations
DSEI's venue in London's docklands provided an ideal setting for demonstrations, including high-speed craft for tackling piracy and terrorist threats, unmanned underwater vehicles and other underwater devices. The waterborne demonstrations held over all four days took place at the Royal Victoria Dock. There were least nine small vessels and RIBs which participated in two daily waterborne demonstrations. The nine small vessels included Atlas (ARCIMS unmanned surface vessel for mine detection); Delta Power RIB (11 m Phantom RIB); Datron World Communications Inc (Sky Ranger remote unmanned surveillance helicopter); Survitec (7.8 m semi-rigid boat, deploying vessel stopping gear); Safehaven (11 m barracuda high-speed stealth interceptor); Supacat (OXE 200 hp diesel outboard with 8 m Rib); Norsafe (8.5 m Magnum project Rib with unique joystick control); Zodiac (SRA 750 7.5 m Sea Rib); and BAE Systems (Pacific 24 Rib from the Royal Navy Type 23 Frigate Iron Duke).
The static display included Chemring – Chaff launcher; Versadock (military pontoon system); Pontoon and Dock (portable pontoon docking and mooring system); and Drumgrange (acoustic device and loud hailer).
RUAG Orders
RUAG Defence has received its first order for the delivery of protection systems to the Irish Navy. RUAG is delivering eight SidePRO-KE kits by September 2015. SidePRO-KE will serve to protect personnel manning the machine gun stations. The package includes training, installation and maintenance. Each ship has four exposed machine gun stations that are manned by a single gunner. Should the ship come under fire, the gunners would be extremely vulnerable. SidePRO-KE provides excellent protection for the machine gun station and its gunner. SidePRO-KE/IED is a polyvalent passive protection system affording protection against AP projectiles, IEDs, artillery fragments and EFPs.
This is the first time that RUAG Defence has landed an order from the Navy. Its protection systems business is thus breaking new ground. Irish Navy personnel will be trained by RUAG so that they can also repair or replace modules that have sustained damage.
Rohde & Schwarz Focus on Naval Communications
Rohde & Schwarz showcased its integrated communications and intelligence systems portfolio. The presentations included an innovation for naval communications: R&S NAVICS—a VoIP-based switching system with a unique security concept. Also on display was the R&S SDTR software defined tactical radio. In combination with high data rate, MANET-capable waveforms, the radio provides secure tactical communications. Rohde & Schwarz also presented its new ELINT solution for detecting, acquiring and analysing radar signals. The system was specifically developed to meet intelligence requirements in difficult signal scenarios.
A series of futuristic concept images on what a new surface ship for the Royal Navy could look like in 2050 has been released by a group of leading British naval electronic systems companies, working alongside the Defence Equipment & Support (DE&S) and the Defence Science and Technology Laboratory (DSTL)—both part of the UK Ministry of Defence. Starting with the battle management nerve centre of the ship — the fighting heart of a ship known as the Operations Room — the concepts were developed by a number of young science and engineering graduates from both the private and public sector who were asked to visualise what an Operations Room would look like, and how the actual ship itself might appear.
The images of the 'Ops Room', as the Navy calls it, are developed around a 3-D holographic command table and communications hubs to give the crew greatly improved situational awareness when engaged in future operations. The command table could be rotated and zoomed, to allow commanders to focus on specific aspects of the battlefield be it in the air, on the surface both at sea and on land, or underwater. Additional, smaller holographic pods would allow the crew to manage those specific environments in greater detail. An operation could be commanded from within visual range, to thousands of miles away from the ship; all managed by five or six people. Any information could be transmitted in real time, secure voice, video or data to wherever it is needed, be it the UK joint headquarters, NATO or other allies.