"We have to convert a good start into lasting progress. This requires translating our vision into sustained action and concrete achievements." — Prime Minister Narendra Modi during the visit of President Barack Obama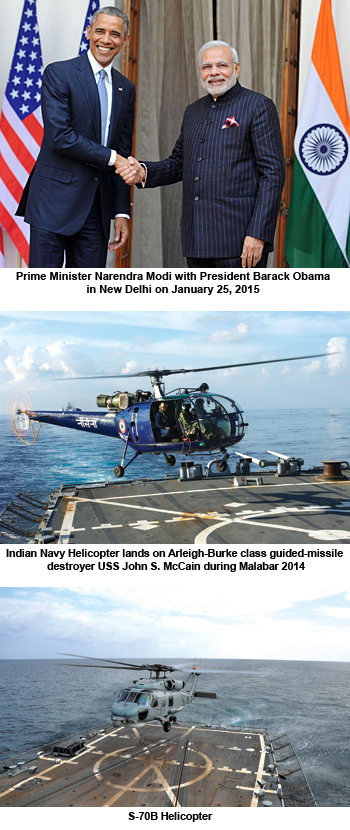 President Barack Obama has said that the United States and India will be one of the "defining partnerships in the 21st century. The US' relationship with India has the potential to alter the power dynamics in Asia and the world, given the two nations combined political, diplomatic, economic and military capacities. A key component of this partnership will be USIndia defence and security ties". The US Department of Defense, while issuing fresh strategic guidelines during January 2012, stressed on "rebalancing" towards the Asia-Pacific region. In the document, allies like Japan, South Korea and Australia were grouped together as existing allies while focus on India was made by stating that the US is also investing in a long-term strategic partnership with India to support its ability to serve as a regional economic anchor and provider of security in the broader Indian Ocean region. The key operative words in this context was 'strategic partnership and security in the broader Indian Ocean region'. This specifically implied maritime cooperation with India in a long-term basis apart from other areas of cooperation. It was clear that the economic and security interests of US were linked with the developments in the region extending from the Western Pacific, East Asia into the Indian Ocean region and South Asia.
Since the 1990s, India and US have been taking baby steps towards each other to establish a framework for defence cooperation. In January 1995, the Agreed Minute on Defense Relations between India and the US was signed. With the rapidly evolving geopolitical environment resulted in both countries signing the 'New Framework for Defense Cooperation', which outlined a number of areas for military cooperation. This was followed by the 'Disaster Relief Initiative' in 2005 and the 'Maritime Security Cooperation Framework in 2006'. Prime Minister Narendra Modi said it all when he stated, "We have to convert a good start into lasting progress. This requires translating our vision into sustained action and concrete achievements," while responding to President Obama.
New Framework for the US-India Defense Relationship
This document was signed on June 28, 2005, in Washington, D.C., by then Minister of Defence Pranab Mukherjee and Secretary of Defense of the United States Donald Rumsfeld. Salient aspects are:
As the world's two largest democracies, the US and India agree on the vital importance of political and economic freedom, democratic institutions, the rule of law, security and opportunity around the world.
We agree on a new framework that builds on past successes, seizes new opportunities, charts a future course for the USIndia defence relationship for the next 10 years. This defence relationship will support, and will be an element of the broader US-India strategic partnership.
The framework will strive to advance shared security interests which include maintaining security and stability, defeating terrorism and violent religious extremism, preventing the spread of weapons of mass destruction and protecting the free flow of commerce via land, air and sea lanes.
To further the objectives of the framework our defence establishments shall conduct joint and combined exercises and exchanges, collaborate in multinational operations, strengthen the capabilities of our militaries to promote security and defeat terrorism, expand interaction with other nations in ways that promote regional and global peace and stability, enhance capabilities to combat the proliferation of weapons of mass destruction, and expand two-way defence trade between our countries.
In the context of defence trade and a framework of technology security safeguards, increase opportunities for technology transfer, collaboration, coproduction, and research and development and expand collaboration relating to missile defence.
Be able to respond quickly to disaster situations and in combined operations, assist in building worldwide capacity to conduct successful peacekeeping operations, conduct exchanges on defence strategy and defence transformation, increase exchanges of intelligence; and continue strategic-level discussions by senior leadership from both sides.
Defence Policy Group. The Defence Policy Group shall continue to serve as the primary mechanism to guide the US-India strategic defence relationship. The framework also established the Defence Procurement and Production Group (to oversee defence trade, as well as prospects for coproduction and technology collaboration), Joint Technical Group, the Military Cooperation Group and the Senior Technology Security Group. They also instituted a Joint Working Group for mid-year review of work overseen by the Defence Policy Group.
The above Defence Cooperation Framework has been renewed for another 10 years during the recent visit of President Obama. Maritime cooperation with US has moved faster than the other two services.
Indo-US framework for Maritime Security Cooperation
Salient aspects are:
Consistent with their global strategic partnership and the new framework for their defence relationship, India and the US committed themselves to comprehensive cooperation in ensuring a secure maritime domain which would include protection of free flow of commerce and to counter threats that could undermine maritime security.
The two countries reaffirmed their commitment to support to enhance maritime security, including initiatives undertaken by the International Maritime Organisation and other relevant UN programmes.
India and the United States will address as considered appropriate maritime threats, including: piracy and armed robbery at sea; threats to safety of ships, crew, and property, safety of navigation; transnational organised crimes in all dimensions; the illicit trafficking in weapons of mass destruction, their delivery systems, and related materials; environmental degradation; and natural disasters.
To implement the above initiatives, the two countries will:
Hold regular maritime security policy and implementation discussions in the Defence Policy Group, the Naval Executive Steering Group, and Military Cooperation Group.
Prevention of, and response to, acts of transnational crime at sea such as piracy, armed robbery at sea, smuggling, and trafficking in arms and drugs.
Search and rescue operations at sea.
Cooperate on combating marine pollution.
Enhancement of their cooperative capabilities in the maritime domain through technology cooperation and defence trade, as well as an appropriate agreement on logistic support.
Indo-US Maritime Cooperation
The areas of maritime cooperation broadly pertain to operations, training, humanitarian assistance and disaster relief (HADR), policing duties, intelligence sharing, joint patrolling and sharing of technology. There are many impediments in the pursuance of maritime cooperation. One of the primary one is that India has been traditionally following a policy of 'Strategic Autonomy' which makes it difficult to become very close specially to the US. In the first UPA Government, the Left parties were part of the coalition. They vehemently opposed any relationship with the US which included the Civil Nuclear Deal and carrying out joint exercises. Even terms like 'Interoperability' can be questioned as it can be interpreted as a military alliance. In the US defence manuals interoperability is defined as follows:
The ability to operate in synergy in the execution of assigned tasks.
The condition achieved among communications-electronics systems or items of communications-electronics equipment when information or services can be exchanged directly and satisfactorily between them and/or their users. The degree of interoperability should be defined when referring to specific cases.
The first definition outlines the method to carry out joint operations across a range of military missions. The second definition is more narrowly aimed at communications and electronic systems. Both can be interpreted as required. At the macro level the term cooperation is more acceptable. The other area is budgetary constraints which can delay any decision. The other constraints are Communications and the Information Security Memorandum of Agreement (CISMOA), Basic Exchange and Cooperation Agreement for Geospatial Cooperation (BECA), End Users Certificate and Logistics Support Agreement which the US signs with its allies. These make the weapon platform more potent and maritime convergence easier. However, a way has to be found around these agreements to carry the cooperation forward if India at present not keen to sign these agreements. The other areas of cooperation is between the Coast Guard and amphibious forces. India does not have marines for carrying out amphibious operations but there is a dedicated infantry brigade trained for such a task but it does not figure as a priority issue. Things will change now with a strong NDA Government giving clear guidelines and striving to take forward India's engagement with US.
Joint Operations
To carry out joint operations, nations have to have a long history of close relations and deep convergence of strategic interests. India has always been hesitant to join any military alliance, except the United Nations which involves in carrying out joint military operations. During 2005, Admiral Michael G. Mullen, the US Navy's Chief of Naval Operations while speaking at the Seventeenth International Seapower Symposium at the US Naval War College, asked the world's maritime nations to raise what he called a "thousand-ship navy" to provide for the security of the maritime domain in the 21st century. He also candidly admitted to the assembled chiefs of navy and their representatives from 75 countries that "the US Navy cannot, by itself, preserve the freedom and security of the entire maritime domain. The response had been selective from a large number of maritime nations including India as it is keen to preserve its 'Strategic Autonomy' for the present.
Joint Training
This is one area where the Indian Navy has been very active and conduct four exercises with the US Navy. The exercises are Malabar, Habu Nag, Spitting Cobra and Salvex. Habu Nag is an amphibious table-top exercise, Spitting Cobra is an explosive ordnance demolition exercise and Salvex is a salvage exercise. Malabar is the highest profile annual exercise which began in 1992 and includes diverse naval activities to include fighter combat operations from aircraft carriers, maritime interdiction, etc. The aim is to hone on tactics, techniques and procedures (TTPs). Three exercises were conducted prior to 1998, when the US suspended the exercises due to India carrying out nuclear tests. They were resumed after 9/11 attacks in 2002. The ninth edition of the exercise in 2007 was held outside the Indian Ocean, off the Japanese Island of Okinawa. Apart from other features which were customarily part of Malabar, it also included surface and anti-submarine warfare. The exercise included 25 vessels from India, US, Japan, Australia and Singapore. China was unhappy at the conduct of such a large-scale exercise. On January 26, 2015, Prime Minister Narendra Modi and President Obama agreed to upgrade exercise Malabar to make it multi-lateral.
Some other Avenues of Naval Cooperation
There are other avenues of naval cooperation which gives India a greater role in the Asia-Pacific region. The first one is the 'Indian Ocean Naval Symposium (IONS), which is a voluntary initiative that seeks to increase maritime cooperation among navies of the littoral states of the Indian Ocean region by providing an open and inclusive forum for discussion of regionally relevant maritime issues. There are 35 members of the IONS. The inaugural IONS 2008 was held in New Delhi on February 14, 2008. Western Pacific Naval Symposium (WPNS) was established in 1987 with the goals of promoting cooperation between navies of its member countries, strengthening mutual understanding and trust, and safeguarding regional maritime security. It comprises navies whose countries border the Pacific Ocean region. Western Pacific Naval Symposium has 25 nations including observers. India is a observer and US is a member. IONS is on similar lines for the Indian Ocean. With observer status India gets indirectly connected with the Pacific nations. India also conducts Exercise Milan which includes 16 navies of the region (apart from India) held off Port Blair. Shared Awareness and Deconfliction Meeting (SHADE) is an organisation under Combined Maritime Force for information sharing and the exchange of views between stakeholders from force-providing nations, regional countries, international organisations and industry groups. The SHADE meetings are also used as a forum to coordinate and deconflict ongoing military counter-piracy operations in the Gulf of Aden and the western Indian Ocean. India is also a member and regularly attends the meetings. India can also carry out joint policing duties against terrorists, pirates and smugglers.
Escort and HADR Duties
After the September 11, 2001, terrorist attacks, Indian ships escorted US vessels through the Strait of Malacca. But the most intense engagement took place during the December 2004 tsunami that caused widespread destruction and a death toll of approximately 2,30,000 people across 14 countries. Among the countries hardest hit were Indonesia, Thailand and Sri Lanka. Both US and India responded to this with the US deploying a carrier strike group, an Expeditionary Strike Group along with a hospital ship. The Indian Navy deployed 32 ships, seven aircraft and 20 helicopters through the Strait of Malacca. After the success of this HADR, US had a rethink on India's capability and role in the Indian Ocean. Noncombatant Evacuation Operations (NEOs)-is another area where India can participate as the Indian Navy has already displayed its capability when India carried out evacuation of Indian citizens from Lebanon during July 2006.
Modernisation, Technology Transfer and Building of Military Industrial Complex
Other key areas which will deepen the Indo-US Maritime Cooperation are assistance in modernisation, transfer of dual use and other technologies, cyber security, research and development, and developing India's military industrial complex.
Modernisation. Many procurements have been made from US in the last decade or so. The ball was set rolling with the acquisition of Landing Platform Dock INS Jalashwa (formerly the USS Trenton) along with six Sikorsky SH-3 Sea King helicopters were procured from the US in 2005 and commissioned on June 22, 2007. INS Jalashwa is the only Indian naval ship to be acquired from the US. There is an offer for another from US but at present it is on hold. Majority of the Indian Navy ships are of Indian or Russian origin. Subsequently US offered P3 Orion on lease but India decided to acquire the latest P-8I which is a long-range anti-submarine warfare, anti-surface warfare, intelligence, surveillance and reconnaissance aircraft capable of broad area, maritime and littoral operations. The P-8I is a variant of the P-8A Poseidon that Boeing has developed for the US Navy. India signed the contract on January 1, 2009, for eight aircraft and the Indian Navy is the first international customer. Six have been delivered and remaining two will be delivered this year. India has also purchased AGM-84L Harpoon Block II Missiles and Mk 54 All-Up-Round Lightweight Torpedoes for the P-8I. There is an option of acquiring four more aircraft. The Indian Navy has finally selected the US Sikorsky S-70B Seahawk for its shipboard multirole helicopter (MRH) requirement. Sixteen helicopters will initially be bought for about $1 billion. The tender was opened on December 4 (Navy Day), last year. Other key requirements are for naval guns; airborne early warning, electronic warfare, battle management and command and control systems in which Advanced Hawk eye E-2D fits in very well; rotary UAVs; cyber security and anti-submarine and antisurface warfare weapons. Naval Guns are a priority issue as Finmeccanica is under shadow with the Indian Government and its company, Oto Melara is one of the largest naval gun manufacturers in the world thus it will be problem to equip the 40-odd ships, which are under construction, with guns. Thus an alternate source will have to be found with US being the obvious choice. The wish list could be endless.
Technology transfer and building of military industrial complex. The present government wants to promote manufacture and 'Make in India' concept. At present India's military industrial complex consists mainly of the Defence Research and Development Organisation (DRDO), 41 ordnance factories (OFs) and nine defence public sector undertakings (DPSU). Few private companies are participating in a small way. The government infrastructure of the complex is very elaborate including trained manpower although their performance does not match it. The Defence Technology and Trade Initiative (DITI) agreed upon during the recent visit of President Obama, will bolster joint development of weapons and India's military industrial complex. US can assist in transferring core technologies including dual use technologies to hone and streamline DRDO, OFs and DPSUs. The private sector can be dove tailed into this effort with the US becoming a enabler due to their vast experience in the private defence industry. India's strength is IT which also can be jointly exploited to the hilt. Other areas which have been specially asked for are technologies for cyber security, UAVs, aircraft carriers (electromagnetic aircraft launch system) and jet engines.