India is vulnerable when one views it through its maritime domain of a coastline of 7,516 km, touching nine states and four union territories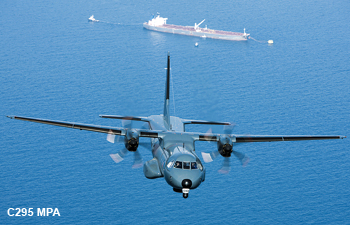 An incident often quoted in the US is that after 13 months of 9/11 attacks, 220 illegal immigrants manage to sneak into Florida by sea. A news helicopter which was hovering nearby detected it and immediately broadcasted the news on national TV. The then Commandant of the Coast Guard, Admiral Thomas Collins was asked by the Transport Secretary, "how in the world did they get through?" The Admiral's reply was "Sir, with all due respect, how did they get through what?" This clearly brings out the freedom and vulnerabilities in the maritime domain.
If this can happen in the United States then India is also similarly vulnerable when one views it through its maritime domain of a coastline of 7,516 km, touching nine states and four union territories. It also has 1,197 islands which accounts to a stretch of 2,094 km additional coastline. There is more than 2.5 million square km of exclusive economic zone (EEZ). The mining areas allotted under the United Nations Convention on the Law of the Sea is about 2,000 km from the southernmost tip of India. Add to this India's 13 major and about 176 minor ports who play a vital role in the overall economic development of the country. About 90 per cent by volume and 70 per cent by value of the country's international trade is carried on through maritime transport. As GDP grows so will be sea traffic. Add to this the continuous movement of all types of vessels for trade, fishing, military, policing, sports and so on. It is understood that there are about 1,50,000 small fishing boats. The Indian Coast Guard operates between 12 and 200 nautical miles (about 21 km to 370 km), which is the EEZ and the Indian Navy extends its operations beyond 200 nautical miles. In order to defend any portion of the maritime domain, it is essential to be aware of the potential threat which may be at the strategical or the tactical level or both. With the addition of terrorism, smuggling, piracy and poaching, the current threat becomes more complex. They can be countered by an active layered maritime defence with the first respondents being the Navy, then comes the Coast Guard and finally the river police.
Maritime Domain Awareness (MDA) is an essential component to counter the maritime threat. Technology is essential to achieve credible MDA which can be from subsurface, surface or airborne platforms. The sensors on these platforms carry out round the clock, all-weather surveillance to search, detect and identify potential threats. All the information collected from the multiple platforms can be fused, analysed, displayed and then disseminated to all commanders as a common operational picture which then can be acted upon. Surface and subsurface platforms routinely carry sensors for MDA which are augmented by other similar platforms in the vicinity. Specialised aerial platforms immensely augment the MDA and come in all shapes and sizes, ranging from manned and unmanned fixedwing aircraft to rotary-wing helicopters.
This article pertains to fixed-wing manned medium-range maritime reconnaissance (MRMR) aircraft. MRMR aircraft are also called maritime patrol aircraft (MPA). They were introduced in service during World War I and included a variety of platforms, ranging from flying boats to bombers (British – Armstrong Whitworth A.W.38 Whitley). As aviation and sensor technology had not developed in the early years thus maritime patrol aircraft carried rudimentary sensors and were armed with a machine gun. During the late 1950s and 1960s, dedicated aerial platforms were developed like the UK's Hawker Siddeley Nimrod and United States' Lockheed P-3 Orion. Nimrod was to be replaced by BAE Systems Nimrod MRA4 but was ultimately cancelled in 2010. P-3 Orion is a four-engine turboprop antisubmarine and maritime surveillance aircraft developed for the US Navy and introduced in the 1960s. It is still current in many countries (like Pakistan) after suitable upgrades. In the US, it is gradually being replaced with P-8 Poseidon which can carry out anti-submarine warfare, anti-surface warfare, shipping interdiction and electronic signals intelligence. MDA is inherent to its capabilities.
MDA
MDA primarily implies surveillance of the maritime area of interest of a nation. The 'interest' may include economic, strategical, security, policing, protection of marine environment, humanitarian assistance and disaster relief, and many more, depending on the special interests of a nation. This can be achieved by:
Capability to carry out round the clock, all-weather surveillance through sensor suites, which may be shore-based, airborne, or deployed on buoys and offshore platforms, as well on shore-based elevated platforms.
The airborne platforms could be fixed wing, rotary wing, manned/unmanned, based on land or ship with varied capabilities depending on the role.
Capable of carrying out open ocean surveillance as well as coastal surveillance. If required integrate capabilities to verify AIS data, identify vessels including crew and cargo. Also be able to integrate information provided by other sources like merchant navy and fishing trawlers.
Integrate and network all existing platforms for sharing situational awareness and producing a common operational picture. Should be able to integrate and network all future acquisitions.
The platforms must have interoperability and be able to transfer data to all concerned.
The above role implies that suitable platforms and sensors are selected with assured communications and computers for threat evaluation.
Some Global MPA Aircraft
Airbus Military C295. The Airbus Military C295 is a new-generation versatile tactical airlifter which is able to carry up to nine tonnes of payload or up to 71 personnel. C295 MPA is the naval variant which can carry out EEZ surveillance, SAR, ASW and anti-surface warfare (ASuW) roles. It has a fully integrated navigation and sensor suite. The underwings can be armed with antiship missiles and torpedoes. The power is provided by twin turboprop engines. The aircraft can patrol a range of 1,800 nautical miles (3,333 km) and can stay airborne for more than eight hours, depending on its configuration. It is also for the first time in 30 years that a completely new ASW aircraft is developed and certified in Europe.
Embraer P-99. The Embraer R-99 and P-99 are military versions of the ERJ 145 civil regional jet. The P-99/EMB 145 MP is the maritime patrol version of the R-99 and can carry on the traditional MPA roles when fitted with suitable sensor suites. It is powered by two AE 3007 turbofan engines. The P-99 also has four underwing hardpoints, which can be mounted with a variety of torpedoes and/or anti-ship missiles. Its maximum speed is 834 kmph, range is 3,019 km plus internal tanks and service ceiling is 11,278 metres.
Bombardier Aerospace. Bombardier Aerospace has delivered over 300 specialised aircraft around the world for a full range of missions like C4ISR, maritime patrol, search and rescue, executive transport, logistics support, etc. Havilland Canada produced Dash 8 or DHC-8 which are now produced by Bombardier Aerospace. and its MPA variant is DHC-8MPA-D8. It is in service with US, Japan and Iceland. D8 is a twin-engined, medium-range, turboprop aircraft and comes in four series, i.e. 100, 200, 300 and 400. Series 400 has a maximum operating altitude of 8,230 m and range (w/typical pax) is 2,522 km.
Falcon 900 MPA. The Falcon 900 MPA is a variant of the Falcon 900 DX business jet. For Falcon 900DX, Dassault has modified the design of the former Falcon 900s to create a much improved aircraft. The frame is almost entirely constructed of carbon fibre and Kevlar (featured specifically in the tailcone, radome and cabin doors). The naval variant can be used for many types of maritime missions like ASW, ASuW, ISR, EEZ surveillance, surveillance of sea lanes of communication), SAR, coastal surveillance, etc. It has a advance mission suite which integrates 360° rotating maritime surveillance radar, forward looking infrared system, ESM suite, acoustic system with sonobuoys launcher and self-protection system. It is supported by an efficient communications suite. It is powered by three turbofan engines equipped, has a cruise speed of Mach 0.85 and range of 1,200 km.
Antonov An-74MP. The An-74MP is a derivative of An-74 transport aircraft. The maritime patrol aircraft ensures security across coastal areas in all-weather conditions. It can also be used for search and rescue (SAR), electronic and radio reconnaissance and for detection of marine pollution. It can also be equipped with cannon, missiles, unguided missiles, aerial bombs and optional anti-ship missiles. It is powered with turbojet engines providing a maximum speed of 725 kmph, range of 3,704 km and endurance of eight to nine hours.
Antonov An-148-300 MP. It has also been reported that Russia may offer An-148-300 MP instead of An-74MP. It's also a high-wing twin-jet but the engines are mounted under the wings. The regional passenger jet like the An-148 is more efficient operations at higher altitude thereby providing better maritime range and time on station. It is also a contender for the India's light transport requirement.
Saab 2000 MPA. The Saab 2000 MPA can carry out multiple maritime patrolling roles like is a ISR, and ASuW. It has an advance sensor and C4I package comprising of 360° rotating maritime surveillance radar, multimode electro-optical sensor, Automatic Identification System (AIS), Identify Friend of Foe, ESM, self-protection system, SATCOM and data link. The aircraft has a maximum cruise speed of 350 kt and patrol speed of 160 kt. It can endure airborne for more than 9.5 hours. It patrols an EEZ of 200 nm for 5.5 hours at an altitude of 2,000 ft. Maximum range of the aircraft is more than 3,700 km.
Alenia Aermacchi ATR 72 MP. The ATR 72 MPA is derived from ATR 72-600 platform for primarily carrying out surveillance and reconnaissance, maritime patrol and SAR missions. It is equipped with Selex Galileo ATOS mission system, which is interfaced with onboard sensors and equipment to perform electronic surveillance, optical reconnaissance, vessel identification and pollution detection. ATR 72 MP is powered by two turboprops engines which provide a maximum cruise speed of 248 kt and an endurance of 10 hours.
Lockheed Martin P-3 Orion. P-3 Orion is a peerless airborne maritime hunter. Its reputation as the ultimate submarine finder was earned through nearly 50 years of service, from the Cuban missile crisis to round-the-clock patrols throughout the Cold War. With 435 aircraft worldwide operated by 21 governments and agencies in 17 countries, the P-3 still remains a reliable MPA. Uniquely suited as the world's premier multi-mission maritime longendurance aircraft, the P-3 performs air, surface and subsurface patrol and reconnaissance tasks over extended periods and far from support facilitie. It is powered by four turboprop engines which provide the P-3 Orion a long-range cruise speed of 350 kt at 25,000 ft, 16-hour fly-time and high ferry range of 8,944 km. It has been reported that the 4-engine C-130J Hercules may be offered as a naval variant called Sea Hercules which is under development.
Boeing P-8A Poseidon. The P-8A Poseidon long-range multi-mission maritime aircraft was developed by Boeing for the US Navy. The aircraft is capable of performing maritime patrol, anti-submarine and anti-surface warfare, as well as intelligence, surveillance and reconnaissance (ISR) missions. It is based on Boeing's nextgeneration 737-800. The Indian Navy also operates a P-8A version designated as P-8I. There are unconfirmed reports that Boeing may offer a modified version of the P-8I to fill the medium range role as well.
Indian Perspective
At present the Indian Navy operates P-8I, Tu-142 aircraft, Ilyushin Il-38, Heron and Searcher Mk-II UAVs for carrying out maritime surveillance. Britten-Norman Islander aircraft was in service for carrying out MRMR role but is not in service now. To cover this gap India has floated a RFP, for nine MRMR aircraft including 38 anti-ship missiles, during August 2013. The RFP was reportedly sent to Airbus Military, Alenia, Antonov, Boeing, Embraer, IAI Elta, Lockheed Martin and Saab. The RFP is reported to state that the aircraft should be capable of flying in transit of 400 nautical miles at 300 knots, and patrol 400 nautical miles for 4 hours at a height of 10,000 feet. The flight capabilities will also include carrying of two missiles with a possible minimum range of about 50 nautical miles. The MRMR must be able to perform maritime reconnaissance, anti-surface warfare, electronic intelligence, electronic support measures, communication intelligence, search and rescue and medical evacuation. The MRMR aircraft will be powered by two modern engines. At present there is not much activity on the MRMR RFP but things may move after the 2015-16 budget.