Being an island nation, all aspects of maritime security are of paramount importance to Japan in order to guard its territorial interest, maritime trade and energy security concerns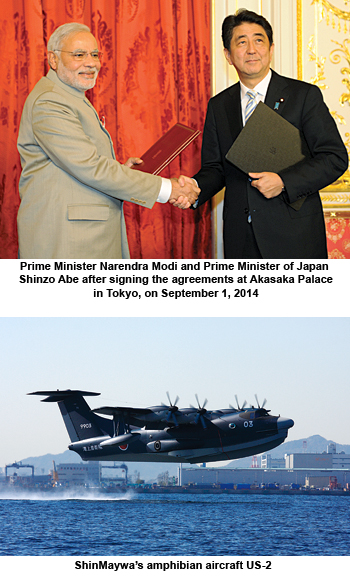 World War II ended with the surrender of Japan in 1945, after the atomic bombings of Hiroshima and Nagasaki. Since then Japan had officially renounced its right to declare war however it maintains a modern military force with the fifth largest military budget. Japan has a security pact with Australia since March 2007 and with India since October 2008. Japan has close economic and military relations with the US. The USJapan security alliance forms the basis of Japan's foreign policy. Japan has territorial disputes with Russia over the South Kuril Islands, with South Korea over the Liancourt Rocks, with China and Taiwan over the Senkaku Islands, and with China over the EEZ around Okinotorishima. Japan also has serious issues with North Korea over their nuclear weapons and missile programme and also abduction of Japanese citizens. Japan has gradually started getting rid of laws which had shackled its defence forces and has started to open up under the current Prime Minister Shinzo Abe. Japanese Ministry of Defence released its Annual White Paper on Defence on July 9, 2013, which was also the first paper issued under the premiership of Shinzo Abe. The paper is high on nationalism and stresses the need to develop Japan's defence forces so that they are capable of guarding the interests of the nation. The updating or modifying the existing laws and organisation will also be carried out wherever necessary to meet national security objectives. The paper has stressed on the preeminence of US-Japanese close economic and defence ties as a corner stone of fulfilling their security needs. Being an island nation, all aspects of maritime security are of paramount importance to Japan in order to guard its territorial interest, maritime trade and energy security concerns. Japan thus wants to take a leading role in maintaining and developing free and safer maritime environment, take necessary steps to counter threats to SLOCs and enhance bilateral/multilateral cooperation on maritime security. Accordingly Japan wants to strengthen its relations with the Republic of Korea, ASEAN and India.
Japan's White Paper on Defence
Japan's latest White Paper on Defence is focused on its maritime concerns specially of China's activities in the East China Sea. It was the 40th white paper since 1970 and released to the cabinet on August 5, 2014. Briefly the white paper called on Beijing to withdraw its unilateral declaration of an air defence identification zone in the East China Sea, during last November. It also called for the retraction of "all measures that interfere in the freedom of flying over the high seas." It is understood that a proposal will be included in the 2015 budget for research and acquisition of an amphibious assault ship by the Maritime Self Defence Forces (SDF) which will also include vessels which can transport amphibious landing vehicles and hovercrafts for operations in outlying islands.
Security of the Oceans
Japan consists of five major islands and 6,847 smaller islands in the North Pacific Ocean and adjacent seas and its exclusive economic zone covers approximately 4.47 million square km which is about 12 times its land area, which places it sixth in the world in terms of the oceanic area that it controls. The total land mass is 3,77,835 square km and coastline is approximately 35,000 km. Thus it is important for Japan to project itself as an oceanic state and follow a balanced approach between peaceful and proactive development and use of the ocean, and the preservation of the marine environment. The Japanese Cabinet approved in March 2008 the Basic Plan on Ocean Policy, which stipulates the policy concerning various measures relating to the oceans, with the objective of promoting such measures. This policy is reviewed periodically and stipulates international cooperation and contribution to the international community, wealth and prosperity through ocean development and exploitation, shift from a country protected by the ocean to a country that protects the ocean, and exploration of new frontiers. The new plan stipulates the force levels required of vessels and aircrafts of the SDF, coordination between the SDF and Japan Coast Guard, and antipiracy operations off the coast of Somalia and in the Gulf of Aden.
Maritime Security Capability Building
Japan is developing its naval capability according to the threat it perceives and to safeguard its national interests. Classically, Japanese Navy's mission remains protection of sea lines of communication and defence of the homeland however due to the developments in the East China Sea, Japan is evolving a more "dynamic defence" strategy to support US Navy carrier strike groups in the seas around Japan. As per experts. Japan has been building up anti-submarine warfare capabilities for decades which indirectly will help in marginally countering China's anti-access/area-denial (A2/AD) threats. The Navy has also been inducting P-1 maritime patrol aircraft, upgraded SH-60K subhunting helicopters and next-generation 3,300-tonne Soryu class submarines which are fitted with air-independent propulsion (AIP) systems. At present the Navy has five attack and 11 older Oyashio class submarines but plans a force level of 22 submarines. In August 2013, Japan displayed the first of two planned 27,000-tonne helicopter Izumo class destroyers which are the largest Japanese warship since World War II and can carry 15 helicopters. Earlier the Navy had commissioned two third-generation 20,000-tonne, Hyuga class helicopter destroyers which can carry 11 helicopters each.
The primary mission of both Izumo class and Hyuga class ships is ASW but they can also carry out other functions like air defence, command and control and, humanitarian assistance and disaster relief. They also plan to replace their remaining two Hatakaze class guided-missile destroyers with the latest Atago class ship (which is a version of the US Arleigh Burke class destroyer). These destroyers are capable of air defence and anti-surface warfare and are equipped with Aegis ballistic missile defence system. Japan has three ships equipped with Aegis system. Between 2014 and 2019, Japan plans to buy three drones from the US, as well as 28 F-35A fighters, 17 Osprey aircraft and five naval destroyers (including two with Aegis anti-ballistic missile systems). Plans are also afoot to acquire six additional submarines to make a force level of 22 during this period. Other developments include increasing deployment at Okinawa, increased ISR and UAV capability and building of a forward monitoring base Taiwan. All these developments will contribute towards defending Japan's maritime environment, denying sea control to hostile navies and security of its sea lines of communications. There are some legal issues which prevent Japan from using military forces to settle international disputes under Article 9 of their constitution but if threat persists then legal ways will be found to overcome it.
Japan's Defence Budget
The formulation of the defence budget is very interesting as it covers a 15-month period that is integrated with the large-scale supplementary budget, based on emergency economic measures. It takes into consideration resources required to counter security threats and meeting with major disasters. Japan has conducted a review of its longterm defence policy guidelines that has set the course for the nation's defence strategy for the next decade. After 11 years of decline, Japan's 2013 defence budget rose last year by 0.7 per cent to $47 billion (4.68 trillion yen). Japan plans to set aside ¥23.97 trillion ($232.26 billion) over the next five years to fund its military expansion. Further increase has also taken place in 2014.
Japan's Defence Industry
Japan's defence industry is very old but came to a complete stop after their defeat during World War II. One example is the family of Arisaka bolt action service rifles designed by Colonel Arisaka Nariakira in production and use approximately since 1897 and used in a limited way during World War II, 1945. The other example is Hosho (literally 'phoenix in flight') which was the world's first commissioned ship that was designed and built as an aircraft carrier, and the first aircraft carrier of the Imperial Japanese Navy. It was commissioned in 1922 and was used for testing carrier aircraft operations equipment and techniques such as take-offs and landings. Japan based their military hardware on European, British and US designs. Post-World War II, Japan developed many type of industrial expertise for civilian use like electronics, automobiles, etc. Since 1970 the policy has been to use only arms developed indigenously. Due to the manifold increase in development cost of modern weapons, the global trend is inclined towards nations joining hands to develop sophisticated weaponry. For example, nine nations including the US joined together to develop F-35 fighter but due to Japan's internal policies they were unable to join them. Since June this year, nearly after 44 years, Japan's Defence Ministry has adopted a new policy on acquiring military equipment that calls for collaboration with other nations in the procurement of weaponry. India along with US, Britain, France, Australia and other friendly nations are considered as potential partners to develop new military equipment and share arms technologies.
Japan's Military Shipbuilding Capability. Japan has more than century old shipbuilding industry. Kawasaki Heavy Industries, Ltd., dates back April 1878 when Shozo Kawasaki established Kawasaki Tsukiji Shipyard in Tokyo. Presently it makes ships and mainly helicopters. The first aircraft carrier in the world 'Hosho' was made by Japan in 1922. Post-World War II, Japan made only merchant ships and became one of the world leaders. The recession in the 1970s, Japan lost its edge and now China and South Korea have overtaken it. Australia is planning on joint development for submarines due to Japan's expertise on AIP-capable Soryu class boats. It is reported that India has also asked Japan to participate in the joint development and manufacture of six stealth diesel submarines. ShinMaywa Industries makes world class amphibious aircraft US-2i which India plans to acquire. It has figured in the talks of former Prime Minister Manmohan Singh and also during the current visit of Prime Minister Modi. There are other companies involved with military shipbuilding like Mitsubishi Heavy Industries, Ishikawajima-Harima Heavy Industries, and Mitsui Shipbuilding. Japan's advanced capabilities in space-based maritime surveillance and sensing have potential for collaboration both for military as well as merchant shipping. The Marine Electronic Highway is the initiative of Japan to be launched under the IMO, for providing safety measures and navigational aids along the sea routes specially where dense sea traffic exists like Malacca Strait. The project aims to link shore-based marine information and communication infrastructure with the matching navigational and communication facilities aboard ships, while also being capable of incorporating marine environmental management systems.
Indo-Japan Maritime Cooperation
India is also important because its shares democratic values, large population, economic growth and its geopolitical important location in the centre of the SLOCs in the Indian Ocean-Pacific region.
India's relations with Japan are very old due to the spreading of Buddhism through China and Korea. Economic cooperation was initiated during 1958 with an Official Development Assistance (ODA) loan which was a first for Japan and over a period of time India has become one of the largest recipients of ODA from Japan. The most popular infrastructure project to have been funded by Japan is the Delhi Metro. Visit of Indian senior dignitaries to Japan has strengthened the relations with Japan and also with the Asia-Pacific region. 2007 was declared as "India-Japan Friendship Year". After the strengthening of economic ties, it was but natural that cooperation in defence and security related issues would follow. The ball was set rolling by a 'Joint Declaration on Security Cooperation between India and Japan' on October 22, 2008, between the former Prime Minister Dr Manmohan Singh and the then Prime Minister of Japan Taro Aso during the former's visit to Japan. The declaration covered a whole range of issues like common commitment to democracy, open society, human rights and the rule of law; fighting terrorism; creating a comprehensive framework for the enhancement of security cooperation between the two countries and so on. It was in three parts, where the first part covers macro issues followed by elements of cooperation, mechanisms of cooperation and implementation. Briefly the maritime issues included are as follows:
Recognising that India and Japan share common interest in the safety of sea lines of communications.
Affirming their common commitment to fight against terrorism and recognising that counter-terrorism efforts by India and Japan, including the Japan Maritime SDF's replenishment activities in the Indian Ocean, constitute an important part in the international community's effort to eradicate terrorism.
Information exchange and policy coordination on regional affairs in the Asia-Pacific region and on long-term strategic and global issues.
Navy-to-navy staff talks.
The two coast guards will continue to promote cooperation to ensure maritime safety, maritime security and to protect marine environment through joint exercise and meeting between the two coast guards according to the memorandum on cooperation signed between them.
In relation to the safety of transport, Shipping Policy Forum will be conducted between maritime authorities and private sectors.
Disaster management.
Service-to-service exchanges including bilateral and multilateral exercises.
Exchange of students and researchers from respective defence institutions.
Cooperation to develop tsunami disaster map in India.
For implementing the above, India and Japan will develop an action plan with specific measures to advance security cooperation in the above areas and report to the Prime Ministers at an early date.
India has been gradually building on its 'Look East' policy. Former US Secretary of State Hillary Clinton had urged New Delhi "not just to look east but also to engage east and act east as well." Prime Minister Shinzo Abe in an earlier tenure had propagated a doctrine of "confluence of two seas" and synergy among "maritime democracies" in Asia. India started with the 'Joint Declaration on Security Cooperation between India and Japan' and has been gradually building on it with basic measures like exchange of visit of naval officers, participating in each other's maritime think tanks, Indian and Japanese navies jointly participating in multilateral exercises (Malabar series) and bilateral exercise (JIMEX 12) but shy of frequent joint exercises with US, Japan and Australia due to sensitivity of China. Another Japanese initiative has been the multilateral effort bringing international coast guards together through the Regional Cooperation Agreement on Combating Piracy and Armed Robbery against Ships in Asia (ReCAAP). Indian Coast Guard has been participating in it and having regular exercises with Japan, the last one being the 13th exercise held during January this year. India is also planning to induct ShinMaywa's amphibian aircraft US-2i which has figured in the talks with both the Prime Ministers. There is also scope for acquiring technology in defence electronics, space and AIP-capable Soryu class submarines as India is planning to design and manufacture six submarines indigenously but with foreign technology where required.
In the recent visit of Prime Minister Narendra Modi to Japan, he told the reporters that "Japan occupies an extremely high position in our foreign policy. The reason is Japan has played a very important role in the development and growth of India." Both the Prime Ministers agreed to work harder to launch a "two-plus-two" security consultative framework involving their foreign and defence ministers. They also agreed to continue joint maritime exercises in addition to trilateral drills conducted with the US on a regular basis. The two leaders agreed to speed up discussions on the conditions for Japan to supply maritime search and rescue aircraft to India, a deal in the works since last December. Abe said it all when earlier he had stated that "the aim should be that sooner rather than later, Japan's Navy and the Indian Navy are seamlessly interconnected."