Since Korea is a peninsula, strong naval forces have been crucial in maintaining stability throughout its history. Without a strong naval force, the country would have been devastated by enemy attacks.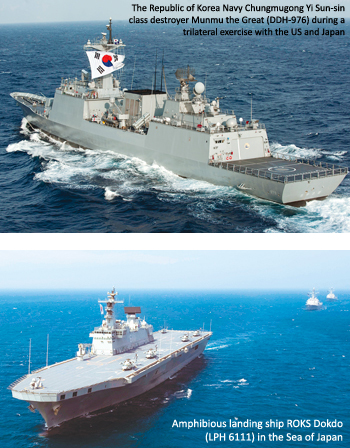 The Republic of Korea (ROK) is located on the far eastern corner of Asia. ROK faces Japan across the East Sea and China across the Yellow Sea. To the north, across the demilitarised zone is North Korea. People began living on the Korean Peninsula and the surrounding area some 7,00,000 years ago. During 1592, Japan invaded the peninsula to pave the way for its adventure into China. Admiral Yi Sun-shin (1545-98), one of the most respected figures in Korean history, led a series of brilliant naval manoeuvres against the Japanese, with his specially designed geobukseon (turtle ship), the world's first ironclad battleship. In the 19th century, Korea remained a "Hermit Kingdom," as it opposed any Western diplomatic and trade relations. Over time, a few Asian and European countries with imperialistic ambitions competed with each other for influence over the Korean Peninsula. Japan, after winning wars against China and Russia, forcibly annexed Korea and established colonial rule in 1910. Japan was defeated during World War II but Korea's liberation did not bring about independence as the country was divided by ideological differences between the US and Russia. This resulted in the division of the country into pro-Soviet-North Korea (Democratic People's Republic of Korea (DPRK) and pro-US-South Korea. DPRK is a communist regime and ROK is a democracy with market economy. During June 1950, DPRK invaded ROK which devastated the entire peninsula. A ceasefire was signed in July 1953. Since then, ROK has developed rapidly and hosted the Olympics in 1988 and co-hosted the 2002 FIFA World Cup soccer games with Japan. Since 1948, when the Government of the ROK was established, it has been able to transform itself one of the world's poorest nations into one of the world's richest nations. Its remarkable economic growth in a short period of time has been dubbed "the Miracle on the Han River". Defence forces of ROK comprise the Army (ROKA), Navy (ROKN), Air Force (ROKAF), Marine Corps (ROKMC) and reserve forces.
Maritime Environment
Korea is a peninsula with the Yellow Sea to the west, the East Sea to the east and the South Sea to the south. To the south of Korea's largest island is the East China Sea. The west and south coast have heavily indented ria coastlines where the tidal range is enormous. It is dotted with many islands thus it is called Dadohae (sea of many islands). The east coast in contrast, is very straight, the water is deep and the tidal range is narrow. The length of the coastal area is 2,413 km.
Maritime Heritage-Early History
Since Korea is a peninsula, strong naval forces have been crucial in maintaining stability throughout its history. Without a strong naval force, the country would have been devastated by enemy attacks.
Baekjae Kingdom: In 396 AD, operating with an amphibious force of 40,000 men, Goguryeo defeated Wiryesung (the capital of Baekjae). Later, in 227 AD, Baekjae established Baekjaegun (Baekjae Military Base) at the mouth of Yangjagang River and conquered Tamla (a state in Jeju Island).
Unified Silla: In 810 AD, Chang Bo-go established the naval base at Cheonghaejin with which he was able to secure control of the seas and suppress pirates, enabling Silla to become the hub of maritime trade.
Goguryeo Kingdom: Admiral Choe Young planned to build two thousand warships to counter-attacks by Japanese pirates. During 1380, he was able to destroy five hundred Japanese ships when they invaded Geumgang River, successfully defending the inland. Goryeo naval forces used guns on their warships for the first time in history.
Joseon Dynasty: During the reign of Joseon dynasty, naval forces reached its peak of 50,000 personnel. During the Imjinwaeran (war against Japanese invasion in 1592), Samdosugun (three province naval force), led by Admiral Yi Sun-shin, blocked off the enemy's sea traffic route and defeated the Japanese fleet in 15 battles, reversing the war in favour of Joseon, eventually saving the country.
ROK Navy
Recent History
The ROK Navy (ROKN) originated from the Maritime Affairs Association which was established soon after World War II in 1945. This later on evolved into the Korean Coast Guard. When the ROK Government was established on August 15, 1948; it renamed the Coast Guard as the ROK Navy. ROKN is also the oldest defence force in ROK.
North Korea invaded South Korea and took it by surprise during June 1950. ROKN participated in the naval operations against North Korea, along with other UN Nation coalition navies including the US Navy. At that time, ROKN had a very modest capability which was restricted to the coast. It had only two old World War II-vintage patrol frigates, about 10 coastal minesweepers and 10 small patrol craft. In spite of being a small force, ROKN made up of this handicap by fighting with great spirit and courage. In the early years, ROKN continued to develop its combat fleet by adding destroyer escorts, patrol frigates, patrol crafts and landing ship tanks. The aim was to counter small craft invading from North Korea and improve its amphibious warfare capability to support the South Korean ground forces. The US Navy Fletcher class destroyers with their five-inch guns and Gearingand Allen M. Sumner class destroyers duly modernised were added to the fleet. ROKN focused more on surface combat than antisubmarine warfare. Obsolete surface combatants were decommissioned and replaced by newer systems. It appears that in this period, South Korea perceived maritime threat from North Korea and made its primary mission as coastal defence and also developing a blue-water navy. ROKN also participated in the Vietnam War by deploying transport ships in the South China Sea.
1970 Onwards: The development and modernisation of South Korean defence capability got a kick-start during the 1970s with the formulation of the Eight-year National Defense Plan, aimed at making the country self-reliant in defence capability by using its domestic technology and industrial resources. The result was the building of Ulsan class frigates and the Pohang class corvettes which are considered as the mainstay of ROKN's fleet in coastal operations. Since then South Korea has not looked back and has indigenously constructed majority of its naval ships. The ROKN selected Type 209 submarine of German origin for its first-generation submarine (known as the Chang Bogo class). The first submarine was imported, second and the third were assembled in South Korea and the fourth was built indigenously. Simultaneously, it added two submarine-rescue ships from the US Navy and acquired another one, built indigenously. ROKN also streamlined its fleet with a fewer type of surface combatants which was easier for maintenance and training. ROKN also reduced its dependence on the US for small patrol craft (PC) by building a large number of indigenously developed Sea Dolphin class and Wildcat class PCFs (PC Fast) in the 1980s and 1990s. These were required to counter the frequent intrusions by PCs of North Korea. Apart from PCF, it also needed patrol killer boat, medium (PKMs). ROKN also increased its mine countermeasures capability by adding a few coastal minesweepers as well as coastal mine hunters. Logistic support ships were also added to the fleet to sustain operations on the high seas.
Amphibious Warfare: ROKN also modernised and improved its amphibious warfare capability by replacing old ships with indigenously built four higher-performance landing ship tank of the Alligator class and introducing high-speed air-cushion landing craft. It also has added a landing platform dock. More would be added considering that it was severely handicapped during the multinational relief operations when tsunami hit Indonesia in December 2004.
Naval Aviation: ROKN has replaced its old S-2 maritime surveillance and patrol aircraft with eight P-3Cs Orion. Twenty-five Lynx helicopters are also in the inventory for anti-surface and anti-submarine warfare.
Anti-submarine Warfare (ASW): The Korean Peninsula is surrounded with water on three sides with Sea of Japan connected by the Tsushima Strait to the East China Sea. Submarines of Russia, China, Taiwan, Japan and the US operate in the region which implies that South Korea has to develop a reasonably strong ASW capability which includes search, detection, tracking, identification and attacking. Thus it has to improve upon the existing ASW force of Lynx helicopters, P-3C Orion aircraft and destroyers.
Striving towards Blue Water Navy: After building a Navy capable of providing defence in coastal and regional waters, ROKN began looking beyond the northwest Pacific region, especially due to South Korea's extensive trade interests across the high seas. ROKN inducted the Germandeveloped Type 214, with air-independent propulsion and named it the Son Won-Il class. ROKN also started the construction of second generation of destroyers (Chungmugong Yi Sun-Shin class) and third generation of destroyers (Sejong Daewang class), almost simultaneously. The third generation of destroyers is equipped with the latest Aegis combat system. ROKN's combat development and its modernisation are remarkable, considering that it is largely indigenous. This has enabled South Korea to participate in international antipiracy operations in the Gulf of Aden. South Korea has also joined the Proliferation Security Initiative (PSI) as its 95th member. The PSI was formed during May 2003 to increase international cooperation in interdicting shipments of weapons of mass destruction, their delivery systems and related materials. This only indicates that the ROK aims at taking more international responsibility and also increasing its global influence. This also includes improved wide area ocean surveillance.
Future Plans
South Korea is surrounded by powerful nations like China, Russia and Japan. It is also a very close ally of the US since the North-South Korean divide. Their confrontation still carries on against the backdrop of strategic and geopolitical environment of the region. All the naval attacks in recent times have been from DPRK starting as early as 1967. During 1999, DPRK Korea intruded in ROK's sea area 11 times, resulting in casualties and injuries on both sides. The worst incident was when a DPRK's submarine torpedo sank a South Korean Navy ship on March 26, 2010, causing the deaths of 46 sailors. DPRK strongly denied any role in the incident, in spite of ROK providing ample proof. There seems to be no other direct threat from any other country in the region. ROK also has the complete support of the US and indirect support of NATO nations. North Korea's military might may not be capable of fighting a full-scale conventional war against South Korea but it can carry on small-scale random operations along the coast with the backdrop of nuclear capability. North Korea is probably making progress on its Hwaseong-13 intercontinental ballistic missile programme. North Korea has also been testing shortrange missiles which have a range of about 1,000 km. All this is a matter of concern for South Korea and its allies. Although ROKN is striving towards a blue water navy, it is also focusing on coastal defence capability. In 2001, South Korea announced a plan for building a Strategic Mobile Fleet (SMF), in order to safeguard its global maritime interests, which was later on scaled down to a group. The aim apparently is to establish an expeditionary Navy capable of overseas operations and countering regional threats to counter regional concerns like China's rapid naval build-up and a potential territorial dispute with Japan over South Korea's eastern-most islets of Dokdo. Finally, South Korea has plans to operate a SMF of two Aegis destroyer-led squadrons in a decade or so. The first squadron is planned by 2015.
South Korea-US Relations
The US along with the erstwhile Soviet Union was involved in the decolonisation of Korea from Japan after World War II. The Government of South Korea was established after three years of military administration by the United States. The US also sends forces to defend it during the Korean War. After the armistice, South Korea and the US agreed to a "Mutual Defense Treaty", under which an attack on either country in the Pacific region would bring a joint military response. The treaty was honoured by South Korea during the Vietnam War. ROKN also participates in the Rim of the Pacific Exercise (RIMPAC). RIMPAC is the world's largest international maritime warfare exercise which is held biennially during June and July of even-numbered years in Honolulu, Hawaii, and hosted by the US Navy's Pacific Fleet. Pacific Rim nations are invited to participate where potential conflict scenarios which may require naval force-on-force engagements. These include the possibility of China invading Taiwan in the event of its declaration of independence and North Korea pitching against South Korea, US and Japan. Many countries including India are invited as observers. The two nations have strong economic, diplomatic and military ties. A free trade agreement was also reported to be having been signed between them during 2007. At the 2009 G-20 London summit, President Barack Obama called South Korea "one of America's closest allies and greatest friends".
Indo-South Korean Relations
During the Korean War, India sent military medical staff as part of the UN force to support South Korea. Formal diplomatic ties were established between both the countries in 1973. Since then many trade agreements have been signed including the Free Trade Agreement. Starting with $530 million in 1992-93, it touched $19 billion in 2012. The two countries have set a new trade target of $40 billion by 2015. Bilateral investment is about $4 billion. India's Defence Minister A.K. Antony and Prime Minister Manmohan Singh have visited South Korea to strengthen the ties. During a talk in the Institute of Peace and Conflict Studies in May 2013, Joon-gyu Lee, the Ambassador of South Korea in India, stated: "Korea did not miss to recognise the new profile of India and evinced much interest in building strong bilateral ties on a range of issues. India has also realised the importance of Korea as a partner in the emerging geopolitical scenario. A definite step in this direction was taken when the two countries established "Long-term Cooperative Partnership for Peace and Prosperity" in 2004. The two countries started an annual Foreign Policy and Security Dialogue to deliberate on regional and international security issues. Subsequently, the two countries laid the foundation for defence cooperation, by signing a memorandum of understanding (MoU) on cooperation in defence industry and logistics in 2005 and another MoU on cooperation between the Coast Guards of the two countries in 2006. The real turning point in bilateral relations came in the year 2010, when Korea and India upgraded their relationship to a 'strategic partnership'. Cognizant of the importance of economic relations in the overall framework of strategic partnership, both Korea and India put in force the Comprehensive Economic Partnership Agreement (CEPA). With these two landmark agreements, the two countries laid down the strong foundation for the future development of bilateral relations. He stressed on the importance of defence cooperation in evolving strategic partnership. "The defence cooperation between the two countries, among others, also envisages cooperation of defence equipment, transfer of technology and joint research and development."
Some other key aspects of defence cooperation are:
Holding of joint naval exercises and military consultations.
Exchange programmes, which include exchange of defence related experience and information, mutual exchange of visits by military personnel and experts including civilian staff associated with defence services.
In 2012, India posted a permanent Defence Attach&e in its Embassy in Seoul, signifying the importance of defence cooperation in evolving strategic partnership. So far the Defence Attaché in Japan also looked after South Korea.
The defence cooperation between the two countries, among others, also envisages cooperation of defence equipment, transfer of technology and joint research and development.
Cooperation in humanitarian assistance and international peacekeeping activities.
MoU signed with the Defence Research and Development Organisation (DRDO) and Vice Commissioner, Defence Acquisition and Procurement Agency (DAPA) of South Korea, with the aim to identify futuristic defence technology areas of mutual interests and pursue research and development work in both the countries. It also envisages co-development and co-production of defence products with Indian industry through DRDO.