The capabilities to enhance strategic reach, flexibility of operations, endurance and firepower, are apparent cornerstones of Indian Navy's maritime doctrine. Except for some stopgap options of import in the past few decades, most of the capability building plan is through indigenous efforts.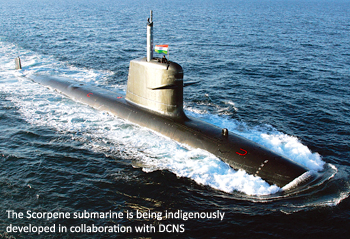 Ever since the First Five Year Plan, Indian Navy planners have demonstrated remarkable consistency in their thought process, the long-term vision on force development planning and have never wavered in their perspective despite the setbacks encountered in many forms, over the past several decades. Perseverance indeed is paying rich dividends in the long haul, albeit at a pace not entirely in consonance with Indian Navy's strategic vision.
Formulation and periodic update of the long-term maritime capabilities perspective plan is based on profound strategic thinking with focus on induction of cutting-edge technologies to build capabilities for the Indian Navy. The capabilities to enhance strategic reach, flexibility of operations, endurance and firepower, are apparent cornerstones of Indian Navy's maritime doctrine. Except for some stopgap options of import in the past few decades, most of the capability building plan is through indigenous efforts.
In not too distant a future, the Indian Navy hopes to commission the first ever indigenously built nuclear-powered submarine INS Arihant, a formidable stealth weapon system that can remain undetected underwater for an indefinite period and strike the enemy at will with conventional or nuclear missiles. A major milestone in this highly prestigious project was crossed when Arihant gained criticality. Harbour acceptance trials have been fully accomplished. In a matter of few weeks, Arihant is expected to commence sea acceptance trials, which is indicative of the fact that all critical security and safety parameters have been comprehensively addressed according to stringent standards of an independent inspection agency. It is now apparent that Arihant would be inducted into Indian Navy by the end of 2014.
The indigenous construction of the Scorpene advanced conventional submarine in collaboration with DCNS of France is now firmly on track, with delivery of the first in line during 2016. In order to overcome the colossal time overrun in the Scorpene programme which has adversely affected the submarine force levels, a mechanism has been evolved to compress the delivery schedule of the second and subsequent submarines of Project 75, through joint consultations. Hopefully, another indigenous construction plan for advanced conventional submarine with air independent propulsion system under Project 75I would soon gather momentum.
Lease of Akula class nuclear-powered submarine from Russia was essential for operational training and indoctrination into operations of SSNs and SSBNs for the Indian Navy. After induction of INS Chakra into Indian Navy, there are speculations on lease of another advanced version of nuclear submarine from Russia for training purposes. This lease may be necessitated for induction of upgraded and advanced version of the Arihant follow-on programmes.
Commissioning of a 44,500-tonne aircraft carrier from Russia, former Admiral Gorshkov as INS Vikramaditya, with the newly inducted naval variant of the MiG-29 fighter is not just a major milestone, it forms an important element for the strategic reach of Indian Navy and is being appropriately designated as a true game changer. Most significant aspect of this induction is that it has brought the curtains down on import of surface platforms. Currently, there are no pending orders for surface ships from abroad.
Indigenous shipbuilding programmes are proceeding at a steady pace. On successful completion of Shivalik class, the next big ticket is the Project 15A which is being looked forward to expectantly. The lead ship of the project Kolkata is expected to be commissioned shortly. Likewise, Indian Navy's own indigenously designed prestigious Kamorta class ASW Corvette under Project 28's lead ship is also due to be commissioned shortly. Currently, there are 45 ships at varying stages of construction within the country, both in the defence and private shipyards.
Recent induction of two P-8I long-range reconnaissance, maritime patrol and ASW aircraft from Boeing of the United States, has provided the much desired impetus to the surveillance and reconnaissance capability. The P-8I is a versatile long-range surveillance and stand-off attack aircraft equipped with state-of-the-art surveillance devices, controls and weapon systems fitted on board. There are 12 aircraft of this type on order from Boeing. After long delays, the much awaited global request for proposal (RFP) for medium-range maritime reconnaissance (MRMR) aircraft has been issued recently.
There are inordinate and unacceptable delays in acquisition process for naval multirole helicopters (NMRH) and light utility helicopters (LUH). Acquisition of 120 NMRH and 56 LUH from the global vendors is in the works. Likewise, unmanned aerial vehicles in addition to numerous surveillance equipment, sensors and electronic warfare systems have substantially beefed up coastal security apparatus. Additional systems and equipment for stand-off surveillance are also being worked on. In addition, unwarranted delays in the joint development of Barak air defence system, long-range surface-to-air missile has caused serious consternation for frontline surface ships air defence.
The steady progress in Indian Navy's focused pursuit of high-end technologies based capabilities development plans was unequivocally applauded by the Defence Minister A.K. Antony at the recently concluded Commanders' Conference. He said that over the last six months, the Navy has inducted an impressive range of platforms including the P-8I aircraft and the Goa Shipyard Limited-built offshore patrol vessel. In the coming months, the first ships of Project 15A, Kolkata and Project 28, ASW Corvette Kamorta, will be inducted into the Navy apart from additional P-8I and advanced jet trainer aircraft. Antony said the launch of our indigenous aircraft carrier Vikrant on August 12, 2013, was a crucial milestone. It has placed India in a select group of six nations who can design and operate aircraft carriers. "The fact that all 45 naval ships at present under construction are being built in India is ample proof of our indigenous shipbuilding capability," he said.
The Defence Minister said a major boost to our strategic deterrence capability was the achievement of criticality of the reactor on board Arihant. Once we reach the next milestone, namely commencement of sea trails of the submarine, it would make India the sixth nation in the world to build and operate nuclear-powered submarines. "This would mark another stride forward in realising our long-cherished objective of achieving nuclear triad capability," he said. In addition, the launch of GSAT-7 will also significantly increase our net-centric capabilities.
The process of modernisation of the Navy cannot remain confined to platforms, hardware, sensors and weapons. These assets have to be manned by trained and committed crew led by competent officers with outstanding leadership qualities. The Navy has taken the lead in introducing a high level of technological training programme for the officer cadre at the basic training stage. This should be followed up and supplemented by encouraging officers to engage in building on the basics learnt at the preliminary stage through advanced technology courses. The paradigm of training just enough and just in time needs to be reviewed in modern times. Exposure to a wider spectrum of not only technology but also human endeavour and thought would be necessary for the Navy officers of the future.
The training of individuals and groups can be best carried out using appropriate simulators whether they are employed as astronauts, pilots or locomotive drivers; foot soldiers or as special forces, plant operators or naval sailors. Simulator training is more effective and considerably less expensive and avoids excessive wear and tear in the hardware meant to be used in war. Modernisation of training of naval personnel should be based on extensive use of simulators. All future procurements should include acquisition of appropriate training simulators.
On the infrastructure front, the Indian Naval Academy has been commissioned by the Defence Minister. This ambitious project has fructified after long toil and hard work over the past several decades. This state-of-the-art Academy is fully geared to churn out high quality human resources for the Indian Navy, with B.Tech degree at the entry level for future naval leaders. The core course of naval officers has recently been commissioned out of the portals of Indian Naval Academy at Ezhimala.
Phase-I of the prestigious project Seabird at Karwar has fully stabilised with complete infrastructure and support facilities tried and tested in place. Phase-II of the project has also received requisite government sanction for expansion of infrastructure for future needs of Indian Navy. The status of Karwar has been recently upgraded with the appointment of the Flag Officer, Karnataka. The base facilities, commonly recognised as the third naval base, is now fully geared up to receive the largest and biggest platform of the Indian Navy-the INS Vikramaditya.
The Indian Navy truly is cruising along steadily on its strategically charted course.