With a strong technology base, South Korea has always strived to develop and build its own military ships, submarines and fast boats. The development and modernisation of South Korean defence capability got a kick-start during the 1970s with the formulation of the eight-year National Defense Plan, aimed at making the country selfreliant in defence capability.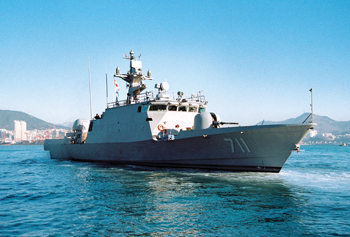 Over th e past four decades, South Korea has demonstrated incredible growth and global integration to become a hightech industrialised economy. In the 1960s, GDP per capita was comparable with levels in the poorer countries of Africa and Asia. In 2004, South Korea joined the trillion-dollar club of world economies and is currently the world's 12th largest economy. Korea's export focused economy was hit hard by the 2008 global economic downturn, but quickly rebounded in subsequent years, reaching 6.3 per cent growth in 2010. The US-South Korea Free Trade Agreement was ratified by both governments in 2011 and went into effect in March 2012. On the longterm basis, South Korea has been able to transform itself from one of the world's poorest nations into one of the world's richest nations. Its GDP (purchasing power parity) is $1.64 trillion (2012 est.) and is 13th in the world. Its amazing economic growth in a short period has been dubbed "the Miracle on the Han River". Its main industries are electronics, telecommunications, automobile production, chemicals, steel and shipbuilding.
Shipbuilding Industry
In 2003, South Korea became the world's leading shipbuilders by going ahead of Japan in shipbuilding volume, order backlogs and new orders, mainly for merchant ships including oil tankers. China has also developed its shipbuilding industry, outpacing Japan and giving tough competition to South Korea. According to one report, it became the leading shipbuilder in 2011 when it accounted for 48.2 per cent of a total of 28.11 million compensated gross tonnes (CGTs) worth of deals globally placed, compared with a 31.2 per cent in 2010. South Korea's shipbuilding sector continues to be the industry leader.
Military Shipbuilding Capability
With a strong technology base, South Korea has always strived to develop and build its own military ships, submarines and fast boats. The development and modernisation of South Korean defence capability got a kick-start during the 1970s with the formulation of the Eightyear National Defense Plan, aimed at making the country self-reliant in defence capability by using its domestic technology and industrial resources. The result was the building of Ulsan-class frigates and the Pohang-class corvettes which are considered as the mainstay of ROKN's fleet in coastal operations. Since then South Korea has not looked back and has indigenously constructed a majority of its naval vessels. There are many shipbuilding companies involved in the building of naval vessels of various types and sizes including auxiliaries, the salient details of which are as follows:
Hyundai Heavy Industries Co. Ltd (HHI)
Hyundai Shipyard is located on the southeastern tip of the Korean peninsula, thus it has easy access to the open sea. Coupled with this its mild weather and dry climate with little precipitation throughout the year, provide an ideal geographic environment for shipbuilding. Along with its location and spirit of enterprise, HHI has positioned itself as one of the world's leading shipbuilders since commencement of its shipyard operations in 1973. It has build a variety of modern, sophisticated naval and auxiliary service vessels since 1975, when Korea's Ministry of National Defense nominated it as the designer and builder of the first indigenous Korean frigate Ulsan Class. HHI's Special and Naval Shipbuilding Division (SNSD) was entrusted with this special task, having specialised manpower and streamlined modern facilities. As a licensed National Defense Industrial Shipbuilding Company and engineering consultant, HHI's SNSD has the advanced technology to design and build modern, reliable naval ships and auxiliary service vessels of various proven and advanced hull forms. HHI has expertise in building a large variety of naval requirements, ranging from submarines, destroyers, frigates, corvettes, inshore patrol vessels, fast attack craft to high and medium speed marine diesel engines. The noteworthy achievements are HDD-10000 aegis destroyer, HDD-5000 stealth destroyer, 1800-tonne class AIP submarine, HDF-2000H frigate, HDC-1200 corvette and offshore/inshore patrol vessels, HDP-600 patrol vessel, HDS-500 fast attack craft and various types of logistic support ships.
Daewoo Shipbuilding & Marine Engineering Co. Ltd
Daewoo Shipbuilding & Marine Engineering (DSME) has made a remarkable impact on the global market since its foundation in 1973. DSME has expertise in building submarines, destroyers, frigates, corvettes, offshore patrol vessels (OPVs), salvage and rescue vessels, fast patrol boats and submarine rescue ships. The noteworthy examples are DWKSS-I/II submarines, DW10000D/5500D destroyer, DW 1200C corvette, DW 1800 patrol vessel, DW4000R submarine rescue ship, etc.
Hanjin Heavy Industries & Construction Co. Ltd (HHIC)
Beginning in 1972, HHIC has built highspeed patrol boats, frigates, corvettes, landing ship tanks, oceanographic vessels, salvage ships, midget submarines, multipurpose logistic supply ships and hovercrafts and also exported them. The noteworthy examples are the 19,000-tonne assault landing ship, fast frigate class, patrol corvette class, patrol killer guided missile, various types of OPVs, etc.
Kangnam Corporation (KNC)
KNC has been at the top of the leading Korean glass-reinforced plastic (GRP) hull shipbuilders since commencement of its shipyard operations in 1968. It has built all types of GRP hull naval ships and special-purpose vessels and has successfully built and delivered minesweeping hunters (MSHs), minehunting crafts (MHCs), and various high-speed patrol boats to the Korean Navy. The noteworthy examples are minesweeping and hunting craft (KMSH)1, KMHC 1,500 tonne class patrol Craft1, etc.
STX Offshore & Shipbuilding Co. Ltd
Based on its experience of having built more than 700 ships in the past 40 years, STX Offshore & Shipbuilding ranks number one among the world's major shipyards and has significantly contributed to making South Korea the leader in the world's shipbuilding industry. The construction of the Dalian Shipyard in China will be added to its existing facilities in Jinhae and Busan. STX took a leap forward to become the world's largest shipbuilding company through its acquisition of STX Europe (formerly Aker Yards). STX Offshore & Shipbuilding acquired authorisation to become a member of the national defence industry in September 2007. STX Offshore & Shipbuilding plans to expand its territory in the national defence industry by constructing various kinds of ships, such as battleships, offshore patrol vessels and special-purpose ships. The noteworthy examples are guided missile patrol boat killer1, OPV1, training ship1, etc.
STX Engine Co. Ltd
Diesal Engines: STX engine's military diesel engine was designed with focus on small size, lightness and high power output. Through technology cooperation with MTU of Germany, STX Engine is producing engines for tanks, destroyers and coast guard ships.
Communication-Equipment Technology: STX engine possesses essential proprietary technologies related to underwater acoustic, radar, tactical communication and battle system.
Sebang Hi-Tech
Sebang Hi-Tech Co. Ltd, which was established in 1952, is the sole defence manufacturer in South Korea specialising in the provision of propulsion energy sources for underwater military vehicles and weapon systems. Some examples are the 209 class submarine battery K45PS13K and K30PS15. BA738 battery is used for light-weight torpedoes.
DACC CO. LTD
The company's area of expertise is composite launching tube to contain a guided anti-ship missile.
Indian Perspective
It has been reported that India has decided to award a $1.2 billion contract to Kangnam Corporation for eight mine-countermeasure (MCM) vessels. The tender was first issued in 2008 but has taken five years to fructify. According to the deal, the first two minesweepers will be constructed at Pusan, South Korea, and the remaining six will be built at the Goa Shipyard through transfer of technology. The Indian Navy wanted to modernise its MCM fleet for more than a decade as it currently operates 12 ageing Pondicherry and Karwa-class minesweepers. Their projected requirement is for 24 MCM ships.
Indian shipbuilding also has a lot to emulate from South Korea for developing their indigenous shipbuilding industry and becoming a world leader in a very short time.