Integrated Air and Missile Defence (IAMD) is an essential, continuous mission in peace time, crisis and times of conflict, which safeguards and protects territory, populations and forces against any air and missile threat and attack and contributes to deterrence.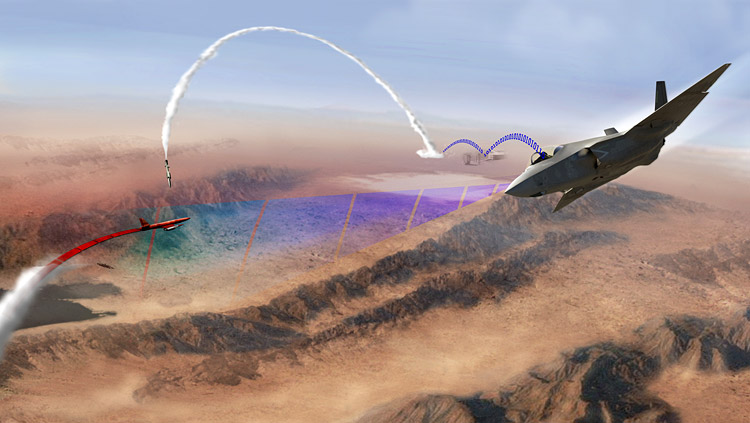 Two pre-eminent weapon systems, the F-35 Lightning II and Aegis Weapon System, worked together for the first time during a live fire exercise at White Sands Missile Range on September 12, 2016. The joint Lockheed Martin, US Navy and US Marine Corps exercise was the first live fire missile event that successfully demonstrated the integration of the F-35 to support Naval Integrated Fire Control-Counter Air (NIFC-CA).
In his Paper "Joint Force Linchpin for Integrated Air and Missile Defence and Access Control", published on January 1, 2016 for National Defence University Press, John F. Morton, cautions that complicating the Combatant Commanders' calculus are the advancing Anti-Access/Area-Denial (A2/AD) capabilities in the hands of potential adversaries and Rogue States that pose a major challenge to the maritime domain.
IAMD: Vision 2020
During 2014 Quadrennial Defence Review, counter-measures against rapidly growing A2/AD challenges were deliberated extensively and it was decided to up-scale the priority on increasing overall joint force capabilities. In what the Pentagon characterises as the A2/AD environment, defence officials are now conceptualizing the high-end level of the war-fighting spectrum around the Integrated Air and Missile Defence (IAMD) mission. In December 2013, General Martin Dempsey, then Chairman of the Joint Chiefs of Staff, released his 'Joint Integrated Air and Missile Defence: Vision 2020' that spoke of the need for IAMD to "be even more Joint—advancing inter-dependence and integrating new capabilities."
Joint IAMD describes the IAMD environment as an expanding battle space requiring plans and operations that ranges across global, regional, trans-regional, and homeland domains. "The regional and intercontinental reach of ballistic missiles," it continues, "alters the strategic and operational decision space." IAMD forces in a specific theatre can extend to regional, transregional, and homeland operations. As such, Combatant Commander's plans must allow for coordination and hands-off across combatant command areas of responsibility.
Since May 2013, the IAMD mission has been brought under the umbrella of Missile Defence Agency (MDA). MDA is now the technical authority to steer all joint IAMD engineering and integration efforts, including defining and controlling the interfaces and the allocation of IAMD technical requirements. Vice Admiral James Syring, was the first Navy head of MDA. His arrival in 2012 coincided with a time when the Aegis shipbased combat system came to be seen as a core element of US and partner nation efforts in ballistic missile defence (BMD) in line with the European Phased Adaptive Approach (EPAA), the US administration's missile defence strategy for Europe.
The appointing naval flag officers to JIAMDO reflects that the foundational maritime IAMD enablers for active defence will be the surface Navy's modernised fleet of Aegis-equipped warships. Mobile, forward-deployed Aegis cruisers and destroyers, variously upgraded Systems, will serve as the Combatant Commanders' net-enabling nodes for globally integrated joint force operations for access control.
IAMD – A Game Changer
Captain James Kilby, Deputy for Ballistic Missile Defence, Aegis Combat Systems wrote that the most complex variant of integrated fires is the emerging Navy Integrated Fire Control–Counter Air (NIFC-CA) capability that dramatically extends the sensor net to allow for missile engagements beyond the radar horizon. NIFC-CA provides integrated fire control for theatre air and anti-ship cruise missile defence in the tactical environment. The capability greatly expands the over-the-horizon air warfare battle space for surface combatants to enable third-party targeting and use of smart missiles. If properly employed with the right tactics NIFC-CA, the SM-6 surface-to-air/space missile, the E-2D Hawkeye with the Cooperative Engagement Capability and 5th-generation F-35 fighter aircraft will be IAMD Game Changers.
Office of the Chief of Naval Operation's Surface Warfare Directorate (N96) is working to enhance the utility of NIFC-CA. Among the concepts considered is making the Baseline 9 ships less reliant on assets of the Carrier Strike Group by using an organic unmanned aerial vehicle with the necessary data links to provide the tracking and targeting information to the ship's system as a way forward for Aegis in its IAMD role. The initial NIFC-CA concept of operation is under stakeholders' review and will require testing and refinement to deliver the tactics, techniques and procedures needed to exploit new IAMD capabilities.
To operationalise IAMD compliant systems it will require relevant operational vision, a concept of operations, and updated tactics, techniques and procedures and a cadre of experts who understand the employment of joint and combined IAMD capabilities against current and emerging threats, to gain and maintain air superiority to defend assets at sea and ashore. The inherent mobility, flexibility for deployment and responsiveness of naval forces to conduct IAMD has never been more relevant.
Aegis Weapon System
The AEGIS Weapon System (AWS) remains the world's pre-eminent Air Defence system, which is being further developed to include advanced IAMD capabilities. The US Navy's Surface Fleet comprises thirty BMD capable Cruisers and Destroyers. In addition, there are several ships undergoing installation and certification. The AWS has thus emerged as the finest and most advanced IAMD naval combat system, as it ensures interoperability, technical support, logistics, type commander sponsored SPY radar maintenance programme, replacement of high failure SPY parts, and a revival of the SM-2 Fleet Firing Programme and above all, ensuring operational availability of deployed ships to over 96 per cent.
AEGIS Baseline 9 has been successfully developed as the first true IAMD AEGIS Combat System computer programme. Unlike its illustrious predecessor, BMD computer programmes which had either AAW or BMD, both functionalities have now been incorporated in Baseline 9 Combat Systems computer programme. One of the key features of the Baseline 9 is the Multi-Mission Signal Processor, which allows operators to dynamically allocate radar resources in response to specific threats. It is said that the most notable feature of Baseline 9 is the ability to conduct "integrated fires."
NATO IAMD
It is reported that the Netherlands Defence Material Organisation and Thales Nederland have signed an agreement to modify the four SMART-L Early Warning Capability (EWC) search radars for installation on board 'De Zeven Provinciën' class Air Defence and Command Frigates of the Royal Netherlands Navy to strengthen NATO's Ballistic Missile Defence architecture. The SMART-L EWC is currently being developed by Thales Netherlands to provide a formidable and flexible Long-Range Air Surveillance and Ballistic Missile Defence Early Warning capability on board four Air Defence and Command Frigates. The SMART-L EWC is being perceived as the potential NATO Maritime Integrated Air and Missile Defence system.
It is further learnt that along with Germany, Denmark and the United States, the Netherlands is conducting an in depth sensor integration study in which the quality of services is defined in which the SMART-L EWC needs to comply with the latest integrated fire control mechanisms like launch and engage on remote, for example in support of SM-3 and other effectors.
Japan's Multi-layered BMD
On December 19, 2003, the Government of Japan enunciated policy to introduce the multi-layered defence system composed of Aegis BMD system and Patriot PAC-3. The technological feasibility of BMD system was verified through the results of interception tests and various performance evaluations in US as also through own simulation results.
Japan is giving further consideration to acquiring the Aegis Ashore ballistic missile defense system following the tests of North Korean intercontinental ballistic missiles. Japan is exploring acquiring the land-based Aegis Ashore system and could make a decision on purchasing the capability early this summer including the introduction of the new SM-3 Block IIA BMD – jointly developed by Japan and the US.
Currently, Japan's BMD capability is based around its four Aegis-equipped Kongo class destroyers armed with older SM-3 for long-range interception of ballistic missiles and mobile Lockheed Martin Patriot Advanced Capability-3 (PAC-3) interceptors for intercepting targets at shorter ranges.
The addition of Aegis Ashore to Japan's BMD network would not only expand the number of weapons Japan could field against BMD threats but also expand its air defense sensor network with the inclusion of additional AN/SPY-1D radars as part of the installation.
Japan is also planning to include a BMD capability in its new destroyer-class and upgrade its two Atago class destroyers to include a BMD capability.
With AEGIS BMD and PAC-3 assets, Japan has fielded a multi-layered system that is capable of being interoperable with the US system. Japan's C2BMC (JADGE) system integrates Japanese BMD sensors and interceptors and is capable of exchanging information with US missile defences, including the forward-based X-band radar at Shariki and US AEGIS BMD ships operating in the region.
The IAMD naval combat system, therefore emerges as best suited for joint and combined operations and with all vital operational nuances properly buttoned up, it is sure to emerge as a true Game Changer.