Liu Huaqing, who was heading People's Liberation Army Navy (PLAN) from 1982-88, contributed heavily towards the modernisation of PLAN and changed China's maritime strategy from freedom of navigation to sea control in the 'near sea' region which applies to the First Island Chain and includes the South China Sea and East China Sea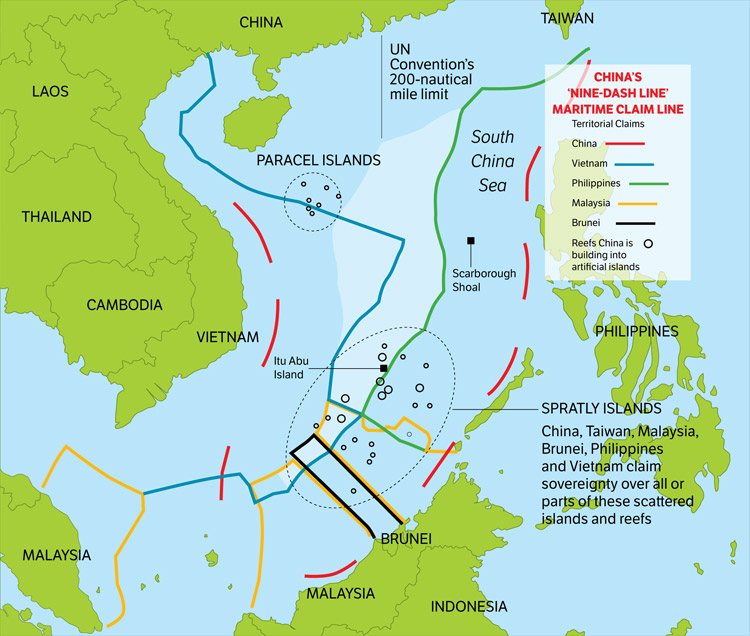 In order to utilise oceans peacefully and equally, the international community has maintained international norms and rules which includes United Nations Convention on the Law of the Sea (UNCLOS). China became People's Republic of China (PRC) in 1949 and thereafter became party to UNCLOS.
However, China in recent times is willing to take extraordinarily unilateral steps to exercise its influence in maritime affairs to conform to its national objectives specially in the South China Sea (SCS) and the East China Sea (ECS). The SCS has great strategic importance as it covers China and connects the Indian Ocean to the Pacific Ocean. South China Sea extends from the Strait of Malacca in the south-west, to the Strait of Taiwan in the north-east. The SCS disputes involve claims among several countries within the region like PRC (henceforth referred as China), the Republic of China (ROC-Taiwan), Brunei, Malaysia, Indonesia, Philippines and Vietnam.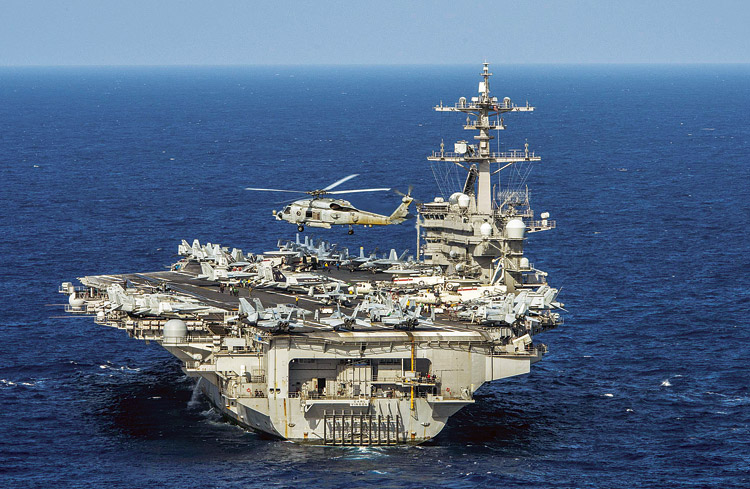 An MH-60R Sea Hawk from the Helicopter Maritime Strike Squadron (HSM) 78 Blue Hawks flies near the aircraft carrier USS Carl Vinson, April 24, 2017. US Navy aircraft carrier strike groups have patrolled the Indo-Asia Pacific routinely for more than 70 years.
An estimated $5 trillion worth of global trade passes through the SCS. Apart from the littoral states of SCS, there are many non-claimant states which want the SCS to remain as international waters with 'freedom of navigation' to all. The disputes include the islands, reefs, banks and other features of the SCS including the Spratly Islands, Paracel Islands, various boundaries in the Gulf of Tonkin and waters near the Indonesian Natuna Islands. Claimant states are interested in retaining or acquiring the fishing rights, exploration and potential exploitation of crude oil and natural gas in the seabed of various parts of the SCS and control over the important sea lanes.
China's Maritime Strategy
For many years, China had no clear maritime strategy but as soon as it started building its maritime capability, it started flexing its muscles in the region. Liu Huaqing, who was heading People's Liberation Army Navy (PLAN) from 1982-88, contributed heavily towards the modernisation of PLAN and changed China's maritime strategy from freedom of navigation to sea control in the 'near sea' region which applies to the First Island Chain and includes the SCS and ECS.
Sea control also implies management of the sea. Both China and Taiwan claim almost the entire SCS and indicate their claims with what is known as the Nine-Dotted Line or Nine-Dash Line. This claimed boundary virtually overlaps every other country in the region. The Nine-Dash Line was initially used by Taiwan but now China claims it. China also holds a unique concept of maritime jurisdiction known as "national maritime land". Under this concept, China takes territorial water, contiguous water and the exclusive economic zone (EEZ) as national maritime zones in which China can exercise strong rights, such as banning military exercises and so on.
Some examples of China's overreach are:
In 1974 China wrested control of the Paracel Islands by force from Vietnam when Vietnam tried to expel the Chinese Navy from the area. As a result conflict situation arose with Vietnam which still simmers between them.
Pratas Islands are under control of Taiwan but China continues to contest it.
During 2002, the Declaration on Code of Conduct of Parties was signed as an instrument for resolution of conflicting claims but it has remained mostly ineffective and none of the claimant countries have the economic or military clout to challenge China.
In 2012, China took an aggressive stance by restricting access to the Scarborough Shoals to the Philippines which resulted in Philippines going for arbitration under Annex VII of the UNCLOS which ruled in July 2016 in favour of Philippines but China neither acknowledges the tribunal nor abides by its ruling, insisting that any resolution of the matter should be made through bilateral negotiations with other claimants.
Current Situation
Tension and conflict like situation remains in both the SCS as well in the ESC due to island disputes, land reclamation, confrontations, clashes between maritime law enforcement vessels, freedom of navigation operations by US Navy and threats from PLAN. Paracel Island has over 30 islands and China has extended the runway and deployed surface-to-air missile systems on one of its islands called Woody Island. It is going ahead with rapid and large-scale land reclamation works on seven of the Spratly Islands and has also built infrastructure including runways, and ports that can be used for military purposes.
Numerous incidents of confrontation have occurred between PLAN and Japan's Maritime Self-Defense Force (JMSDF), and US Air Force and Navy in the ECS. In 2016, 121 Chinese ships crossed into the territorial waters of the Senkaku. China requests prior notification before other countries' warships pass its territorial waters but PLAN fleets passed US' territorial water near Aleutian Islands while exercising innocent passage in September 2014 without informing US.
Adding to the mounting maritime problems in the region, President Donald Trump's policy for the Asia-Pacific region is still not clear. Former Director of National Intelligence and Commander of the US Pacific Command Admiral Dennis C. Blair expressed his concern about the issue by stating at the Centre for Strategic and International Studies in November 2016, that "overlaps in economy and security may result in deal-making in maritime security in the Asia-Pacific region and will put some reality into this idea that the Pacific is big enough for both US and China."
Chinese President Xi Jinping made his intentions very clear when on May 24, while on an inspection of the PLAN headquarters, "called for efforts to build the PLAN into a strong and modern force to lend support for the realisation of the Chinese dream of national rejuvenation and the dream of a strong army."
Interest of US
SCS links the Pacific and Indian Ocean and as such US uses it to move their warships from the Pacific fleet for military missions to the Arabian Sea and the Persian Gulf. This route also connects close allies of US like Japan to safely move their energy needs from the Middle East. However, US also follows a policy of "active neutrality" which implies that it will remain neutral on local territorial disputes, prevent use of force in settling them and would not allow any actions which will threaten the peace in the region. Such 'active neutrality' is bound to move US on a path of conflict with China specially when its Pacific Fleet is the largest naval command in the world with about 190 ships supported by US Navy and Marine Corps aircraft, and 35 shore installations.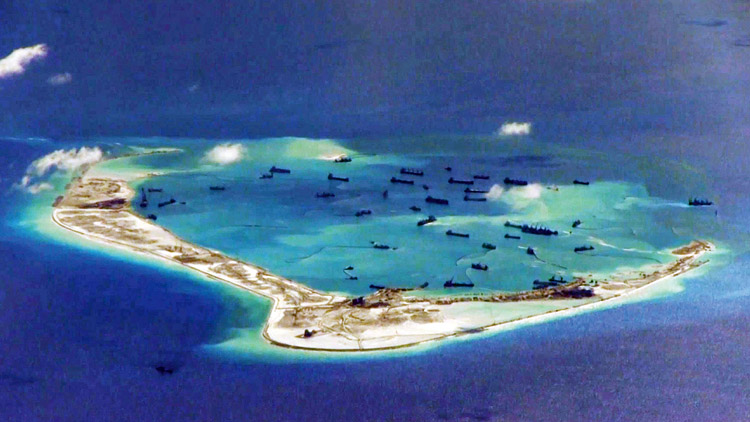 Subi Reef being built by China and transformed into an artificial island in South China Sea
The US also maintains that terrorist threat from the sea is as real as the threat from land and air. The presence of Jemaah Islamiyah (JI) in the region supports the US concern of terrorist threat. JI is a militant Islamist group active in several Southeast Asian countries that seeks to establish a pan-Islamic state across much of the region. JI is alleged to have attacked or plotted against US and Western targets in Indonesia, Singapore and the Philippines. Thus the US interest in the SCS is based on maintaining its freedom of navigation and global war on terrorism. What is unsaid is its concern over China's growing footprint in the region and Taiwan.
The George W. Bush administration had launched three major international maritime security initiatives, i.e. the Container Security Initiative (CSI), the Proliferation Security Initiative (PSI), and the Regional Maritime Security Initiative (RMSI).CSI and PSI are applicable globally but RMSI is aimed specially for Strait of Malacca. A large number of nations have accepted CSI but there is great opposition to the other two.
India has got concerns of its own in joining these initiatives. RMSI has raised the hackles of nations around the SCS. The initiative briefly involves high speed vessels embarked with US Special Operations Forces to carry out interdiction. Countries like Malaysia and Indonesia summarily rejected the proposal of US intervention and stated that they have enough capability to manage on their own. Any interdiction carried out by foreign troops in the Malacca Strait will not be accepted. The US then offered the view that their proposal has been misunderstood and it involved only the sharing of intelligence. The USN then started joint anti-terrorism bilateral exercises with other friendly countries like Singapore and Philippines in the SCS as an alternative. It also gave them an excuse to make their presence in the region.
Recently the Pentagon sent the Carl Vinson carrier group into the SCS which was reported to be another of the Navy's "freedom-of-navigation" cruises by operating in the Korean Peninsula as North Korea was about to carry out a nuclear test. However, North Korea tested a missile of 500 km which landed in the Sea of Japan. Although the USS Vinson carrier group headed into the SCS but it moved elsewhere. The US Navy does not officially confirm the whereabouts of its warships for security reasons but it appears now the group instead began to chart a course south, towards Indonesia.
Interest of Japan
Japan is building up its influence in the SCS to check Chinese expansion and also acquire support for its broader military as well as economic interests. Japan and China dispute the eight uninhabited Senkaku Islands in the ESC where Japan controls the islets, which are 200 nm (370 km) south-east of Okinawa and called Diaoyudao in China. It regularly reports spotting Chinese military aircraft flying over nearby waters.
Japan has several vital interests in safeguarding the sea lanes of the SCS. It is a major player in international trade and is ASEAN fourth ranking trading partner. Almost all of Japan's oil supply is imported from the Middle East through the SCS. It imports 99 per cent of its petroleum and 70 per cent of its food by sea. Ships carry 99 per cent of Japanese exports by volume. Thus Japan sees maritime security as an integral part of its comprehensive security strategy.
Japan is a member of the Proliferation Security Initiative (PSI) and has been holding regular joint exercises. Japan has also initiated its own proposal to combat piracy and maritime terrorism threats by having an ocean peace keeping fleet to conduct multinational naval and coast guard patrols. This was generally opposed by many south-eastern states, however, Singapore was most responsive. China opposed the proposal because it felt that this may be a ploy by Japan to expand its own naval presence, make up for decline in USN patrols and to counter China's control in Southeast Asia. However two other proposals have found favour as follows:
Establishment of the Asia Maritime Security Initiative (AMARSECTIVE). This provides for regional technical assistance and information sharing.
Regional Cooperation Agreement on Anti-Piracy in Asia (ReCAAP), aimed at preventing and responding to piracy and armed robbery against ships as well as strengthening cooperation among member countries in the areas of information sharing, capacity building and operations. Many countries including India and China have ratified the agreement. Also Japan's efforts in working with other SCS littoral states to combat piracy and terrorism have generally been successful.
India's maritime aspirations are aptly put across in its current maritime doctrine which states that "the Indian maritime vision for the first quarter of the 21st century must look at the arc from the Persian Gulf to the Strait of Malacca as a legitimate area of interest," which warrants a strong naval and economic presence in the region
Japan has sent Izumo helicopter-carrying warship, in May this year, through the SCS on its way to the Indian Ocean for joint exercise Malabar with navies of India and US in July. It will also make stops in Singapore, Indonesia, Philippines and Sri Lanka, and return to Japan in August. Japan is following a proactive strategy in terms of providing assistance to the ASEAN countries in terms of conducting patrols in the region and also sending the warships to ASEAN countries. Some examples are:
Japan sent three amphibious ships to the Philippines in 2013 for relief after Typhoon Haiyan killed about 6,300 people.
Recently Japan has given Philippines two patrol vessels and said it would lease training aircraft, adding to an earlier offer of 10 coast guard ships.
Japan agreed in 2014 to sell Vietnam six used maritime surveillance vessels and pledged to sell it six new patrol ships.
It appears that Japan is trying to shed its pacifist approach, specially under Prime Minister Shinzo Abe.
Interest of Australia
Trade is the main reason of Australia's interest in the sea routes and the SCS as its annual seaborne trade is approximately more than $188 billion. It has a Five Power Defence Arrangements to include New Zealand, UK, Malaysia and Singapore to cater for defence of the latter two countries against external aggression. So far Australia's involvement in the conflict has been relatively low risk. It is learnt that its Navy is yet to sail within 12 nm of the Chinese islands and China does not appear to be threatened by Australia. China is Australia's biggest trading partner and at the same time Australia has to support US in the region thus it makes the situation quite complex.
Other Developments
The Philippines has cut a deal with China to reach a compromise on disputed territories. So has Vietnam, and Malaysia is in negotiations with the same intent. Thailand has no quarrel with China, but it is replacing outdated US military gear with Chinese-made fighter jets and a new submarine. Railroad stocks are also coming from China and Japan.
Interest of India
India has no claims in SCS and it is in India's national interest to have good relations with China and also maintaining the current peace and freedom of passage for maritime trade through the SCS. Like Russia, India is also getting involved in the SCS issue as a neutral party. Last year the Foreign Ministers of China, Russia and India released a trilateral communiqué which sent a clear signal that Moscow and New Delhi support China's position and that the SCS dispute should not be 'internationalised' but resolved by the parties concerned bilaterally. However it is of prime importance that freedom of passage through the region remains unhindered as Indian trade and economic interests in the Pacific are becoming stronger and deeper.
ASEAN and the Far Eastern Pacific regions are the focus of the 'Act East' policy for economic development. Any conflict in the SCS will hinder the movement of trade. China not complying to UNCLOS in the case of Philippines has raised the hackles of countries in the region.
Oil exploration is another area of interest to India. In September 2011, shortly after China and Vietnam had signed an agreement seeking to contain a dispute over the SCS, India signed a three-year deal with PetroVietnam for developing longterm cooperation in the oil sector and that it had accepted Vietnam's offer of exploration in certain specified blocks in the SCS. China has protested but Vietnam has asserted that nobody could prevent India's oil exploration efforts in its country as it was being undertaken in Hanoi's exclusive territorial waters.
India's aspiration is to have an important place in the larger Asia-Pacific region both economically and militarily. India is trying to achieve this by engaging countries in the region to establish bilateral relations. One advantage India has in this regard is that except with China, India has no dispute with any other country. The other strategy was to seek partnership status with ASEAN. Thus India became a 'Sectoral Dialogue Partner' of ASEAN in 1992; a 'Full Dialogue Partner' in 1995; joined the ASEAN Regional Forum in 1996; became a Full Summit Partner of ASEAN in 2002; acceded to ASEAN's Treaty of Amity and Cooperation 40 in 2003; and in 2004 signed an agreement with ASEAN to promote peace, progress, and shared prosperity. India also feels that China's One Belt One Road (OBOR) is being promoted specially to increase its footprint in the region.
Naval Diplomacy
The Indian Navy carries out regular joint exercises — Malabar with the US Navy, Simbex with the Republic of Singapore Navy, with PLAN in 2003 and later took part in their International Fleet Review (IFR) in 2009. Apart from the Indian Ocean, India has steadily gained influence in the Pacific Ocean. In 2007, the Indian Navy conducted naval exercise with Japan Maritime Self-Defense Force and US Navy in the Pacific and also signed an agreement with Japan in October 2008 for joint naval patrolling in the Asia-Pacific region.
India has also held naval exercises with Vietnam, Philippines and New Zealand. In 2007, India and South Korea decided to conduct annual naval exercise and India participated in the South Korean IFR. Navies/Coast Guard of Singapore, Sri Lanka, Thailand, Australia, Bangladesh, Indonesia, Malaysia, Myanmar, Brunei, Philippines, Vietnam and New Zealand participate in Exercise Milan which is held every two years off the Coast of Andaman and Nicobar Island.
The Indian Navy has been participating in coordinated patrol with Indonesia and Myanmar. It also carries out joint exercise with Indonesia. The Indian Navy carries out PASSEX (passing exercise) with many countries like Japan and Indonesia. The Indian Navy regularly participates in ASEAN Defence Ministers' Meeting (ADMM) Plus Exercise on Maritime Security and Counter Terrorism. Apart from joint exercises, India has maritime cooperation pacts with many countries of the region.
The Indian Navy warships regularly carry out overseas deployment to mark their presence in the region and anti-piracy patrols. India's maritime aspirations are aptly put across in its current maritime doctrine which states that "the Indian maritime vision for the first quarter of the 21st century must look at the arc from the Persian Gulf to the Strait of Malacca as a legitimate area of interest," which warrants a strong naval and economic presence in the region.