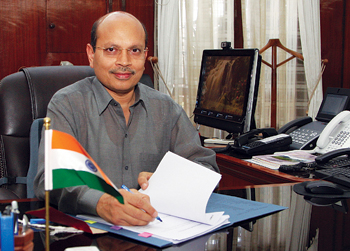 SP's Naval Forces (SP's): How exactly are the 'Make in India' initiatives for aerospace and defence sector being promoted? What has been the reaction of foreign OEMs to it till date?
Secretary of Defence Production (Secretary): 'Make in India' initiatives for aerospace and defence sector are being promoted though various policy initiatives and amendments in procurement procedures which would result in ease of doing business, encourage and facilitate Indian private sector to participate in defence manufacturing, nurturing R&D culture in defence.
Following initiatives have been taken by the Department of Defence Production to boost the 'Make in India' in defence sector:
Foreign Direct Investment: FDI policy under which foreign investment is allowed through automatic route up to 49 per cent and government route beyond 49 per cent wherever it is likely to result in access to modern technology or for other reasons to be recorded.
Industrial Licensing: The Defence Products List for the purpose of issuing industrial licences (ILs) under IDR Act has been revised and most of the components, parts, subsystems, testing equipment and production equipment have been removed from the list so as to reduce the entry barriers for the industry, particularly small and medium segment. The initial validity of the industrial licence has been increased from three years to 15 years with a provision to further extend it by three years on a case-to-case basis.
Defence Exports:

The list of military stores has been ?nalised and put in the public domain so as to make the process transparent and unambiguous. The process of receiving applications for no objection certi?cate (NOC) for export of military stores and for issuing NOC has been made online.
The standard operating procedure (SOP) for the issue of NOC for export of military stores has been revised and put on the website. Under the revised SOP, the requirement of enduser certi?cate (EUC) to be countersigned/stamped by the government authorities has been done away with for the export of parts, components, subsystems, etc.
Recognising the need for promotion of defence exports to make the Indian defence industry economically sustainable, defence exports strategy outlining the various steps to be taken has been formulated and put up in public domain.

Defence Offsets: Offset implementation process has been made flexible by allowing change of Indian offset partners (IOPs) and offset components, even in signed contracts. Services as an avenue of offset have been reinstated with certain conditionalities.
Level Playing Field:

Exchange rate variation protection has been made applicable for Indian private sector at par with public sector undertakings for all categories of capital acquisitions.
The preferential treatment given to defence public sector undertakings (DPSUs) in excise duty/customs duty has been discontinued. As per the revised policy, all Indian industries (public and private) are subject to the same kind of excise and customs duty levies.

'Make' Procedure: The 'Make' procedure has been revised to promote indigenous design, development and manufacture of defence equipment/platform. It provides for enhanced government funding of 90 per cent of development cost and preference to MSMEs for certain categories of projects, which will give a tremendous boost to manufacturing of indigenously designed products through collaborative process with Indian industry.

A substantial share of defence shipbuilding is being offered to private shipyards, with Rs. 7,043 crore worth of committed contracts, Rs. 19,810 crore worth of contracts in the pipeline to be concluded in the next one or two years

'Buy (Indian-IDDM)' in DPP 2016: One of the notable features of DPP 2016 is the introduction of a new procurement category 'Buy (Indian-IDDM)' by which priority has been accorded to procurement from Indian vendors of products that are indigenously designed, developed and manufactured.
Preference to Indigenous Procurement: In DPP 2016, preference has been provided to procurement under 'Buy (Indian-IDDM)', 'Buy (Indian)' and 'Buy and Make (Indian)' categories of capital acquisition over 'Buy & Make' or 'Buy (Global)' categories.
The foreign OEMs have exhibited a lot of enthusiasm to participate in 'Make in India' initiative. Several OEMs have entered into or are in the process of tie-ups with Indian defence companies for supply of defence equipment categorised as 'Buy and Make (Indian)' and 'Buy and Make'.
SP's: The government gives some defence projects, especially for Indian Navy projects, without holding a competition to state-owned defence companies. Why isn't the government encouraging competition with state-owned companies?
Secretary: As per Defence Procurement Procedure 2016, Indian Navy carries out capacity assessment of the shipyards (both public and private sector) at regular intervals. Thereafter, based on the requirement of Indian Navy, RFP is issued to the shortlisted shipyards based on the aforesaid capacity assessment. The present generation warships are weapon intensive where the capacity of private sector is rather limited. However, as and when the private sector develops these capabilities, RFP will be issued to them based on their capacity assessment.
Projects like offshore patrol vessels, interceptor boats, floating docks, cadet training ships, etc. besides repairs of warships have already been awarded to private shipyards. Currently, private shipyards are being considered for major shipbuilding projects like landing platform docks, fast patrol vessels, anti-submarine warfare shallow water craft, diving support vessels and survey vessels, etc.
A substantial share of defence shipbuilding is being offered to private shipyards, with Rs. 7,043 crore worth of committed contracts, Rs. 19,810 crore worth of contracts in the pipeline to be concluded in the next one or two years.
SP's: What role do you see being played by DPSUs in the near future?
Secretary: Production of defence equipment has been the key mandate of DPSUs. However, to promote 'Make in India' initiative of the government and to achieve the substantive self-reliance in defence production there is a need for change in role of the DPSUs in near future.
The OEMs of the defence and aerospace industry worldwide play the role of system integrators by outsourcing a substantial part of the manufacturing process to vendors. DPSUs also need to shift their strategy in a similar way from vertical integration business model to system integration business model. By adopting such a strategic shift, DPSUs can serve their ultimate customers in a better way. The outsourcing effort by DPSUs will add to their capacity enhancement, attain cost-effectiveness and improve competitiveness in global market.
To achieve the India's cherished objective of self-reliance in defence production, DPSUs need to not only innovate in-house but also create institutional model to foster innovation in the country. They need to aggressively engage with R&D institutes, academia, industries including MSMEs, start-ups and even individual innovators and provide them award-based grants/funds to carry out innovative development.
SP's: Are we likely to see the serious investments in R&D in India (beyond DRDO) which can be one of the catalysts for indigenisation?
Secretary: The government is committed towards facilitating investments in R&D defence sector in India. Accordingly enabling provisions have been introduced in DPP 2016. In order to promote indigenous design and development of defence equipment, DPP 2016 has introduced the 'Buy (Indian-IDDM)' category of acquisition and accorded it the top most priority.
Technology acquisition by DRDO in the areas of high technology has been listed as one of the avenues for discharge of offset obligations. Moreover, in discharge of offset obligations related to technology acquisition by DRDO a multiplier up to 3 is permitted.
Government plans to offer at least 8-10 projects every year under 'Make' procedure for development by Indian private sector. This is likely to give a fillip to investment in R&D in India.
Technology Development Fund has been established to promote self-reliance in defence technology as a part of 'Make in India' initiative. It is a programme of Ministry of Defence executed by DRDO for meeting the requirements of Tri Services, Defence Production and DRDO.

For the complete interview, refer to SP's Military Yearbook 2016-2017