The Vision Statement of the Indian Navy envisages itself as the maritime power for national prosperity in the form of multi-dimensional, multi-spectrum and networked force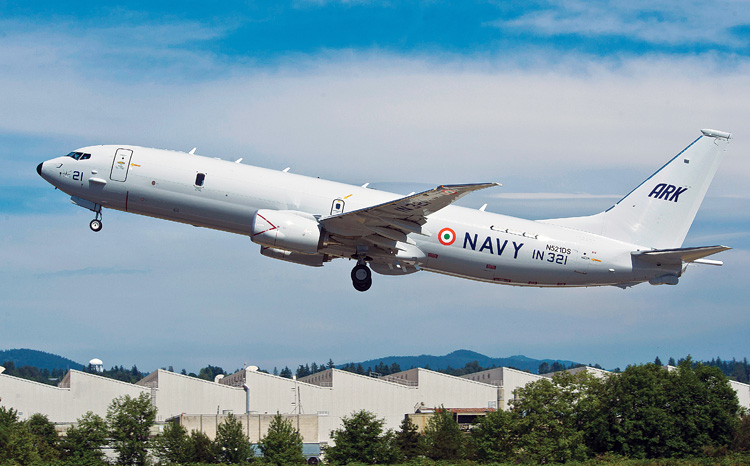 Indian Navy's P-8I Long-Range Maritime Reconnaissance & Anti-Submarine Warfare aircraft
The Indian Navy website in its preamble on Indian Naval Aviation enunciates, "Current projects, ranging from acquisition of an aircraft carrier to fitment of the most modern and state-of-the-art equipment onboard aerial platforms, are in consonance with the envisaged growth of the Navy and the challenges that it must face in the future. Indian Naval Aviation is set to propel itself into the major league of tomorrow's navies." The Vision Statement of the Indian Navy envisages itself as the maritime power for national prosperity, in the form of multi-dimensional, multispectrum and networked force. Viewed in this perspective the modernisation of Indian Naval Aviation assumes greater significance and relevance.
Fixed-wing Aircraft
Carrier-borne Multi-role Fighters
The induction of Shorts Sealand, light amphibious aircraft in 1953, marked the birth of Indian Naval Aviation. Seven years later with the commissioning of INS Vikrant, the first aircraft carrier in the whole of Asian region, Hawker Seahawk was inducted in 1960 as the fighter plane to operate from her deck. Soon thereafter anti-submarine and electronic surveillance aircraft Breguet Alize followed suit to complete the fixed-wing component of the Air Wing of Vikrant.
Several decades later and with the impending de-commissioning of Seahawk, White Tigers, a replacement of a multi-role carrier-borne fighter aircraft was found in Hawker, Sea Harriers, FRS 51 in 1983. This versatile aircraft of Falkland War fame served as a shining star of the Indian Naval Aviation, fulfilling all operational commitments, performing brilliantly during joint exercises at all levels, earning kudos until its retirement in 2016.
With the acquisition of INS Vikramaditya, a hunt began to identify a modern aircraft to be the backbone of the Air Wing of the carrier. Fourth-generation Mikoyan, MiG-29K, multi-role fighter was selected and after suitable refurbishment is now the centrepiece of the Indian Naval Aviation. Nomenclature wise this aircraft could be likened to Indian Air Force's MiG-29M, however, there were substantial modifications and changes incorporated to make the aircraft worthy of carrier-borne operations. MiG-29K along with light combat aircraft (LCA) Tejas Navy are also earmarked for induction as Air Wing for the under construction Indigenous Aircraft Carrier 1 (IAC-1) Vikrant.
However, considering that there are many imponderables in the power to weight ratio of the aircraft engine and other ancillary issues in Tejas Navy being developed on time, Indian Navy has begun a search for a multi-role fighter for IAC-2 and follow-on. Recently, request for information (RFI) has been issued which stipulates, that the aircraft are intended as day-and-night capable, all-weather, multi-role, deck-based combat aircraft which can be used for air defence, air-to-surface operations, buddy refuelling, reconnaissance, etc., from Indian Navy's aircraft carriers. The respondents have been asked to respond by May 24, 2017.
RFI requires details whether the aircraft is single- or twin-seat (or available as both), and if it has one or two engines; whether it can perform Short Take-off But Arrested Recovery (STOBAR) or Catapult Take-off But Arrested Recovery (CATOBAR) operations (or both); whether the aircraft is already in operational use or not; whether helmet-mounted displays and large-area displays are integrated and fitted; is auto-landing an option; and whether or not an Active Electronically Scanned Array Radar is fitted.
The three likely contenders for the contract are Boeing's F/A-18 Super Hornet, a naval version of the Dassault Rafale, and the Russian-made MiG-29K, Fulcrum fighter jet. Currently, six aircraft are compatible for aircraft carrier-borne operations which include Dassault's Rafale, Boeing's F-18 Super Hornet, Russian MiG-29K and the F-35 Navy version from Lockheed Martin. Of these, F-18, Rafale and MiG-29K are twin-engine jets.
Maritime Patrol and Reconnaissance
In conformity with the Vision Statement it was imperative to expand maritime reconnaissance and surveillance footprints to meet operational requirements within the areas of interest of India. This need was realised way back in 1975 when Indian Navy very successfully won the case for all times to come to assume the operational responsibility for deep reconnaissance and surveillance of the Indian Ocean region. Consequently, five Super Constellation aircraft were transferred by the Indian Air Force. For this vital operational role, commensurate aviation assets had to be created in a planned manner. Russian made Ilyushin IL-38 was accordingly inducted in 1977 and a decade later the fleet was further strengthened with the induction of Russian-made Tupolev Tu-142M.
Technology advancements and the dwindling spares, product and maintenance support for the Russian-made aviation assets, lead to global search for the stateof-the-art platform to remain on task with sustained endurance on a continuous basis for the surveillance and reconnaissance of the region. With increasing liberalisation and fast improving diplomatic and strategic relationship, a true game-changer and most technologically advanced and intensive platform in the form of Boeing, Poseidon P-8I, Long-Range Maritime Reconnaissance & Anti-Submarine Warfare aircraft (LRMR&ASW) was simultaneously inducted into the US and the Indian Navy. The Indian Naval Aviation today is truly proud with its inventory of LRMR&ASW aircraft swelling to 12 platforms and with possibility of taking the inventory forward to 24 aircraft.
In order that no gaps are left within the entire spectrum of the surveillance and reconnaissance domain the next level of medium range which has thus far been attended to by the ageing Super Constellation and the Dornier aircraft is also being overhauled. This spectrum has been further bifurcated into Medium-Range Maritime Reconnaissance (MRMR) and Short-Range Maritime Reconnaissance (SRMR). The acquisition process for nine yet to be identified MRMR aircraft is in the works with no definite timelines for its availability. Fortunately, acquisition process for 12 SRMR, Dornier 228 aircraft should not be an issue as the platform can be sourced indigineously through Hindustan Aeronautics Limited (HAL).
Amphibious Aircraft
For quite sometime now Indian Navy has been looking for a multi-role, Search And Rescue (SAR), Humanitarian Assistance and Disaster Relief (HADR) mission capable, quick response anti-piracy, antismuggling and drug trafficking capable platform. The need has been felt based on the experiences of relief and evacuation missions, tsunami relief operations and to meet such other natural calamities. India's hunt ended with the identification of Japanese amphibious aircraft ShinMaywa US-2. However, talks reportedly collapsed during 2016 due to concerns over pricing and transfer of technology issue. The Indian Navy plans to procure 12 multi-role aircraft under a government-to-government deal between 2017 and 2022.
Rotary Wing
Naval Multi-role Helicopters
It is a fact that due to fast ageing of the Rotary Wing of the Indian Naval Aviation, Indian Naval Ships' optimum operational capability is restricted to some extent. The recent policy and efforts of the government is likely to mitigate this shortcoming. Midlife upgrade of Kamov Ka-28 would meet the partial needs in the antisubmarine warfare domain for which the naval elements are employed. In addition, procurement of 16 Multi-Role Helicopter (MRH) and eight Chetak helicopters, which are at advanced stage of procurement, would also provide the necessary boost for achieving integral air capability of ships at sea.
In the medium term, the 'Make in India' campaign of the government would see the naval helicopters being manufactured in India with the help of OEMs. In the long term, the Naval Utility Helicopter (NUH) and Naval Multi Role Helicopter (NMRH) programmes manufactured through 'Make in India' initiative would provide the requisite fillip to the operational capability of the fleet at sea.
Acquisitions of Russian-make Kamov Ka-31, an Advance Early Warning (AEW) helicopter, nearly a decade-and-a-half ago, has enhanced the AEW capability of the Indian Naval Aviation considerably. It has emerged as a versatile stop-gap capability, until a suitable platform is available for a fixed-wing AEW aircraft to operate from sea. Inventory of Ka-31 is being augmented gradually.
The Navy had originally planned to acquire 54 MRHs, and 16 of these should have come in 2007 as replacement for the first lot of ageing British Westland Sea King helicopters. This plan has bogged down, mired in a spate of controversies. It is expected that this programme too will take the 'Make in India' route to be resurrected to meet the long requirement in this segment.
The initial request for proposals had sought 16 helicopters with an option clause for eight more. It is hoped that final negotiations will soon fructify into a contract and the option clause of eight additional helicopters is granted to bridge the vital gap in the integral air support to the front line ships of the Indian Navy.
A joint venture between India and Russia has already finalised for production of 200 Kamov Ka-226T light-utility helicopters worth $1 billion, while the Hindustan Aeronautics Limited is also independently tasked to develop 187 similar choppers.
Unmanned Aerial Vehicles
In keeping with current trends in warfare technology, the Indian Navy has acquired two variants of the Unmanned Aerial Vehicles (UAV), the Searcher Mk II and the larger and more capable Heron from IAI Malat in December 2002. These craft fulfil a myriad of roles from search and probe to location and tracking of maritime targets, providing of over the horizon target data, assistance in SAR and battle damage assessment.
The Intensive Flying and Trials Unit (IFTU) was first set-up on August 31, 2002, at INS Garuda and was tasked with aircraft acceptance, training of operator and technical crew, evaluation and trials of aircraft and sensors, formulation of doctrines, operating and maintenance procedures. IFTU was formally commissioned as an operational squadron, INAS 342, the Flying Sentinels on January 6, 2006.
INAS 343 Squadron, the Frontier Formidables commissioned on January 17, 2011, operates IAI Heron and IAI Searcher Mk II UAVs based at Porbandar. It is the second squadron operating UAVs after INAS 342.
The third Squadron INAS 344, the Spirited Shadowers to operate Searcher Mk II was commissioned on April 11, 2012, and established on the East Coast at Ramnad.
In the past, efforts to develop and produce indigenous UAVs for tactical requirements for the Army, Navy and the Air Force have bogged down due to lack of indigenous capabilities in this domain. It is reported that the private sector will be involved in a big way to meet all future requirements of UAVs for the three Services. The Indian Army, Navy and Air Force propose to buy tactical UAVs, High-Altitude Long-Endurance (HALE) UAVs, Vertical Take-Off and Landing (VTOL) UAVs, and Medium-Altitude Long-Endurance (MALE) UAVs. It is estimated that the demand for MALE and tactical UAVs of the Indian Navy could be substantial.