Once Arihant is fully operational India will proudly claim the membership to the exclusive club of other 'nuclear triad' powers — UK, USA, China, Russia and France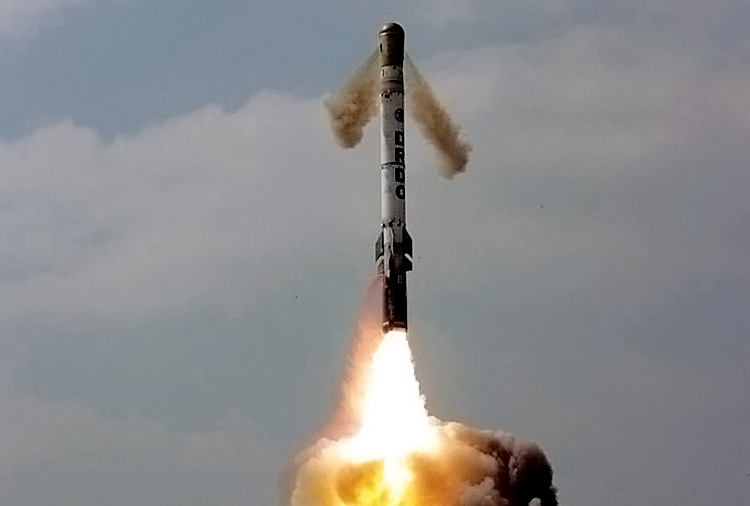 Arihant's missile tested, near ready for integration
A decision to create indigenous design, development and construction capability for strategic arm of nuclear powered ship submersible ballistic nuclear (SSBN) was taken by the Government of India way back in the early 1970s. The programme was established under an umbrella of a classified project advanced technology vehicle (ATV). Since then ATV Project (ATVP) has braved rough weathers and daunting challenges over the past four decades or more. The worst phase of the programme came with the downfall of former Soviet Union which under an Inter-Governmental Agreement had promised to help India in creating this highly complex indigenous capability as a technology demonstrator.
With the launch of Arihant, which translates to annihilator of enemies, by the then Prime Minister Manmohan Singh on July 26, 2009, a major milestone in the success story of ATVP had been accomplished. Immediately thereafter most crucial phase for the first of indigenous nuclear powered SSBN began.
Arihant is propelled by a 83 MW pressurised light-water reactor as its core. In 2013, the nuclear reactor of Arihant went 'critical'. Since then a series of daunting trials began, the first being extensive Harbour Acceptance Trials (HATs). On successful completion of HATs from December 2014 onwards began the crucial sea acceptance trials (SATs) which included extensive machinery, equipment and systems trials out at sea, on surface and submerged. The most intensive series of SATs was the test-firing of K-series of missiles. The K-series of missiles have been named after former President, Dr A.P.J. Abdul Kalam. The K-15 submarinelaunched ballistic missile has a range of 750 km and the K-4 has a range of up to 3,500 km. While the test-firings in surface and submerged modes have been entirely successful, the weapons integration is still works in progress. Based on the available reports, it can safely be assumed that it will not be long before Arihant is fully ready to be deployed on deterrent patrols, in naval parlance war patrol, with nuclear-tipped ballistic missiles. However, some sources believe that the vessel is "not yet fully ready" to be deployed on "deterrent patrols" with nuclear-tipped ballistic missiles in its four silos.
Practically, all leading newspapers on October 17, 2016, announced that INS Arihant was formally commissioned by Admiral Sunil Lanba, Chief of the Naval Staff, in August 2016. At the same time, same sources added that to maintain secrecy, it is not being referred to as INS Arihant. INS which stands for 'Indian Naval Ship' is prefixed to a ship's name only after it is ceremoniously inducted into Indian Navy on the authority of a Commissioning Warrant issued under the hand of the Chief of the Naval Staff.
Capability of Arihant
Arihant, a 6,000-tonne nuclear powered SSBN, can carry nuclear tipped ballistic missiles and is designed to prowl the deep depths of the oceans, with unrestricted submerged endurance carrying nuclear weapons and provide India with an assured second strike capability in conformance of the approved nuclear doctrine of the nation. Completion of the nuclear triad is extremely critical for India given the country's 'No First Strike' policy.
Arihant is equipped with far greater stealth features and is larger compared to the standard dimensions and specifications of SSNs, which are nuclear-powered attack submarines. SSBNs which are the strategic leg of a nuclear triad are also universally recognised as the "best guarantor" of a second-strike capability in a nuclear exchange.
Once Arihant is fully operational India will proudly claim the membership to the exclusive club of other 'nuclear triad' powers — UK, USA, China, Russia and France.
ARIHANT CLASS (SSBN)
| | |
| --- | --- |
| Dimensions | Length – 112 m (367 ft), Beam – 15 m (49 ft), Draft – 10 m (33 ft) |
| Displacement (tonnes) | 6,000 |
| Propulsion | PWR using 40 per cent enriched uranium fuel (80 MWe); one turbine (1,11,000 hp/83 MW); one shaft; one 7-bladed, highskew propeller (estimated) |
| Range | Unlimited except by food supplies for the crew onboard |
| Speed | 12-15 knots surface, 24 knots dived |
| Test Depth | 300 m (980 ft) (estimated) |
| Complement | 95 |
| Sensors and Processing Systems | BEL USHUS integrated sonar; indigenous sonar and tactical weapons control system with active, passive, ranging, surveillance and intercept sonars and underwater communication system |
| Armament | 6 x 533mm torpedoes, 12 x K-15 Sagarika SLBM (Range 750 km, 8 MIRV each) or 4 x K-4 Shaurya SLBM (range up to 3,500 km) |
| Launched | July 26, 2009 |
| Status | Undergoing sea trials |
| Programme | Arihant's reactor turned critical in mid-August 2013 and the extensive sea trials and weapons trials and integration phase are currently on. The second submarine of the class, expected to be named as INS Aridhaman has been launched. Two more submarines of this class are expected to follow. |
Dwindling Sub-surface Fleet?
Even as Arihant is on the threshold of being commissioned, as also the first of line, Scorpene class, INS Kalvari, there are major concerns over the Sub-surface Fleet's ability to deter and counter the potential enemy threat, due to dwindling force levels of the Indian Navy. The present submarine force level of Indian Navy comprises of only 13 conventional and ageing submarines.
Project 75 India for six next-generation conventional submarines with stealth technology and both Air Independent Propulsion system and land attack capability for longer underwater endurance and flexibility of operational deployment, seems nowhere on the horizon. The mounting cost of the Project is another cause for concern due to delays, in addition to seven to eight years of gestation period before the first boat rolls out.
In addition, last year the government has also approved the construction of six nuclear-powered submarines (SSNs) at a project cost of over Rs. 50,000 crore. These highly complex, top-end technologies intensive and sophisticated SSNs will entail prolonged gestation period of at least a decade and more, before the lead submarine is inducted. This was certainly a forwardlooking initiative, well within India's capability, to bridge the void created due to the much-delayed implementation of approved schemes for the revitalising and modernising the conventional submarines capability.
As of now the nuclear-powered submarine fleet of Indian Navy comprises a sole unit, INS Chakra, SSN on lease from Russia but without the nuclear tipped missiles. Negotiations are on for lease of a larger Akula class nuclear submarine from Russia to be used for operational training purposes. As per available reports, in the backdrop of recently held BRICS Summit, Russian President Vladimir Putin has formally made an offer for the lease of Akula II class SSN to India.
Conclusion
Commissioning of ships and submarines especially those of strategic value is done with great fanfare, pomp and show. This tradition is followed globally to prominently pronounce to the world, the growing prowess of maritime capability of a nation. Arihant having been launched on July 26, 2009, by the then Prime Minister, in keeping with the Indian Navy's traditions will also be commissioned by none other than the Prime Minister of India as INS Arihant.
Dwindling force levels of Indian Navy's submarine fleet has remained a serious cause for concern for over a decade-and-ahalf. Low levels of operational units which largely suffer from the old vintage syndrome compounds the abysmal situation of the submarine fleet.