India's entry into the elite global group of aircraft carrier designers and builders as its exclusive fifth member will mark an unenviable milestone to cross for the contemporary entrants in the field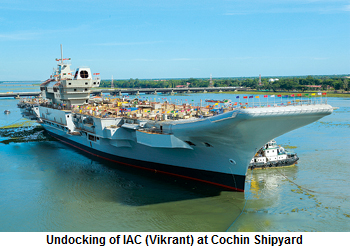 Soo n after gaining independence and the division of Royal Indian Navy (IN) assets between India and Pakistan a new journey for the IN was charted based on the concept of "two fleets; one for the Bay of Bengal and the other for the Arabian Sea". "The nucleus of each fleet was to be formed by a light fleet carrier which would be replaced by two fleet carriers, and these carriers were to be protected against enemy surface ships for which cruisers were considered essential".
The first perspective plan for the expansion and modernisation accordingly proposed that the "Royal IN starts its naval aviation by acquisition of two light fleet carriers which are smaller vessels with half the complement of aircraft, in the first instance. These two light fleet carriers would be given up when the first two fleet carriers are acquired". Thus during the 10-year acquisition plan, the IN proposed to acquire two light fleet carriers, which were later to be replaced by four fleet carriers and a total of 280 aircraft (16 squadrons of 16 aircraft each and two Fleet Requirement Units with 24 aircraft), out of which one light fleet carrier and 154 aircraft (32 fighter aircraft, 16 strike aircraft, 24 second-line aircraft and 82 training aircraft) were to be acquired during the first phase by 1954. The second light fleet carrier was to be acquired in 1956, the four fleet carriers in 1958, 1960, 1962 and 1963 and another 134 aircraft between 1955 and 1963.
The First Aircraft Carrier
INS Vikrant, a majestic class aircraft carrier and former HMS Hercules, was commissioned on March 4, 1961, merely seven years after the end of first phase of the plan. Vikrant heralded a paradigm shift in naval warfare by aerial strike capability added to the then infant IN. Indeed, a major milestone had been crossed. Since then the Fleet Air Arm has grown steadily to emerge as a critical force multiplier. In the entire spectrum of naval warfare, viz. surveillance and reconnaissance, identification or engagement, a potent and capable naval air arm, significantly remains a powerful instrument of blue water capability. However, after phase one the ambitious aircraft carriers acquisition plan was consigned to the cold storage.
Two decades later, the 1980s witnessed the wide ranging acquisition of naval aviation assets. The Sea Harrier, fighter, reconnaissance and strike aircraft, was acquired as a replacement for the Sea Hawks, to beef up the carrier-borne fighter and strike capability. With the acquisition of guided missile destroyers of Rajput class, Kamov 25 helicopters were inducted to provide vital anti-submarine and ship strike capability. While anti-submarine warfare (ASW) Sea Kings were first inducted in 1970s, the modern Sea King Mk 42B helicopters with anti-submarine and ship strike capability were inducted in the late 1980s. The IL 38 MR and ASW aircraft were acquired from Soviet Union, soon to be followed with TU 142M long-range maritime reconnaissance aircraft also during this decade. Dornier 228 maritime patrol aircraft was acquired in the early 1990s, as replacement for French Alizes ASW aircraft. Islander, MR aircraft, the Chetak light utility helicopter which still serves the Navy in SAR and anti-submarine attack roles, the Kiran jet trainer, Sea King Mk 42 C commando carrier helicopter, Kamov 25 and Kamov 28 ASW helicopter, were inducted in a phased manner.
Vikrant was India's only carrier for over 20 years. Owing to her poor material state she was out of action in real terms since the early 1990s. Despite several major overhauls, extensive refits and refurbishments, she was operationally deployed in a fairly restricted manner.
Vikrant-to-Viraat
By mid-1980s a debate on retirement of the sole aircraft carrier was gaining credence, simultaneously it was also considered prudent to keep alive the expertise, art and skills of operating aircraft carriers to attain blue water capabilities for the IN. Accordingly, INS Viraat, a Centaur class aircraft carrier, formerly known as HMS Hermes, was acquired off-the-shelf from UK and commissioned on May 12, 1987. Viraat was modified with a 14º ski jump to operate the Sea Harrier, a reinforced flight deck, and 1.2 inches (3 cm) of armour over the magazines and machinery spaces. A fully operational Viraat could embark up to 26 combat aircraft. However, considering her age and mounting cost of refurbishment and maintenance, decommissioning her has been under discussion for quite some times. The ship's latest deployment from Mumbai to Visakhapatnam to participate in the International Fleet Review (IFR) 2016 and back was designated as her last operational deployment. It is now confirmed that she would be decommissioned in June 2016. By the time the White Ensign is hauled down for one last time, INS Viraat would have set an unprecedented record of being the oldest aircraft carrier in service anywhere in the world. By the end of June 2016, the ship would have completed 56 years and seven months in commission.
Vikramaditya Arrives
Originally built as Baku and commissioned in 1987, the carrier served the Soviet and later the Russian navies, as Admiral Gorshkov before being decommissioned in 1996 as she was too expensive to operate. Admiral Gorshkov was purchased by India on January 20, 2004, after several years of negotiations at a final price of $2.35 billion. She was commissioned on November 16, 2013, at a ceremony held at Severodvinsk, Russia. On June 14, 2014, Prime Minister, Narendra Modi formally inducted INS Vikramaditya into the Indian Navy and dedicated her to the nation.
The deal also included the purchase of 12 single-seat Mikoyan MiG-29K 'Fulcrum-D' and four dual-seat MiG-29KUB aircraft (with an option for 14 more aircraft) at $1 billion, six Kamov Ka-31 'Helix' reconnaissance and anti-submarine helicopters, torpedo tubes, missile systems and guns. Facilities and procedures for training pilots and technical staff, delivery of simulators, spare parts, and establishment maintenance of facilities were also part of the contract. The upgrade involved stripping all the weaponry and missile launcher tubes from the ship's forecastle to make way for a short take-off but arrested recovery (STOBAR) configuration, transforming the Gorshkov from a hybrid missile cruiser to a potent and modernised aircraft carrier.
On January 21, 2016, INS Vikramaditya, made its maiden overseas visit to Colombo, capital of Sri Lanka, marking the first visit by an Indian naval ship to Sri Lanka in 30 years. This was also the first visit by an aircraft carrier to Colombo after 42 years. On January 23, 2016, Sri Lankan President Maithriplala Srisena visited Vikramaditya and was presented by a 50-men Guard of Honour, after which he walked around the ship. The ship participate in IFR 2016 in Visakhapatnam.
On its return leg from IFR 2016 to the Base Port, INS Vikramaditya, accompanied by IN ships Mysore and Deepak paid a goodwill visit to Male, Maldives. During the visit the warships had professional interactions with the Maldives National Defence Force to further enhance close co-operation between the two forces. Rear Admiral Ravneet Singh, the FOC Commanding Western Fleet was embarked on Vikramaditya during the visit. Above two overseas deployments indeed have left behind footprints of power projection in no uncertain terms.
Awaiting Rechristened Vikrant
On June 10, 2015 the first indigenously built aircraft carrier IAC-1, Vikrant was floated at a simple ceremony at Cochin Shipyard Limited (CSL). Post its launch the ship is currently undergoing major outfitting work and a series of fitment and machinery trials, basin trials, extensive sea trials, etc. The IAC-I features a STOBAR configuration with a ski jump. The deck is designed to enable aircraft such as the MiG-29K to operate. It will deploy up to 30 fixed-wing aircraft, primarily the MiG-29K and the indigenous naval variant of Tejas Mark 2, besides carrying 10 Kamov Ka-31 or Westland Sea King helicopters. The Ka-31 will fulfil the airborne early warning (AEW) role and the Sea King will provide ASW capability.
Vikrant will be powered by four General Electric LM2500 gas turbines on two shafts, generating over 80 MW of power. The gearboxes for the carriers were designed and supplied by Elecon Engineering. The successful completion of the 40,000-tonne aircraft carrier will put India in the elite group of four nations — the US, Russia, UK and France — capable of designing and constructing aircraft carriers.
While the credit for the basic design of Vikrant rests squarely with the Indian Navy's own Directorate of Naval Design, its conversion into detailed shipbuilding design was undertaken by the design team of CSL. The ship has a length of over 260 metres and breadth of 60 metres and as per present indications is expected to be commissioned in 2017.
Vishal Ahoy!
IAC-2, to be christened as INS Vishal in due course, will be the second carrier of the Vikrant class. During mid-2015 the letter of request outlining the broad specifications of IAC-2 had been issued to all global aircraft carrier shipbuilders. These include Russia's Rosoboronexport, the United States' Lockheed Martin, France's DCNS, and the United Kingdom's BAE Systems. The Naval Design Bureau has defined Vishal to displace 65,000 tonnes, i.e. 25,000 tonnes more than IAC-1, Vikrant and to steam at 30 knots. The specifications outline the IAC-2 to carry an air wing of 30 to 35 fixed-wing combat aircraft and 20 rotary-wing aircraft. With the modernised Vikramaditya going strong for operational service over the next three decades, addition of Vikrant and Vishal will significantly contribute to IN's aspirations of operating two carrier battle groups at any given point on India's either Coasts.
The letter of request specifies a catapult launched but arrested recovery (CATOBAR) system. Feasibility is being assessed for CATOBAR system to incorporate General Dynamics' new electromagnetic aircraft launch system (EMALS) technology. Evolving EMALS technology promises to bestow several advantages to give Vishal an edge over the other emerging systems in this sphere.
In furtherance of US-India cooperation in the strategic field, a Joint Working Group on Aircraft Carrier Technology Cooperation (JWGACTC) has been established under the auspices of the Indo-US Defence Trade and Technology Initiative. The forum's charter encompasses meaningful dialogue and interaction on advanced aircraft carrier technology, including nuclear propulsion and EMALS to pave way for top of the line technology intensive IAC-2. The CATOBAR capability is being earnestly pursued to ensure faster, fail-safe and efficient sorties generation rates of the future aircraft carriers. In addition to operational benefits, EMALS promises to reduce the airframe stress of CATOBAR launches for carrier-based aircraft, thus reducing maintenance costs over a period of time.
During the recently concluded second meeting of JWGACTC from February 15 to 18, 2016, the US delegation has visited Shore Based Test Facility at Goa, Bharat Electronics, Bengaluru, and the Cochin Shipyard Ltd. to assess the indigenous capabilities of building and integrating various naval weapons and sensors, capabilities of the shipbuilding yard with walk around of IAC-1.
Conclusion
Commissioning of Vikrant will bring the journey of the Indian aircraft carriers on to a steady course and it will be a unique feather in the IN's Design Bureau's hat. The DG of Naval Design's roll of honour will be complete with indigenous designs of all types of major warships. India's entry into the elite global group of aircraft carrier designers and builders as its exclusive fifth member will mark an unenviable milestone to cross for the contemporary entrants in the field.