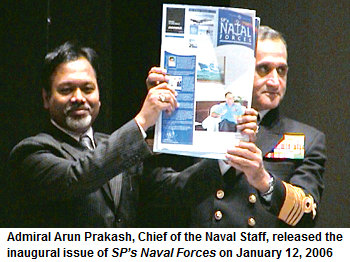 Mr Jayant Baranwal, Publisher and Editor-in-Chief of SP Guide Publications had already launched Aviation in 1998 and Land Forces in February 2004. He now wanted to complete the triad by starting the publishing of a magazine for the Indian Navy. He thus met the then CNS Admiral Arun Prakash and apprised him of his plans. The CNS offered full support for the endeavour. It must be mentioned here that publishing of defence related magazines is a difficult niche market and needs immense courage and vision to dab in it. Mr Jayant Baranwal pressed on and finally the first issue was released by Admiral Arun Prakash during January 2006.
SP's Naval Forces released by CNS
SP Guide Publications launched SP's Naval Forces on January 12, 2006, when Admiral Arun Prakash, Chief of the Naval Staff, India, released the inaugural issue at an impressive ceremony at the United Services Institute, New Delhi, in the presence of a large number of senior officers from defence, industry and diplomatic corps.
Welcoming the distinguished gathering Mr Jayant Baranwal, briefly highlighted the endeavours of the publishing house during the last four decades in bringing out defence publications focused on each service. He particularly thanked Admiral Arun Prakash for his gracious presence on the occasion and for all the encouragement and support that was received from staff of Naval Headquarters, New Delhi in making release of this publication a reality.The ceremonial release was followed by an interactive session between the guests which provided them an opportunity to interact with Indian Naval Chief.
CNS Speaks at the occasion
I think and hope that we are now going to rejuvenate Indian maritime power and hopeful that in the next 5-10 years, India will become one of the outstanding maritime powers. It is thus a very appropriate and timely occasion you have chosen to launch this new Journal. Mr Baranwal has been bringing up the topic with me from time to time and I must confess that I was a bit doubtful and differed with him on two issues. Firstly I said that will the Journal of this nature be able to sustain itself? Secondly I asked him whether Naval Forces was an appropriate title or would it be better to call it Maritime Forces but on both these issues he had no doubt. He is quite a resolute person and went ahead with what he wanted to do. I am certain that in times to come, he will be proven right and I will be proven wrong.
At this juncture I must also compliment him as I have gone through his publications over the years and I think that they have come a very long way and today all of them are of international quality in content, production and get up. This is a tribute to his energy and devotion, and something we can feel proud of. So in conclusion may I once again felicitate you Mr Baranwal, it is a day of great significance not only for you and your company but also for us in the Navy. It will give us a forum to project issues and focus on maritime India. I also hope that the name will not be restrictive to navy as the word 'maritime' encompasses a whole universe of maritime issues like merchant navy, ports and ships.