INS Airawat with five additional boats besides six integral boats to bolster the rescue and relief efforts in rain-battered Chennai was the first ship to be rushed to the site. The ship carried along 20 divers, medical supplies and other relief material.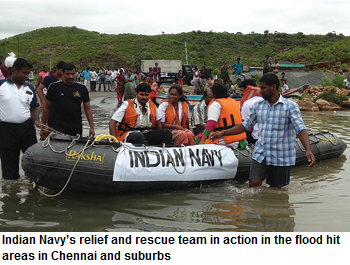 With the Chennai airport entirely closed owing to heavy rains and unprecedented floods, 60 km away from Chennai, INS Rajali, Naval Air Station at Arakkonam, was immediately opened up for operation of flights carrying essential supplies and relief material. Under the special arrangements, national carrier Air India was the first to land an Airbus A320 carrying passengers from Hyderabad at INS Rajali at Arakkonam. Simultaneously INS Rajali, which has the longest runway in the country was transformed into hub of the relief operations in 'Operation Madad' and was increasingly used to operate commercial aircraft. INS Rajali was also used to fly in the National Disaster Response Force (NDRF) teams. Private airlines also joined the rescue operations in rain-battered Chennai, with some of the carriers transported hundreds of people from INS Rajali to Delhi, Hyderabad and Bengaluru. Over 600 people including more than 130 university students and an old French couple were taken to safety from Arakkonam Naval Base by a coordinated team of defence and NDRF personnel.
Additional three warships carrying small boats, divers and other equipment were quickly deployed by the Eastern Naval Command, Visakhapatnam, to Chennai. The Indian Navy launched its relief efforts by providing fresh water and food packets to the people who were stranded for long due to devastating floods. Naval divers and rescue teams were deployed on fleet of Gemini boats to the inaccessible areas to transfer people to safe locations. Medical teams were also deputed to provide immediate succour to the stranded people. Amphibious ships were deployed for taking relief to the coastal areas for distribution the affected areas.
The Indian Navy has deployed a slew of ships and tankers in Chennai to step up the rescue operations apart from opening its base to serve as an alternative airport as part of 'Operation Madad', said Admiral R.K. Dhowan, Chief of the Naval Staff. "We are using innovative methods like carrying out surveys using unmanned aerial vehicles to identify waterlogged areas and sharing the information with the civil administration to help them in rescue work," he said.
To augment the relief efforts in the marooned areas aerial route was also adopted with several Chetak flights pressed into service from INS Adyar, Tambaram to airdrop food packets and relief material on the rooftops of the marooned citizens.
Two more ships—INS Shakti and INS Sahyadri—arrived at the Chennai from the Eastern Naval Command, Visakhapatnam, carrying 100 tonnes of relief materials and seven lakh litres of packaged water. The ships carried aircraft, 25 inflatable boats and a special rescue team of 108 divers.
A graphical representation of relief efforts by Indian Navy during Chennai floods
The Indian Navy's relief efforts were pro-active and prompt. Activating Naval Air Station INS Rajali when no flight operations from Chennai were possible, provided a shot in the arm for launching immediate relief efforts. Allowing civil flights operations from Arakkonam proved a great boon in evacuating stranded passengers from Chennai, as also in augmenting the relief efforts by NDRF teams. Graphic presentation of Indian Navy's efforts are evident from the images above.