From an economic, capability and capacity-building perspective the Japanese offer to set up final assembly and integration facility, parts manufacture and MRO facility for the US-2 aircraft in India in the private sector, will build up the aeronautics supply chain and create a cluster of high technology SMEs servicing not only the US-2 but also global aircraft and helicopter manufacturing companies quite like the Suzuki model which galvanised the automobile industry in India. The potential for export of the US-2 aircraft to third countries under mutual agreement between India and Japan may open a multibillion-dollar market.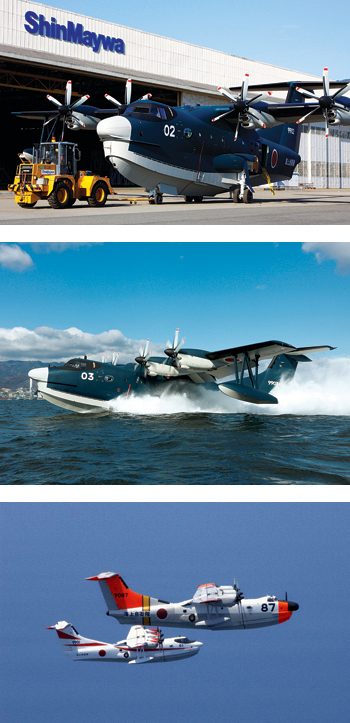 The Indian Navy is no stranger to amphibian aircraft. Naval aviation, which formally took birth at Kochi on May 11, 1953, operated the Shorts Sealand amphibian aircraft, as its first Indian naval aircraft. However, the capability of operating such aircraft was lost only in the 1960s when Indian Navy inducted conventional aircraft. With the advent of modern technology in amphibian aircraft, it is only natural that the Indian Navy has now sought to reacquire this unique capability, to truly realise its 'blue water' capability.
Amphibian aircraft combine the capabilities of rapid surveillance and prompt response, whether for relief or arrest or intervention, in a single platform. Such a capability is not available on any other platform. Unlike helicopters and aircraft, amphibian aircraft can land at the location and enforce both the will and the law of the nation and thus are a platform of choice for military transportation, benign and constabulary missions of navies and possibly the Coast Guard for constabulary functions. Unlike ships, amphibian aircraft can reach the location far faster than ships can thereby preventing destruction or dumping of contraband/evidence or escalation of a precipitous incident at sea. This includes the ability of even shore-based military and political authorities to undertake a first-hand evaluation of a situation at sea which may have international ramifications if left to escalate without control. No other aerial or surface platform has such capability.
The operational profile of an amphibian aircraft comprise of a land/lake/river-based launch with full cargo and personnel commensurate with the mission at hand, rapid transit to the target area mid-ocean or close ashore/inland water body, surveillance, data gathering and analysis during a stand-off ultra low level and low speed loiter, alighting on the water for executing the maritime mission and then either transit to another destination or return to the parent launch facility.
However, not all amphibian aircraft are suited for modern maritime missions. For mission effectiveness the main parameters of performance evaluation would be rough sea operations, range, payload, STOL capabilities, shallow water operations and beaching ability. Of these, rough sea operations are paramount for India. According to a study only about 60 per cent of all waves are below 1.2 metres in height, but 96 per cent of all waves likely to be encountered are below 3 metres in height. Amphibian aircraft must therefore, by design, have full operational capability to undertake maritime missions in wave heights of 3 metres as a norm. The range must be adequate to conduct missions into the Malacca Strait on the eastern seaboard and into the Gulf of Aden on the western seaboard including an ability to reach the island nations in the region should the need arise. For disaster relief operations the amphibian must have a capacity for onboard first aid, a sick bay for at least 10 patients and commensurate rescue gear. STOL features and shallow water operations must permit landing in busy waterways, possible riverine/high-altitude lake operations as well as in open oceans. Low stalling speed would enable better observation of the target area to search for casualties swept away in cyclones or tsunamis. Passenger capacity should be sufficient to carry one platoon of rescue personnel together with disaster relief material. In addition, amphibian aircraft should also be able to land in the rivers and lakes of distant parts of the country and in short runways to support the local population. As a total force level the aggregate transportation capability of the amphibian squadron should be able to put ashore one battalion of army personnel in one tranche to make a mission truly successful. These missions would require about 15-18 amphibian aircraft after accounting for maintenance and strike off reserves.
The US-2 meets and in many cases exceeds these operational requirements. With an ability to operate in sea state 5, landing take-off distances at about 300 m, transit speeds in excess of 550 kmph and a range of 4,500 km there is no other aircraft in its class. Combined with the world's only Boundary Layer Control (BLC) system on a cargo and transport aircraft, spray suppression features, marinised AE 2100 engines, glass cockpits, pressurised cabins and highly sophisticated surveillance and communication suite the US-2 stands out as a product of renowned Japanese technology. The US-2 has proven credentials of successful operations in open sea condition up to sea state 5 with wave height of 4 metres and a wind velocity of about 40 kts at a distance of about 1,200 km from mainland Japan.
The large payload and high transit speeds permit the positioning of security personnel in a state seized with internal disruptions should such intervention be invited of India. In the past, India has provided such stabilisation forces and amphibian aircraft supplements this capability manifold. Rapid and precision induction and deinduction of troops along undefended coastlines for covert/diplomatic or force projection operations is one example.
The US-2 can therefore be tasked for multifarious missions such as:
Surveillance, reconnaissance, intelligence gathering and on-spot investigation in the EEZ and on high seas.
Long-range naval logistic and maintenance support through ferrying of specialised dockyard personnel and spares to a fleet during overseas deployment.
Long-range and rapid visit, board, search and seizure (VBSS) operations.
Mainland to distant island and inter island logistic support without the need of a runway.
Long-range fleet support including crew rotation on high seas.
Oceanic search and rescue (SAR) and casualty evacuation (CASEVAC) from ships, submarines and oil rigs.
Monitoring, servicing and protection of offshore assets.
Controlling of derelicts and abandoned vessels.
Humanitarian assistance and disaster relief operations in the Indian Ocean region.
Countering small arms, shoulder launched weapons and drugs trafficking and terrorism at sea.
Countering illegal human migration.
Prevention of poaching and illegal fishing.
Prevention of toxic cargo dumping at sea and pollution control.
Anti-piracy missions.
Anti-terrorism.
Support for deep sea mining activities, offshore cable laying and hydrocarbon prospecting.
Recovery of ditched aircrew at sea of long-range aircraft of the Indian Air Force and Indian Navy such as the Su-30, AWACS, MiG-29 and the soon to be inducted Rafael.
Direct and rapid access to the Indian outpost 'Bharati' in Antartica.
Amphibian aircraft are today capable of a variety of missions. Under Article 98 of the United Nations Convention on the Law of the Sea (UNCLOS): "Every coastal State shall promote the establishment, operation and maintenance of an adequate and effective search and rescue service regarding safety on and over the sea and, where circumstances so require, by way of mutual regional arrangements cooperate with neighbouring States for this purpose." Amphibian aircraft can provide safety to mariners and thus fit this purpose completely.
As regards piracy, one of the more pressing international problems facing the seafaring community today, as per the UNCLOS military aircraft are "entitled to seize (Article 107)", enjoy "right of visit (Article 110)", and the "right of hot pursuit (Article 111)". Amphibian aircraft can thus be very useful in conducting anti-piracy missions and efficient, effective and economic constabulary operations for safe and secure seas. Once the deterrence value of amphibian aircraft is clearly established by conducting a few successful operations that bring culprits to book, seas will become far more secure in the future and at lesser operating cost.
Of particular relevance to the Indian Navy, and in fact all navies that operate long-range maritime patrol aircraft (LRMR) such as the P-8I of the Indian Navy and AWACS aircraft of the IAF, or deck-based MiG-29K, or shore-based maritime interdiction aircraft such as the MiG-29 or Su-30 or the Jaguar, is in the choice of the most suitable aircraft that can conduct a near all-weather high speed rescue operation for the entire crew of a ditched aircraft. The aircraft is more easily replaceable than its highly trained aircrew. The rescue of a crew is faster and surer with amphibian aircraft than using ships or even helicopters. Such an assurance of recovery at sea builds huge confidence and markedly improves operational performance of the aircrew—capability that does not exist as of now. The same could also be true in case of submarines and ships in distress or damaged at sea. In the latest accidents involving IN Dornier and ICG Dornier, a credible SAR platform like US-2 may well have saved some crucial lives of crew. An aircraft like US-2 has the ability to fly low and fly slow with excellent endurance and unique capability to land on water. These capabilities along with a modern surveillance-cum-weather Radar and various sensor suit make US-2 an ideal long-range SAR platform. A capability gap that clearly exists in the Indian armed forces aviation inventory as of now.
Recognising the crucial role that amphibious aircraft can play, China is also in the process of designing and manufacture of the Jialong AG 600 amphibian aircraft. This aircraft is potentially the largest amphibian aircraft in the world. Media reports suggests that final assembly of the aircraft would be completed by end 2015 and the aircraft first flight is tentatively scheduled in mid-2016. The aircraft is expected to be used to service the many artificial islands being built by China in the South China Sea and to increase China's presence in the Indian Ocean region. The aircraft is also aimed at tapping the potential global commercial amphibian market.
Partnering with Japan for collaboration on the US-2 aircraft is of immense strategic value to India in its path of progress towards realising a world-class 'Make in India' aeronautics and aircraft manufacturing ecosystem in the nation
From a strategic perspective India must not only be able to address its own immediate security needs and defeat the enemies of the state but must also be able to contribute in the safety, security and stability in its area of interest and influence. In the maritime arena this power status contributes to burden sharing towards protection of global public goods and the oceanic commons to achieve firstly, freedom of navigation and safety at sea; secondly, promote regional stability through an open and participative security architecture; thirdly, proactively alleviate suffering during disasters in the littorals of friendly nations: and, finally a constabulary capacity to maintain order at sea for the common good of the region. Development of such amphibian capabilities and induction of the appropriate enabling systems signal a firm regional commitment towards maintaining regional stability and maritime security and safety but is also an affirmation of delivering on the natural responsibilities that come with great power status.
A partnership with Japan for the production of the US-2 is not without significance to neighbouring countries who have formed production agreements with third countries inimical to Indian interests. These objectives are achieved by the induction of the US-2 aircraft. In the future once the Japanese policies on arms export controls are further liberalised India will have first mover advantage and possibly many other defence goods such as the trainer aircraft, reconnaissance and surveillance helicopters may also begin to be sourced from Japan and built in India.
Following a request for information (RFI) issued by the Indian Navy in 2011 and much discussions over several years, the Indian Navy identified the US-2 as the most suitable aircraft for their missions. Subsequently the issue was elevated to the annual summit meeting where the Prime Ministers recognised the potential of cooperating on this programme and formed a Joint Working Group. Subsequently, Prime Minister Narendra Modi and Prime Minister ShinzO Abe in their Joint Summit Statement of September 3, 2014, exhorted the Joint Working Group to "accelerate discussions on the collaboration of the US-2". As per the fact sheet circulated by the Ministry of Foreign Affairs, Japan, the US-2 collaboration seeks to concurrently advance the aeronautics industry including the final assembly and manufacture of the US-2, its maintenance, repair and overhaul and parts manufacturing in India. The US-2 will also be permitted to be exported to third countries under mutual agreement. It is evident that the collaboration on the US-2 between India and Japan is at the international level of immense diplomatic and strategic import, whilst at the domestic level the downstream benefits are across the military, technological, economic and social sectors.
From a technology perspective the final assembly, integration and delivery of the aircraft from a manufacturing facility in India will leapfrog India to amongst the few nations in the world with the ability to build sophisticated amphibian aircraft. One offshoot of this technology induction would be the ability to design and build the next-generation amphibian aircraft for providing a civil use platform that would link the island territories directly with the main-land without recourse to runways which damage the sensitive ecology of the islands. This would open up the tourism trade and rapidly develop these off lying islands. The US-2 induction has the potential to partner with the National Aeronautics Laboratory in the design and production of the regional transport aircraft which could well be amphibian catering to not only internal routes but also exclusive and difficult to access island resorts across the globe from a variety of destinations across the world.
This is the first time ever that any country has offered to develop an aeronautics industry in the private sector in India through a well targeted partnership and therefore the US-2 collaboration programme is completely aligned with Prime Minister Modi's 'Make in India' for the world initiative.
From an economic perspective the Japanese offer to manufacture the US-2 in India in the private sector will build up the aeronautics supply chain and create a cluster of high technology SMEs servicing not only the US-2 but also global aircraft and helicopter manufacturing companies quite like the Suzuki model which galvanised the automobile industry in India. The potential for export of the US-2 aircraft to third countries under mutual agreement between India and Japan as well as the supply of sophisticated aero structures to global aircraft manufacturers can open a multibillion-dollar market. This would offset the defence import bill to some extent. In additional, while the amphibious aircraft is a force multiplier for maritime forces the time has come when India needs to carry out a serious study towards the relevance of 'flying boats' in easing the ever increasing demand of civil air traffic in the near future. The opportunities are many but options are limited. Civil operations of a credible amphibian platform designed to suit Indian market could surely be one solution. Of course key operational parameters such as very short take-off and landing ability, high sea state operations, good payload, long-range and high speed flight is a necessity for successful operations.
From a social perspective the US-2 induction would open the manufacturing sector with much needed high skill jobs. It is learnt that Japan has also offered to train Indian technicians in Japan in aeronautics and avionics. This there would be genuine capacity building and capability development in India. India's island territories have virtually no scope for runway construction and consequently the inhabitants are denied simple medical and modern amenities. Requiring neither runway nor other airfield facilities modern amphibian aircraft can safely land within a few metres from the coast or islands and relief material and teams can be ferried ashore through integral boats requiring no logistic support from the shore.
The US-2 makes possible a range of options not achievable by any one type of platform. Its unique multi-modal design permits airborne, seaborne and land/lake/riverine operations in a single platform. From a purely operational perspective the US-2, capable of multifarious tasking and multifaceted missions is a force multiplier for the Indian Navy if not also for the Indian armed forces. The maritime safety, security and stability of the region are promoted by the induction of the US-2 aircraft given its unique capabilities. In addition, partnering with Japan for collaboration on the US-2 aircraft is of immense strategic value to India in its path of progress towards realising a world-class 'Make in India' aeronautics and aircraft manufacturing ecosystem in the nation.
The operational, technological, economic and social benefits of this Japan-India collaboration on the US-2 is indeed a force multiplier for India and its armed forces.