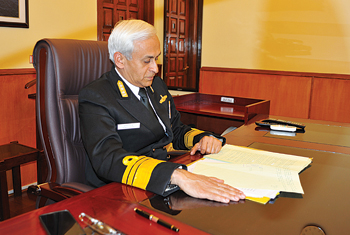 SP's Naval Forces (SP's): High-end technology has remained the cornerstone of force level planning and its development for the Indian Navy (IN). What were the challenges encountered in development of technology enabled and networked force in pursuit of such a doctrinal strategy?
Vice Chief of Naval Staff (VCNS): Use of high-end technology for force level planning enhances naval capabilities and, therefore, there has been a constant effort to study the trend of technological advancements and their induction. Further, science and technology is influencing war fighting tactics to a great extent and many countries are carrying out extensive research to innovate, design and develop high-tech weapons and sensors which would bring a sea change in the conduct of naval warfare in the future. Technological self-reliance, therefore, is critical for India's quest for global power status.
The enhancements of indigenous capabilities continue to remain the bedrock of Navy's development in all dimensions namely, surface, air, underwater, EW, and space. One of the core thrust areas of the Navy is the development of Network Centric Operations (NCO) capabilities, for both operational and support echelons. This would facilitate enhanced Battle Space Awareness and informed decision making at all levels. A robustly networked force rides on state-of-the-art communication infrastructure, to ensure real time data exchange with suitable security overlays. This development has had its share of challenges like availability of niche technology, a developing defence industry and import and licensing regimes. These challenges are being mitigated through proactive engagement with respective stakeholders and a thrust on the 'Make in India' policy.
SP's: What has been the experience on allocation of resources, balancing the competing demands for acquiring capabilities, managing planned growth and sustaining a multidimensional naval force?
VCNS: The allocation of funds has been commensurate with respect to the committed liabilities projections. Within these allocations, the Navy has progressed capability building in accordance with its requirements and plans. In consonance with the envisaged maritime capability, the Indian Navy has drawn up its long-term plans that would allow its transformation into a three-dimensional blue water power, capable of taking care of India's maritime interests anywhere. Our focus in the medium and long-term has been on induction of platforms to achieve a balanced 'force mix' for undertaking roles, missions and objectives in our primary and secondary areas of interest, and also facilitate out-of-area operations. We are acquiring platforms and assets in accordance with our long-term plans. The induction programme is continuing apace and over the next few years we expect to induct a wide variety of ships, submarines and aviation assets. The acquisition process has its own complexities and gestation time. However, we in the Indian Navy are committed to creating and sustaining a combat ready, technology enabled and networked force, capable of safeguarding our maritime interests and projecting combat power in our areas of interest.
SP's: Past decade and more has witnessed many vital projects delayed to an unacceptable extant, especially the 30-year indigenous submarine programme for conventional sub-surface fleet. What measures have now been instituted to bring the programme back on track and what interim measures evolved to ensure that the operational capability gap in this sphere is minimised?
VCNS: The Indian Navy is committed to making the indigenous submarine construction programme a reality with support from all stakeholders in Government of India and the industry, both public and private sector. This is a technologically complex project where the knowledge and the industrial efforts are focused on absorption of technology under Project 75, consolidation of expertise gained thus far and seek additional transfer of technology in areas where required. The Project 75 programme is at an advanced stage of implementation, with the construction of six Scorpene class submarines in progress at the Mazagon Dock Limited (MDL). The deliveries are expected to start from September 2016. As far as Project 75 (I) is concerned, it is being vigorously pursued with a focus on increasing the indigenous content in line with the 'Make in India' initiative of Government of India. In order to beef up submarine force levels in addition to commissioning of new acquisitions some submarines in the existing inventory that were approaching end of their service life are planned for medium refit with life extension. This would ensure that our submarine force levels remain viable.
SP's: What is your assessment of the capacity, capability and commensurate infrastructure and technology wherewithal with our shipbuilding industry, research and development organisation and defence industrial complex to support IN's pursuit of self-reliance through indigenisation?
VCNS: The Navy has made significant progress towards achieving self-reliance in warship building. The commissioning of state-of-the-art IN ships Kolkata, Kamorta and modern offshore patrol vessels stands testimony to the capabilities of our indigenous designers, constructors and industry. We have achieved significant levels of indigenisation in the 'to float' and to some extent in 'to move' component and we now seek the commitment and synergy of the industry in the 'to fight' component. Given the Navy's committed thrust towards indigenisation and self-reliance, involvement of both private and DPSU shipyards is imperative in order to meet the Navy's shipbuilding programme. However, to aid these endeavours by the Navy, it is also obligatory on the shipyards to modernise their infrastructure and to follow the latest construction techniques so as to deliver quality ships to the Navy within contracted time frames.
SP's: Recent pronouncements by our Prime Minister on 'Make in India' with the participation of the vibrant private sector behoves well for greater self-reliance and indigenisation. What is your assessment of the capabilities with the private sector in warship building (both surface and sub-surface), especially aircraft manufacturing (MRH) based on the PPP model for self-reliance?
VCNS: In order to realise the number of warship envisaged in the Maritime Capability Building Perspective Plan (MCPP), in addition to the capabilities of the DPSU shipyards, the Indian Navy would need to exploit the potential of PSU yards and private shipyards. With the introduction of an enabling section in the Defence Procurement Procedure (DPP), competitive shipbuilding would need to be resorted to in an increasing manner. Private shipyards are entrusted with building a number of yard crafts and auxiliaries for the Navy. Though the overall performance needs further improvement, award of shipbuilding contracts on competitive basis has surely and steadily become the chosen approach for acquisition of increasingly complex platforms such as NOPVs, coastal ASW platforms, diving support vessels and the landing platform docks. In this regard, it is relevant that shipbuilding is a very high investment activity with involvement of a large number of stakeholders such as equipment OEMs, design organisations, subcontractors, etc. Poor performance/delay by any stakeholder may adversely affect overall schedules of the shipbuilder. In addition, certain macro factors such as slump in commercial shipbuilding industry have had adverse effect on cash flow to some of the private yards. The Indian Navy has welcomed competitive and private shipbuilding and collaboration of private players with international designers and conscious that the capacities inherent in private shipyards would only enhance selfreliance and indigenisation targets set.
There is adequate scope for developing various disciplines in the aviation manufacturing sector. The manufacturer would be required to have the capability to absorb the technology that the foreign OEMs are ready to share.
In case of PPP model, the Hindustan Aeronautics Limited (HAL) has some firsthand experience. PPP model for self-reliance can only be leveraged through real partnership in terms of acquisition skills and also by way of sharing knowledge and experiences and not just capital. Especially in the aviation sector which maintains stringent quality standards, the PPP model would need to evolve more, both in depth and scope, if it has to meet world standards.
SP's: What is your perspective on dealing with emerging new opportunities for induction of technologies of diverse origin adding new dimension and challenges to the equipment policy of IN?
VCNS: Navy is a technology intensive force and the need to induct state-of-the-art weapons, sensors and equipment needs no emphasis. Till date the Navy has efficiently managed the diversification of its import sources, while inducting state-of-the-art technology through careful planning. However, there is also a growing need to standardise weapons and sensors across platforms to the extent feasible. The fact that we had to import most weapons and sensors from diverse sources in the past has resulted in the proliferation of supply chains, issues of inventory management and the necessity to set up separate dedicated training and maintenance facilities. For the future, we seek to limit the variety of weapons, sensors and equipment to the extent feasible for reasons of economy and standardisation, as also for efficiency and maintainability. Till now, the selection of weapons and sensors was largely based on 'class of ship' approach. We are now moving to define the requirements of the future, indentify capabilities desired and accordingly plan the induction of technologies.
SP's: With big-ticket induction such as Vikramaditya on the West Coast, future plans for basing Indigenous Aircraft Carrier and strategic assets such as SSN, SSBN, etc. on the East Coast, has the development of commensurate support infrastructure, basing and ancillary facilities, training and induction philosophies kept pace with development plans?
VCNS: The Indian Navy follows an integrated development process wherein accretion of infrastructure, manpower and training are dovetailed into the overall force level planning process. Consequently, we already have our long-term and short-term plans for creation of requisite infrastructure on both seaboards in place. Similarly we have formulated our Human Capital Strategy and Training Doctrine to address manpower and training needs till 2027. Although creation of infrastructure has a long gestation period due to associated issues of land acquisition and procedural bottlenecks, I am happy to share with you that we are poised for major growth with rapid strides being made in expanding the naval base at Karwar, expansion of the Indian Naval Academy, setting up of Forward Operating and Operational Turnaround Bases at Tuticorin, Paradip, and in our island territories. Specifically with regard to facilities for SSNs/SSBNs, we have plans in place for setting up an operating base on the East Coast for basing these strategic sub-surface assets. Also, there are plans to set up additional facilities for berthing the indigenous aircraft carrier on the East Coast.