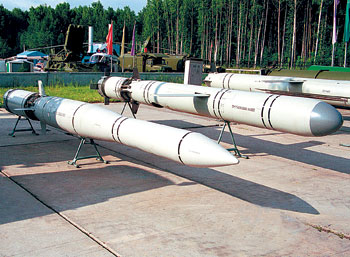 The folowing Rusian shipbased underwater weapons possess great export potential: the 533mm DTA-53 twin torpedoes tubes, RPK-8 anti-submarine warfare (ASW) missile system launching 212mm homing diving shells and MG-94ME hydro-acoustic jamming shells providing protection from torpedoes, RBU-6000 antisubmarine rocket launcher firing RGB-60 anti-submarine missiles or projectiles carrying 90R diving shells. The Purga-11661 system is offered for export to operate ASW weapons. Those are timetested and well-known in the market equipment meeting modern requirements.
Some advanced systems also attract increasing attention in the region. Among them is the 91RTE ASW missile fired by the Club-N system and Paket-E/NK small ASW torpedo launcher.
The 91RTE missile will kill all types of submarines at any depth they can go (up to 800m) and range of 5km to 40km. It flies with a ballistic trajectory to the estimated area of operation of the target and parachutes to the water. As soon as the homing system is trigged it will not take the missile long to destroy the target. The 91RTE missile is also compatible with the submarine-based Club-S. The fact that Russian submarines including the Project 636 and Amur-1650 carry it is a key to their superiority over foreign counterparts.
Another advanced system – the Paket-E/NK – provides effective anti-submarine defense at a range of up to 10km and torpedo protection at 100m to 800m. It features a control system, launchers, special sonar, and armaments fitted with 324mm small thermal torpedoes or countermeasure anti-torpedoes. Being one of the cutting-edge systems in the international market, the Paket-E/NK alone can make torpedo protection of the carrier ship 3-3.5 times stronger.
Speaking of submarine-borne underwater weapons, apart from the Club-S that Rosoboronexport offers, there are also 533mm TE-2 all-purpose electric, remotely controlled torpedoes and UGST deepwater homing torpedoes.
The TE-2 can destroy submarines at a range of up to 25km and depth of 450m. Its ability to operate in heavy ECCM environment, powerful propulsion unit, builtin test system, long service life, and cheap operation are distinctive characteristics of the weapon. The UGST can also hit ships and stationary targets, as well as submarines at a range of up to 50km and depth up to 500m. Once launched it either can home on the target or be guided to it through its remotely controlled system. Its modular design makes easier a task to reconfigure the missile according to the requirements of the Customer. It is applicable to the whole range of operations form reprogramming baseline equipment to replacing engine and storage tanks. There are several warheads for the weapon varying in composition and quantity of explosive.
Another area where Russia also dominates is the mine market.
Rosoboronexport offers underwater weapons that are deployed in Russia's Navy and navies of many other countries, including states in South-East Asia.