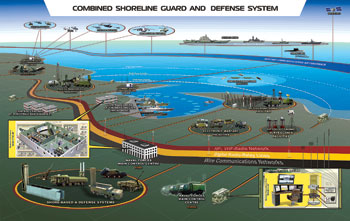 In recent years navies and cost guards of littoral states have been intensifying their cooperation in promoting security at sea. They have gone far beyond pure combat operation support to include efforts aimed at combating piracy, terrorists, illegal migration, drag trafficking and smuggling inshore. Most of littoral states make protection of fishery resources and enforcement of ecological regulations at oil production sites a priority.
Integrated coastal zone control systems have been developed to encompass all these tasks. Russia is one of few countries that have enormous experience in this area and all there is to create such systems. Russia's special exporter Rosoboronexport offers this kind of products in the world market.
This system's shore-based assets will detect a military unit making its move to land or intruders as easily as a ship in distress. It collects maritime operational data from ships, shore radars and meteorological stations, buoy beacons, as well as global systems round-the-clock, all year round in any climatic conditions.
Being aware of the situation inshore and above in the air, the system can provide any state agencies concerned with all required information. Thus it will save the Navy, Coast Guard, Marine Police, and sea ports an effort of developing their own systems. The only thing they need to do is to arrange data receiving procedures, work out data collection requirements and consolidate funds to set up an integrated system.
Russia's Navi-Traffic and Navi-Harbor radar surveillance and navigation management systems based on the most advanced technologies have already been deployed in 120 ports in over 40 countries to constitute a backbone of ship navigation management, national navigation safety, and search and rescue (SAR) systems, as well as shore defenses.
Russia has also developed and put into operation state-of-the-art surface surveillance assets. These are traditional Mys and Positive radars sweeping a radius of 90km as well as the unique Podsolnukh-E overthe-horizon, surface wave radar with a range of up to 450km.
If the Customer already has surveillance assets and systems produced in the country or provided by third countries Rosoboronexport offers software to integrate all data flowing from them into a unified coordinate system. The general maritime situation information in littoral areas can be fed to navy's automated command and control systems through the 83t170E and 83t611ET modular naval operation posts.
Should a threat arise at unprepared sites of the shore the high mobility vehicle-mounted Zveroboy and Okapi-Patriot surface surveillance systems will come in handy to deal with it. Drones present another solution to extend the reach of the system. For example, Russia's Dozor UAV will detect and identify surface targets, as well as provide a real-time data transmission at a range of up to 200 miles.
One of the system's advantages is its open architecture. Stage by stage the number of assets can be increased or they can be upgraded, advanced and future elements can be introduced to improve the capabilities of the system.
The already accumulated experience of deployment of such systems in Russia suggests that a system approach to information support of all maritime operations boosts efficiency by 30 percent.