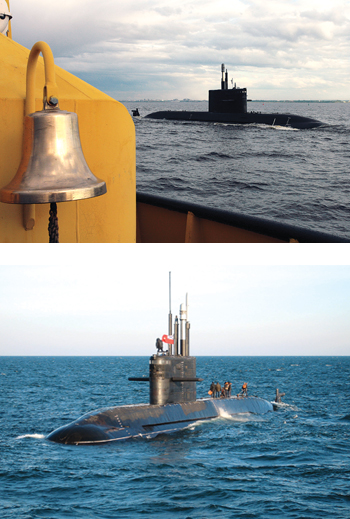 For decades, Rusia was and remains one of India's key partners, which have played a crucial role in the formation and strengthening of its national naval forces. Since the signing of the first "naval" contract in 1965 to supply four Project 641(I) diesel-electric submarines designed by Central Design Bureau for Marine Engineering RUBIN, five Project 159E escort ships and five Project 368P boats, more than 70 warships have been built for India at Russian shipyards. Moreover, India became the first foreign customer for which the ships were built according to special export projects.
The current agenda of bilateral cooperation in the naval sphere is packed, since India has set itself ambitious goals to strengthen its naval forces which must be capable of effectively protecting the national interests of the country in a huge maritime economic zone and the oceans of the world.
Russia is India's exceptional and reliable partner which traditionally offers only the exclusive models of weapons and military equipment. It absolutely relates to submarines which are in the center of the Russian-Indian agenda.
In May 2010 Rubin-developed brandnew non-nuclear submarine of project 677 Saint-Petersburg was commissioned by the Russian Navy. During development of project 677 submarine more than 100 R&D works have been performed, results of these are about 130 models of the modern weapon, equipment, complexes and systems installed on-board the lead ship.
Submarine Saint-Petersburg participated in several manoeuvres of Baltic Fleet, for example, jointly with frigate of Talwar class built for Indian Navy, corvettes of Project 20380, Project 877 and 636 submarines. In spite of specific conditions of Baltic Sea - shallow waters and high intensity of the navigation, all the assigned tasks have been carried out with mark "excellent". Quite recently submarine "Saint-Petersburg" has made a crossing to the North under hard conditions, with demonstration of high level in sea-keeping capabilities.
Submarines of project 677 are being serially manufactured for Russian Navy.
Understanding importance of retention and reinforcement of the partner's links, first of all with Indian Navy, export version Amur 1650 was designed. As compared to the previous generation, the normal water displacement was decreased from 2,350 tons to 1,765 tons which makes the ship of new project more compact and less visible. Reduced crew - from 52 to 35 men - decreases cost of the ship operation. Summarizing the benefits of the new project over the previous generation of non-nuclear submarines it could be noted that Amur 1650 has more powerful missile and torpedo weapons and more advanced sonar complex Lira with quasi-conform array. Accordingly, Amur 1650 is capable to detect less noisy targets, and in the same time this submarine has low proper noise level. In comparison to Kilo class, "Amur 1650" even in basic version has the greater range of underwater sailing. As Indian Navy had some additional requirements to temperature mode of 877EKM submarines, Amur 1650 carries more powerful refrigeration equipment and AC system.
Many experts consider that Amur 1650 is a good decision for renovation of the Indian Navy submarine forces. Operating such a submarine, it is possible to resolve the whole range of tasks - from fighting submarines and surface ships in the open ocean up to covert reconnaissance of remote littoral areas. Arming this submarine with BrahMos missile system will enable to increase significantly her capabilities in missile attacks against land-based objects. Promoting Amur 1650 as a basic platform for the International Bids for Project 75(I), Rosoboronexport is offering to India a modern, high-technological weapon, similar to weapon purchased by Russian Navy.
The main tendency of the submarine enhancement is the follow-on improvement of stealth. For non-nuclear submarines it is realised, first of all, by increasing range and duration of activities in submerged condition without contact with the atmosphere. This is achieved, in its turn, by application of storage batteries of higher capacity and different kinds of air-independent plants (AIP). Russian scientists and engineers are working in both directions. Work on AIP development based on diesel fuel reforming is progressing well.
Recently, relations between Russia and India in the area of military-and-technical cooperation are turning from simple «Buyer-Seller» relations to multi-aspect partnership in the development of new technologies and modernisation of weapon, joint R&D works and making of military products. This tendency is traced in the area of marine engineering as well. Known are requirements of Indian Navy to Project 75(I) in the part of design technology transfer, building and creation of particular basic equipment for submarines. Realisation of this project will open the new stage of cooperation in submarine shipbuilding, uniting the joint activities of Russian industry with scientific agencies of India and wide circle of industrial enterprises.