A major criticism of the warship construction programme in India lies in its huge time and cost overruns giving the impression that DPSU shipyards are inefficient as compared to their counterparts abroad. Only a mission mode holistic approach with active participation of the private shipyards and industry on a PPP model would impart the impetus that Indian warship building critically needs.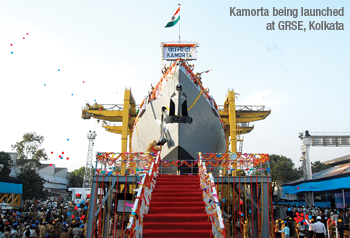 The fundamental steps in warship building in India commences with the drafting of the Preliminary Staff Requirements (PSR). This is the result of deliberations between the Naval Staff and the naval designers, taking into account the needs of the Indian Navy based on future threat perceptions and the availability of technologies and industrial capabilities. The PSR includes amongst others, role, armament, sensors, overall dimensions, speed and endurance. Thereafter conceptual design work is undertaken; it includes sifting through various technical alternatives and selecting the most feasible one for the preliminary design. This has detailed schematics and calculations to provide the best design option as per the PSR. It is presented to Naval Staff highlighting areas of give and take with respect to the PSR. A desired preliminary design is arrived at, after detailed deliberations. The detailed design work follows thereafter. This involves detailed drawings, hydrodynamic modelling, modifications if required based on modelling studies, layout plans, detailing of specifications and commencement of dialogue with the building shipyard. The shipyard prepares for construction of the warship by making production drawings, procuring jigs, fixtures and equipment that may be required during production.
Current Indian warship building activity is not restricted to the four defence public sector undertakings (DPSU) shipyards, apart from the Mazagon Dock Ltd (MDL), Garden Reach Shipbuilders and Engineers Ltd (GRSE), Goa Shipyard Ltd (GSL) and Hindustan Shipyard Ltd (HSL), orders are also on other government and private shipyards like Cochin Shipyard Ltd, Alcock Ashdown Shipyard, ABG Shipyard, and Pipavav Shipyard. Some of the naval orders on the Indian shipyards are:
Mazagon Dock Ltd:
— Six Scorpene class and three Project 75 (I) submarines
— Four Type-17A stealth frigates
— Three Type-15A destroyers
— Four Type-15B destroyers
Garden Reach Shipbuilders and Engineers Ltd, Kolkata:
— Three Type-17A stealth frigates
— Four Type-28 ASW Kamorta class corvettes
Goa Shipyard Ltd:
— Four offshore patrol vessels (OPVs)
— Six mine countermeasures vessels (MCMVs)
Hindustan Shipyard Ltd:
— One Project 75 (I) submarine
— Two Mistral class LPDs
Ship Building Centre (SBC):
— Two larger Arihant class nuclear submarines (not confirmed)
Cochin Shipyard Ltd (CSL):
— Indigenous aircraft carrier
ABG Shipyard:
— Two training ships
Alcock Ashdown Shipyard:
— Six Catamaran survey ships
Pipavav Defence and Offshore Engineering Co. Ltd:
— Five OPVs
To be ordered
Two Mistral class landing platform docks (LPDs) on private shipyards
Two submarine support ships
Two deep submergence rescue vehicle (DSRVs)
A major criticism of the warship construction programme in India lies in its huge time and cost overruns giving the impression that DPSU shipyards are inefficient as compared to their counterparts abroad. It is true that the DPSU shipyards have been favoured by the Ministry of Defence (MoD) as far as placing of orders, many a time beyond their capacities is concerned, leading to the notion that other private shipyards may not be able to deliver the vital defence requirements. The observations by the Comptroller and Auditor General (CAG) regarding award of contracts in respect of P-28 and P-15A ships to the Goa Shipyard Limited and Mazagon Dock Limited respectively, are indicators of this approach. The over-cautious view of the MoD, arises from the fact that the DPSU shipyards are completely under its control and also that private shipyards have not yet been able to develop the trust by consistent and reliable delivery of ships to the Indian Navy. The main reason for this lies in the difference between other manufacturing industries that have existing products 'before' taking orders and shipyards, which can only construct specifically designed warships 'after' getting the orders. The credibility of Indian shipyards is yet to be established with respect to international competitors. However, according to them, high tariffs, taxes, duties and financing charges shackle them even before they can begin to compete.
Defence shipyards have been building ships by launching the hull in water after welding it and thereafter the shipyard's artisans install machinery and equipment in highly cramped spaces. This has also contributed to inordinate delays in delivery of warships to the Navy as ships have taken nearly ten years to build. However, major defence shipyards like MDL and GRSE are already in the process of modernising by moving to 'modular shipbuilding' wherein 300-tonne blocks are manufactured independently along with their equipment, electrical wiring, pipelines, etc and then fitted to neighbouring blocks precisely. It is expected that MDL's modular shipyard costing `824 crore would soon be operational, and it is estimated that in future, destroyers would be constructed in 72 months and frigates in 60 months. The main goals of modular construction of warships are threefold, first to enable mission flexibility and future upgradability for enhanced service life of the ship; second to achieve synergies in procurement, integration, equipment and system testing, and parallel ship hull construction; and finally, to enable reductions in life cycle costs and costly upgrades by simplifying complexities in future upgrades.
Fundamentally, modularisation comprises of three classes of modules, namely construction, large-scale functional and small-scale functional modules based upon their sizes and utility. The construction module comprises large pre-outfitted sections, which are joined together. Detail work like wiring, piping, venting, etc is carried out before joining the sections. This part of modularisation results in reduction in construction time as well as costs. However, dismantling later is not envisaged, as it would involve considerable disassembly of subsystems. Large-scale functional modules comprise packaged units like mission units that carry out major functions and may be nearly as huge as a ship's compartment. For example. the weapon module may include weapon launchers, armament handling systems and magazines. The large-scale functional modules can be easily replaced for modernisation or modifications. The small-scale functional modules are maintenance, repair friendly units and are small as compared to other modules. These are modules, which can be assembled and disassembled, as these units form the ship's support systems. This allows for exchange of systems and easy upgradation at a smaller level.
Modular construction coupled with fixed price contracts would reduce the construction periods and cost overruns. Long construction times associated with telescopic method of construction have led to flexibility in carrying out changes in designs and major equipment by the Indian Navy, which in turn has resulted in increases in costs and delays. Thus with modular construction and freezing of design in fixed price contracts, warship building in India is entering a new era of efficiency. However, the control of overall design, selection of major equipment and weapon sensor packages would remain with the Indian Navy. Today, capability and responsibility to design complex warships (with association of major equipment manufacturers and collaborating foreign shipyards), is available only with the Indian Navy. The shipyards have not developed this crucial expertise because of their dependency over the ages on the Indian Navy. This restricts them in their manufacturing and in undertaking value additions. The private shipyards resort to buying the designs from foreign collaborators and depend upon the Indian Navy for providing design of warships on order.
Warship building in India also suffers from weaknesses like requirement of large financial resources, gross deficiencies in meeting economy of scale, insufficient levels of local industry support in ancillaries, lack of compatible indigenous propulsion and power generation systems, designing and capacity limitations, and long gestation periods between design and construction; leading to design and equipment changes and finally inability of research and development (R&D) and supply of modern weapon systems by the industry.
A modern warship operates in a multithreat 3D environment requiring a multimission and multi-role capability. The requirement to meet threats arising from subsurface, surface, air and space, dictate a network-centric approach centred on data fusion and presentation for selection of effective weapons from different ships to attack the threat. This puts a great demand upon the type of sensors with differing technologies required, for example, an antisubmarine warfare sensor package needs multi-frequency active and passive sonar covering long ranges to meet threats from submarines as well as mines, whereas the gunnery sensors need 3D multi-function radar, IFF and radars for littoral warfare to meet surface, air and anti-anti-ship cruise missile threats. These have to be coupled with comprehensive electronic warfare/ electronic counter-countermeasures (EW/ECCM) systems, navigation radars with global positioning system (GPS), automatic identification systems, echo sounder, speed log, communication system with multichannel, multi-mode suite, etc for meeting needs of warships operating in conjunction with other ships, naval aircraft and unmanned aerial vehicles (UAVs). All these have to be finally integrated in the computer aided information organisation/command management system (CAIO/CMS) for seamless handling of data for information fusion and decision capability. The sensor suite is to be supported finally by the weapon package be it guns in dual role, missiles for antiair and anti-surface/land attack, torpedo systems, weapons for integral air capability and decoy dispensers.
Naval weapons are complex in design due to the corrosive sea environment in which they have to operate, severe space and weight restrictions, and problems of stabilisation as the ship rolls, pitches and yaws. Further, as with all weapons, they cannot be procured just by paying the currency required by the manufacturers. The pricing of weapons is based upon the need of the country, its relations with the producing country, its position in the world at large and other considerations like, foreign policy issues, type of technology, availability of similar systems for sale in other countries, etc. In case of India, it has been the experience that the weapon system it desires is not available for purchase, the alternate offered is exorbitantly priced and what is affordable is invariably not required by India. The ideal solution is local availability of weapon systems, which will ensure maintainability, timely upgrades and modularity for warship design. The indigenous effort has still not matured to provide viable weapon system or even subsystem solution within the required time frames and the budgeted costs. Economic viability, arms export policy and non-availability of technological prowess, appear to be the main reasons. Thus, India is left with no alternative but to import and also prolong use of existing armament by process of life extension, constrained with improper/insufficient spares, inadequate documentation and testing methods. Weapons thus continue to be deployed well beyond their useful life without ascertaining if or at all, or to what extent they meet the designed parameters.
Production of BrahMos missile system; TAL torpedo by the Bharat Dynamics Limited (BDL); electronic warfare (EW) systems and Sonars by the Bharat Electronics Limited (BEL); AK630 and miscellaneous ammunition by Ordnance Factory Board (OFB); super rapid gun mount by the Bharat Heavy Electricals Limited (BHEL); Russian rocket system (RBU) and transportable target launchers by Larsen and Toubro (L&T), etc are heartening. However, the indigenous effort would have been much more visible had protracted delays not taken place in development of other weapon systems like surface-to-air missiles and heavyweight torpedoes. The GT/diesel propulsion and power generation packages continue to be procured from abroad for major ships. However, for some corvettes, Kirloskar Oils and Engines Limited (KOEL) have commenced supplying engines and with Walchandnagar Industries working in collaboration with DCNS France, more import substitution will follow. Other critical technologies in stealth, smart materials, ab initio weapon system design, etc continue to elude the warship building effort in India.
Taking a holistic view of indigenisation, the Kelkar Committee had rightly brought out that "there is an urgent need to review the whole concept of indigenisation and self-reliance, and it is time to go beyond the idea of looking at indigenisation purely as import substitution of components, subassemblies, etc within the country from raw materials. Today indigenisation as a concept will need to involve capability enhancement and development, increasing know-why, design and system integration, rather than having numerical targets". Further taking cognisance of the inadequacies in the Indian shipbuilding in the defence and commercial sector, the National Manufacturing Council, in its report, made the following recommendations to the Prime Minister's Office in 2009, for developing Indian shipbuilding industry:
Prepare, on an urgent basis, a comprehensive plan to enhance domestic shipbuilding capabilities and building large new shipyards.
Adopt a mission mode approach for the purpose.
A continuing mechanism be evolved to synergise the efforts of the naval authorities under the Ministry of Defence and the Ministry of Shipping for meeting long-term requirements of the country.
In conclusion, it suffices to say that only a mission mode holistic approach with active participation of the private shipyards and industry on a private-public partnership (PPP) model would impart the impetus that Indian warship building critically needs. In the words of President George Washington, "Without a decisive naval force we can do nothing definitive, and with it, everything honourable and glorious."
— The author is former DG NAI and Senior Fellow New Westminster College, Canada