Defence and security company Saab is offering India its 9LV Fire Control System with advanced naval capabilities for high sea operations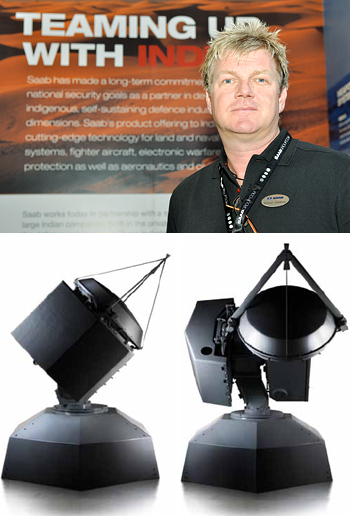 With majority of trade being carried out through sea routes, securing operations in the maritime environment is one of the greatest challenges the littoral countries face today. The Indian subcontinent is surrounded by sea on its south. This is a huge asset, but it has also left India prone to sea-borne attacks and infiltration.
In the heightened security context of today's world order, every littoral country is now focusing more on the maritime dimensions of its land security and is constantly upgrading its defence mechanisms to combat potential threats, whether manmade or accidental.
Modernisation of the land, air and naval defence forces, therefore, becomes crucial for defence preparedness. To counter maritime threats, the navies require an advance technological system which not only allows them to detect threats but also destroy them.
Saab's Cutting-edge Naval Solutions
Defence and Security company Saab is offering India its 9LV Fire Control System (FCS) with advanced naval capabilities for high sea operations.
This state-of-the-art fire control system surpasses the expectation and needs of navies all over the world and is currently considered as the world's most advance system. The 9LV FCS provides rapid, reliable defence against potential threat in any environment, including advanced seaskimming missiles and asymmetric surface threats. It comes with world-class acquisition speed, tracking and precision features, combined with the supporting software modules to outsmart any threat. It provides extremely efficient all-weather firedirecting capability for any naval gun or a wide range of missile systems. It is trusted to deliver when it needs the most.
The ability to deal with the demands of multiple incoming targets and tight time constraints sets the 9LV FCS apart from the competition. The system is compact, easy to use and easy to integrate. As well as being fully capable for naval gun support and surface defence coordination, the system provides advanced air defence capability. It is in operation in all environments and performs in all conditions. Perfectly suited for all vessels, it provides outstanding capabilities for defending own unit as well as protecting high-value assets.
Using the CEROS 200 and EOS 500 directors, along with any combination of surveillance radar and weapon, 9LV FCS customers have confidence that the director will perform.
The CEROS 200 is a fully stabilised radar and opsonic tracking system, purpose-built for use on naval ships. Working in combination with missile and gun systems, it provides excellent defence against any threat, including advanced seaskimming missiles and asymmetric surface threats in littoral environments.
The EOS 500 is a smart sensor system capable of performing high-accuracy 3D-tracking and surveillance. It is well suited to identify ships and track air targets, as well as supporting search and rescue operations. It also comprises one observation TV and one thermal imager, both of which are suitable for target tracking, as well as an 8Hz laser rangefinder, well suited to locking on and tracking air targets. The system also features the ability to switch quickly between targets.
The video tracker is common to both the CEROS 200 and the EOS 500. It simultaneously uses the input from both the TV camera and the IR camera in an automatic fusion process.
Also 9LV solutions can be readily integrated with systems from other providers and tailored to meet customer requirements. The components of the 9LV FCS include the option to provide realistic onboard training and simulation, fully preparing crew for live operations. The CEROS 200 simulation agent reads the CMS training environment and simulates all sensors, using advanced models to make sure their internal states and detection capabilities are as realistic as possible. Target filter and internal software functions behave in an identical manner to when actual hardware is used. A simulated video can be provided to support and enhance both test and training purposes.
With smart filtering, target acquisition and engagement, the 9LV FCS can designate, track and be ready to fire within less than a second. Also featured is a range of manual, automatic and semi-automatic modes for controlling sensors and weapons. It can be configured to provide a range of more than 100 kilometres, exceeding the needs of almost any surface-to-air weapon.
The 9LV FCS Air Defence Coordination (ADC) provides a range of configuration options, from manual to fully automatic. It considers all available weapons and ammunition to calculate and recalculate optimal kill probability, assigning the right weapon to the right target, every time. FCS software components benefit from open architecture standards, and hardware components are low weight, compact and have minimal power demands. These factors make integration as straight forward as possible.
Saab employs the principles of Naval Open Architecture (NOA) for the 9LV family. This increases opportunities for innovation and competition, as well as reducing burdens of cost and risk through life. NOA involves creating modular, interoperable systems that adopt open standards and have published interfaces.
Reduction of System and Life Cycle Cost
No matter how robust the combat systems are, it's vital to have comprehensive redundancy functionality to ensure the security of the forces and assets. For this reason, Saab's 9LV FCS includes target designators, used by lookouts for direct optical designation of targets. By using two designators, one for starboard and one for port, the installation is not restricted to those few areas onboard where 360 degrees of free sight is possible. The target designators are capable day and night and are equipped with an Aim Point device for Red Dot aiming.
The 9LV FCS combines combat-proven history with cutting-edge innovation. It performs in all environments and scenarios. It is quick and accurate. It provides outstanding value and availability throughout its life cycle.