The first Naval and Maritime Exposition 2013 (NAMEXPO) has elicited enthusiastic response from all the stakeholders which in turn has encouraged active support from the Ministry of Shipping, Ministry of MSME, Ministry of Earth Sciences and the Government of Kerala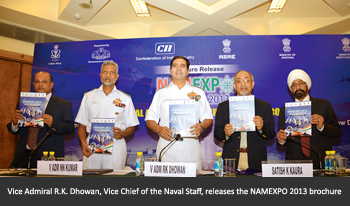 melatonin pregnancy test
melatonin pregnancy drug class
online
A Naval and Maritime Exposition (NAMEXPO) and Conference is being organised by the Confederation of Indian Industry (CII) in association with the Indian Navy, Ministry of Micro Small and Medium Enterprises (MSME), Ministry of Shipping, Ministry of Earth Sciences and the Government of Kerala from September 23-27, 2013, in the precinct of the Cochin Port Trust in Kochi. At the curtain-raiser ceremony of the pioneering initiative on September 16, 2013, Vice Admiral R.K. Dhowan, Vice Chief of Naval Staff, said that over the decades, our efforts in indigenisation have helped us achieve global shipbuilding standards, resulting today in 46 of the 47 warships and submarines on order for the Indian Navy being constructed in Indian shipyards.
Vice Admiral Dhowan also said that the Indian Navy is poised to grow and modernise and in the coming decade we plan to induct four to five platforms every year. "This provides an ideal opportunity to the Indian shipyards and the industry to adopt a collaborative approach and joint venture partnership to induct state-of-the-art weapons, sensors and combat management systems into the Indian Navy to meet the dynamic challenges which lie in the maritime domain."
NAMEXPO 2013 is a pioneering venture being laid on firm foundation to hold bright prospects for the Indian industry. The unique concepts enshrined into NAMEXPO 2013 have elicited enthusiastic response from all the stakeholders which in turn has encouraged active support from the Ministry of Shipping, Ministry of MSME, Ministry of Earth Sciences and the Government of Kerala. Despite being the first exposition of its kind, all the stakeholders have offered an overwhelming response to the Confederation of Indian Industry (CII). Over months of preparatory works CII have ensured to provide a common platform to end-users and manufacturers to know and understand each other's capabilities and requirements.
Satish K. Kaura, Co-Chairman, CII National Committee on Defence and Aerospace & Chairman, Samtel Group, heralding the forthcoming event said that NAMEXPO 2013 was aimed at projecting Indian Industry's technological and manufacturing prowess. "There is no denying the fact that Indian industry will further flourish if the required ecosystem is put in the place. One needs to understand and appreciate the fact that collaborative approach can yield the desired results. Collaboration is the key to success. Indian industry is keen to collaborate with the Indian Navy and various other government entities as well as foreign original equipment manufacturers (OEMs) for the long-term sustainable projects. Indian industry is very keen to support government's efforts to realise the goals of self-reliance and indigenisation."
Gurpal Singh, Principal Advisor of CII, said that CII has been committed to create a robust domestic manufacturing base across the spectrum. "There have been several success stories especially in the pharmaceuticals, IT and automobile sectors. However, manufacturing in defence sector is far below the mark. There is a need to encourage private sector to promote indigenisation and achieve self-reliance. Government of India should promote indigenous production, give incentives like tax exemption to defence manufacturers and encourage exports."