Built by BAE Systems at Barrow-in-Furness, the Astute class vessels represent a highly complex feat of naval engineering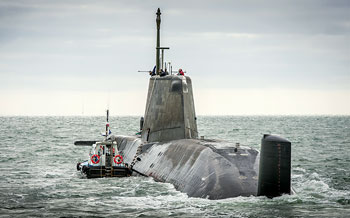 Nuclear-powered fleet submarine HMS Ambush was commissioned into the Royal Navy on March 1, 2013, during a ceremony overseen by the submarine's crew, naval base, workers and around 500 invited guests. Among the dignitaries attending the event was the First Sea Lord, Admiral Sir Mark Stanhope, and the vessel's sponsor, Lady Anne Soar, who were joined by representatives from the City of Derby, the submarine's affiliated town.
Speaking on the occasion, Admiral Sir Mark Stanhope said: "It is my great pleasure to welcome HMS Ambush into the Royal Navy Fleet during this important and noteworthy occasion. HMS Ambush is the second of the Royal Navy's Astute Class submarines. These vessels represent the cutting-edge of military technology and the future of United Kingdom submarine operations for many years to come. The Astute class vessels will contribute significantly to our mission of protecting the UK's interests worldwide."
Launched on January 5, 2011, at BAE Systems shipyard at Barrow-in-Furness, HMS Ambush arrived at her home port of HM Naval Base Clyde on September 19, 2012. Since then it has undergone extensive sea trials. Commenting on the occasion of the submarine's commissioning, Commanding Officer of HMS Ambush, Commander Peter Green, said that "the crew are immensely proud to mark the commissioning and to see the culmination of many months of hard work readying HMS Ambush for service with the Royal Navy. HMS Ambush's crew is now looking forward to the challenges ahead and to exploring the full range of the submarine's capabilities before it enters full operational service later this year".
Built by BAE Systems at Barrow-in-Furness, the Astute class vessels represent a highly complex feat of naval engineering. Highly versatile, the submarines are capable of contributing across a broad spectrum of maritime operations around the globe. As the home of the UK submarine service, all seven of the Astute class vessels will eventually be ported at HM Naval Base Clyde. The first of class, HMS Astute, entered service with the Royal Navy in August 2010 with HMS Ambush joining it at Faslane in September 2012. HMS Ambush is expected to complete sea trials and be formally handed over to the operational control of the Royal Navy later this year.
HMS Ambush cost around £1 billion (about $1.5 billion) to build, has very sensitive sonar and can carry a payload of 38 launchers to include Tomahawk Block IV land-attack cruise missiles and Spearfish wire-guided heavyweight torpedoes. Tomahawk can strike at a range of 1,000 km with pinpoint accuracy. More than 39,000 acoustic tiles mask the vessel's sonar signature, giving it superior stealth quality previously not seen in the Royal Navy. Media has speculated that due its stealth, Astute class of submarines make less noise than a baby dolphin. The submarines also have Atlas Hydrographic DESO 25 highprecision echo sounders, two CM010 nonhull-penetrating optronic masts which carry thermal imaging and low-light TV and colour CCD TV sensors, making the use of periscope redundant. For detecting enemy ships and submarines, the Astute class are equipped with the sophisticated Thales Underwater Systems Sonar 2076, an integrated passive/active search and attack sonar suite with bow, intercept, flank and towed arrays. The submarine's range is only limited by food and maintenance requirements. She has enough nuclear fuel to carry on cruising for up to 25 years nonstop. Its decibel level is so low that it can virtually sneak along the enemy's coastline undetected to land Special Forces.