Over the years, the naval air arm has grown from a modest force to a small air force and has in its inventory approximately 220 aircraft, 1,300 officers and 9,000 men. Further, from its early days of having a single air station, it has now grown to encompass eight air stations. Today, it is a multi-dimensional force comprising fighters, helicopters, MR aircraft and UAVs with the ability to support the entire spectrum of maritime operations.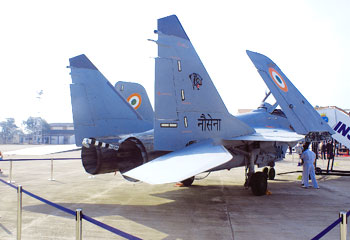 The foundation of Indian Navy's Fleet Air arm was laid in 1953 with the induction of the Sealand amphibians and commissioning of the first naval air station, INS Garuda, at Cochin on May 11, 1953. The Fleet Requirement Unit (FRU) established at Garuda comprised sea land amphibians, Firefly target towing aircraft, and later the Hindustan Aeronautics Limited (HAL) HT2 primary trainers which were later commissioned as Indian Navy Air Squadron (INAS) 550.
In 1958, a Jet Training Flight (JTF) was formed at IAF station Sulur with the induction of Vampire aircraft for converting pilots to fighter flying before proceeding for operational conversion. The first carrier-borne fighter squadron, INAS 300 (White Tigers), flying the Sea Hawk aircraft was commissioned at Royal Navy Air Squadron, Brawdy, on July 7, 1960. The fixed-wing carrier-borne anti-submarine warfare (ASW) and reconnaissance squadron, INAS 310 (Cobras), was commissioned on January 9, 1961, with Alize aircraft. The search and rescue flight for Vikrant was formed in 1964 with the induction of the HAL produced Aloutte III.
Carrier Aviation
With the commissioning of INS Vikrant on March 4, 1961, and the induction of its air wing, the Fleet Air arm, came into its own. Within a couple of weeks of its arrival in India, Vikrant was called upon to lead the task force blockading Goa and participated in Operation Vijay against the Portuguese enclaves on the West Coast in 1961.
During the 1962 Chinese aggression, INAS 300 did a quick weapon work up at Kalaikunda before moving to Air Force Station Gorakhpur. During the 1965 Indo-Pak hostilities, with Vikrant undergoing refit, INAS 300 operated from Santa Cruz providing air defence to the metropolis while Alizes operated from Jamnagar and carried out maritime reconnaissance tasking. However, it was during the Indo-Pak conflict of 1971 that naval aviation played a prominent role in the Bay of Bengal, where INS Vikrant was deployed and the carrier-borne squadrons conducted missions to neutralise enemy shipping and shore facilities and prevented Pakistan forces from being reinforced or evacuated. Nine gallantry awards were won by the White Tigers including MVCs and VrC.
The second aircraft carrier INS Viraat (ex-HMS Hermes) was acquired from the Royal Navy and commissioned on May 12, 1987. It added the requisite punch to the fleet while realising the nation's early vision of operating two fleet carriers which continued until the decommissioning of INS Vikrant in 1997. INS Viraat with its integral air arm of Sea Harriers, Sea Kings and Chetaks, has been central to fleet operations till date.
Fighter Power
Fighter training saw a quantum improvement with the induction of Kirans into INAS 551 on March 31, 1970, as a replacement for the Vampires. These aircraft continue to train Indian Navy's fighter pilots prior to their progression to advanced carrier-borne fighter aircraft. This aircraft also formed a naval aerobatic display team, "the Sagar Pawans" in 2003.
With the life of Sea Hawks getting over, Sea Harrier, the vertical take-off and landing (VTOL) fighter, was chosen as its replacement. These aircraft joined INAS 300 at INS Hansa on December 16, 1983, and at a time when the Sea Hawk era was on the vane, INAS 300 was roaring again. The first deck landing of the Sea Harrier on INS Vikrant was undertaken on December 20, 1983. A second batch of 17 aircraft was acquired in 1989 to augment the squadron's strength.
Reconnaissance Assets
The shore-based long-range maritime patrol (LRMP) task was entrusted to the Navy in 1975. Consequently, Islander aircraft were inducted into the Indian Navy on May 18, 1976, for training of observers and intermediate stage pilot training. The super constellations were taken over from the IAF by the Indian Navy and commissioned as INAS 312 (Albatross) on November 18, 1976. This role got a further fillip with the commissioning of INAS 315 (Winged Stallions) on October 1, 1977, at Goa, with the induction of the IL-38 long-range maritime reconnaissance (LRMR) aircraft. This squadron played a vital role in search and shadow missions including Operation Pawan and Swan while also being credited with detecting the renegade ship MV Progress Light during Operation Cactus in 1989.
With the de-induction of Super Constellations, INAS 312 was number plated. However, it was resurrected in 1988 with the induction of Tu-142Ms, the largest military aircraft in Indian service. These aircraft bestowed great strategic capability and enabled the Indian Navy to cover vast areas of the seas. To operate these large aircraft, INS Rajali at Arakkonam was commissioned on March 11, 1992, and has the longest runway in India. The MR Fleet got a further fillip with the induction of the short-range maritime reconnaissance (SRMR) Dornier aircraft in 1991. These aircraft continue to steadfastly meet all air surveillance and reconnaissance requirements of the Indian Navy.
Rotary Wing
To bolster the ASW capability of the fleet, Sea King helicopters were acquired in 1971 and formed a part of INAS 330 (Harpoons) which was commissioned on April 17, 1971. While INAS 330 at INS Kunjali II (rechristened INS Shikra) supported the fleet's operational requirements, the training role was being undertaken by INAS 336 (Flaming Arrows) at INS Garuda, Kochi. These helicopters were found capable and more were acquired for basing on frontline ships as integral flights. The Sea King Mk 42C commando variant helicopter was also acquired to support the Indian Maritime Security Force (IMSF).
With the induction of five Kashin class guided missile destroyers, with each embarking on an ASW helicopter, Ka-25 helicopters were acquired and formed the complement of a new squadron INAS 333 (Eagles) which was commissioned in December 1980. Later Ka-28 helicopters were procured and were inducted into INAS 339 (Falcons). In 2004, the Ka-31 airborne early warning (AEW) helicopters were acquired and formed part of INAS 339. The Ka-31s are ship-borne helicopters which provide AEW cover and are the eyes of the fleet enabling effective fleet air defence. Together with the induction of the LPD INS Jalashwa in 2007, six UH-3H helicopters were also acquired and were commissioned as INAS 350 squadron.
UAVs
In keeping with global trends, the Indian Navy inducted Searcher and Heron UAVs on August 31, 2002, and the first UAV squadron INAS 342 was commissioned at INS Garuda on January 6, 2006. Since then, this arm has seen steady growth and additional squadrons have been commissioned on the West Coast in January 2011 and on the East Coast in April 2012, respectively. These UAVs have also been successfully integrated with fleet operations and can be controlled by fleet ships.
Naval Air Stations
The former Portuguese airfield at Dabolim was commissioned on June 18, 1964, as INS Hansa, as it made an ideal base for disembarked carrier aircraft and for surveillance on the West Coast. The JTF was commissioned as INAS 551 on September 5, 1961, and was rebased at Dabolim. INAS 300 and INAS 310 also operated from Dabolim during these early days. INS Kunjali at Bombay was established in 1972 to provide shore support for disembarking ship-borne flights.
New airbases on the East and Far Eastern Coasts were also commissioned to meet the requirements of the Bay of Bengal. A Naval Air Station INS Utkrosh at Port Blair was commissioned in April 9, 1984. INS Dega at Visakhapatnam and INS Rajali at Arakkonam were commissioned in August 1991 and March 1992 respectively.
Recently, INS Parandu at Ramnad and INS Baaz at Campbell Bay, Andaman and Nicobar Islands, have also been commissioned in March 2009 and July 2012 respectively, to enhance Indian Navy's strategic reach. These air stations provide a springboard for naval air operations in support of maritime operations in our areas of interest.
Future Perspective
Naval aviation is poised to grow further with the induction of new and capable aircraft. Close to 20 MiG-29K aircraft have already been inducted and the squadron commissioned as INAS 303 (Black Panthers) on May 11, 2013, by the Defence Minister A.K. Antony. This squadron would form the fighter complement of INS Vikramaditya. Additional MiG-29K aircraft have been contracted and would form the complement of IAC 1 and a training squadron.
The MiG-29K (K stands for 'Korabelny' meaning carrier borne in Russian) is a potent carrier-borne fighter, which once integrated with INS Vikramaditya will bolster the Indian Navy's punch with its multi-role capability. The aircraft, armed with its arsenal of weapons, including advanced anti-aircraft and anti-ship missiles, precision bombs and sophisticated systems to support weapon delivery, will not only be able to dominate the air in all spectrum of conflict but simultaneously project power to meet the nation's military objectives. This lethal fighter aircraft will enhance Indian Navy's capability to exercise air superiority in its area of influence. It will also decisively enhance the core of Indian Navy's striking power. The men and machine have successfully completed all tasks and trials assigned and established its role worthiness, and the MiG-29K squadron has been commissioned as a frontline unit.
The light combat aircraft (LCA-Navy) is currently under development and being progressed towards ski-jump trials at the shore-based test facility (SBTF) being developed at Goa. The LCA (Navy) together with the MiG-29K would form the main carrierborne fighter component of the Navy in the near future. Hawk 132 advanced jet trainer (AJT) aircraft have also been contracted to take over the training role from the Kiran aircraft and deliveries of these are expected to commence during 2013.
With the Tu-142Ms nearing its technical life, Boeing P-8I was contracted in 2009 and the first aircraft has been inducted on May 15, 2013. The Indian Navy will be only the second operator of this aircraft after the US Navy to operate the P-8A Poseidon. These inductions would augment the long-range maritime reconnaissance (MR) ASW capabilities of the Indian Navy.
The helicopter fleet is also poised for growth to cater to additional requirement of integral flights. Induction of multi-role helicopters as replacement for Sea King 42As and to embark new ships is planned. Naval utility helicopters as replacements for Alloutte III/Chetak helicopters are also planned for induction in the near future. Induction of these helicopters would serve to enhance the fleet's integral air ASW capability and meet utility requirements. Additional unmanned aerial vehicles (UAVs) are also being procured to bolster our coastal surveillance capabilities.
Over the years, the naval air arm has grown from a modest force to a small air force and has in its inventory approximately 220 aircraft, 1,300 officers and 9,000 men. Further, from its early days of having a single air station, it has now grown to encompass eight air stations. Today, it is a multi-dimensional force comprising fighters, helicopters, MR aircraft and UAVs with the ability to support the entire spectrum of maritime operations. Future inductions would see Indian Navy's current naval aircraft inventory increase substantially. With this growth, naval aviation would be transformed into a potent multi-dimensional networked force that would be a decisive instrument of maritime power.
Indian Naval Aviation – Diamond Jubilee Seminar
To commemorate the Diamond Jubilee of Indian Naval Aviation, a seminar was organised under the aegis of Headquarters Goa Naval Area at INS Hansa on May 10, 2013.
The proceedings of the seminar began with the welcome address by Rear Admiral B.S. Parhar, Flag Officer Naval Aviation, and keynote address delivered by the Grey Eagle (senior most serving naval aviator) Vice Admiral Shekhar Sinha, Flag Officer Commanding-in-Chief, Western Naval Command.
The seminar was enriched by three scintillating presentations. Paper I -'A Look at the Wake, Before the Great Leap Forward' was presented by Admiral (Retd) Arun Prakash; Paper II – 'Ground Barricades to Air Efficacy – A Field Perspective' was a lucid and analytical presentation by Vice Admiral A.K. Chopra, Flag Officer Commanding-in-Chief, Eastern Naval Command, while the last presentation, Paper III – 'Integration of Potent Air Assets into Maritime Operations of the Future' was by Rear Admiral A.R. Karve, Flag Officer Commanding Western Fleet. The seminar was concluded by an address by the chief guest Admiral (Retd) R.H. Tahiliani.