The Fleet Air Arm must serve as a veritable sword arm of the Indian Navy, and this aspiration rightly flows from the global recognition of aviation component of a fleet as an invaluable tool for power projection and extending surveillance reach. Constant and focused pursuit of the aspiration as enshrined in the Indian Navy's Maritime Doctrine is an imperative and not a matter of choice.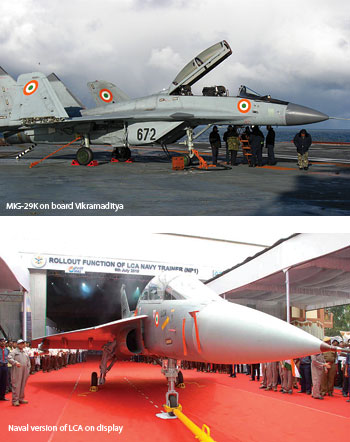 Since its inception in 1960, with the commissioning of former INS Vikrant, the Fleet Air Arm has steadily grown to emerge as a critical force multiplier for the Indian Navy. In the entire spectrum of naval warfare, viz. surveillance and reconnaissance, identification or engagement, a potent and capable naval air arm, significantly remains a powerful instrument of blue-water capability. Over the years, Indian Navy's Naval Aviation Arm has acquired not just the airborne assets integral to the fleet, but also shore-based naval aircraft to provide a comprehensive force multiplier capability.
After a lapse of nearly two decades of initial arming and consolidation, the 1980s witnessed wide-ranging acquisition of aviation assets. The Sea Harrier Fighter, reconnaissance and strike aircraft was acquired as a replacement for the Sea Hawks, to beef up the carrier-borne fighter and strike capability. Around the same time there was a strategic shift by acquiring for the first time, the aviation assets from erstwhile Union of Soviet Socialist Republics (USSR) also. With the acquisition of guided missile destroyers of Rajput class, Kamov 25 helicopters were inducted to provide vital anti-submarine and ship-strike capability to the fleet at sea. Simultaneously, the modern Sea King Mk 42B helicopters with antisubmarine and ship-strike capability were inducted to beef-up the existing fleet of Sea King 42. The IL-38 MR and anti-submarine warfare (ASW) aircraft were acquired from the USSR, soon to be followed by TU 142M long-range maritime reconnaissance (LRMR) aircraft joining the aviation arm in the late 1980s. Dornier 228 maritime patrol aircraft (MPA) was acquired in the early 1990s, as a replacement for French Alizes ASW aircraft. The planned induction was meticulously pursued with Islander, MR aircraft, the Chetak, light-utility helicopter (LUH) which still serves the Navy in search and rescue (SAR) and anti-submarine attack roles, the Kiran jet trainer, Sea King Mk 42 C commando carrier helicopter, Kamov 25 and Kamov 28 ASW helicopter, augmenting the Fleet Air Arm, in a phased manner.
The next decade witnessed a decline in the desired capability due to ageing airframes, obsolescence and absence of a viable midlife upgrade programmes for the aviation fleet. The downturn was however soon arrested, as the end of 1990s saw credible acquisitions of the Kamov 31 airborne early warning (AEW) helicopters from Russia and UAVs from Israel.
Recognising the imperatives of a wellbalanced and credible Naval Air Arm's significant role in building a true blue-water capability, Indian Navy's Maritime Doctrine has rightly incorporated comprehensive modernisation plan for its Fleet Air Arm through a two-pronged approach, viz. midlife upgrades and modernisation of existing aircraft, and through the acquisition of state-of-the-art and versatile top-end technology based aircraft and capabilities. The critical staff requirements for the sophisticated platforms include: state-of-the-art sensors, communications and weapons, advanced avionics and aero engines. This strategy has realised rich dividends with a big-ticket deal of the P8I long-range maritime reconnaissance and anti-submarine warfare (LRMR&ASW) aircraft from Boeing. The onsite delivery of the first aircraft was made on December 19, 2012, with two more due to be delivered by May 2013. Indian Navy has exercised the option clause and ordered four more P8I Neptune, totalling a significant though not adequate force level of 12.
Encouraged by the global response, offering to the Indian Navy advanced technology that is unmatched in the longrange MR aircraft segment, a global RFI was floated for medium-range maritime reconnaissance (MRMR) aircraft to replace the fleet of 10 Islanders. Boeing, Lockheed Martin, Alenia Aeronautica, EADS CASA, Dassault Aviation, Saab, Embraer and Bombardier-IAI-Elta have responded to the RFI. In addition to Boeing's MRMR variant, the other contenders include Lockheed Martin's C-130 Sea Hercules, Alenia Aeronautica's ATR-72(MP), EADS CASA's C-295 MP, Dassault's Falcon 900MPA, Spartan 27J, Embraer's P-99A, Saab's Saab 2000 and Bombardier-IAI-Elta's Q400 based multimission maritime aircraft. In addition, Indian Coast Guard (ICG) too has floated a RFI for six MPA but without AEW system. Likely participants in this RFP would be ATR-42MP, EADS' C-295 or CN-235MP.
The acquisition of Kamov 31 AEW helicopter from Russia has proved a versatile platform in this segment of airborne operations at sea. Encouraged by its established capability and performance at sea, additional units of Kamov 31 helicopters are being acquired. However, the rotary-wingbased capability is restricted by limited endurance of the platform at sea. What Indian Navy really requires is the intrinsic AEW capability through fixed-wing aircraft to meet the long-term requirements of power projection, dominating the littorals if and when required, and to influence the land battle. Indian Navy does not seem to have a choice for an intrinsic carrier-borne fixed-wing AEW aircraft.
There are reports to suggest Indian Navy's interest in acquiring a fixed-wing AEW platform for its aircraft carriers, first INS Vikramaditya, then the three IAC. While Northrop Grumman's offer of E-2 Hawkeye is under consideration for nearly a decade now, the flexibility being offered by the Bell-Boeing V-22, Osprey has in recent times caught the imagination of the naval planners. With vertical take-off and landing and short take-off and landing, the aircraft provides both the flexibility in operation and enhanced endurance at sea to conform to naval staff qualitative requirements. Fixed-wing flight provides much greater range and speed, while vertical launch and recovery precludes the requirement of a catapult launcher.
Short take-off but arrested recovery (STOBAR) scheme approved both for the indigenous aircraft carrier (IAC) and the modernised and refurbished Vikramaditya (ex-Admiral Gorshkov) has narrowed down the fighter option to MiG-29K for the two carriers. The induction of MiG-29K, multi-role fighter aircraft with air combat, ground attack and maritime strike capabilities would prove a potent combatant for the Carrier Battle Group (CBG). The aircraft with its air-to-air 'infrared' and 'beyond visual range' missiles, guided and unguided bombs, anti-ship missiles, data-link capability, a credible EW suite and buddy tanking, makes it a versatile and potent fighter aircraft. In addition, LCA (Navy) is expected to augment the MiG-29K fleet.
The 40,000-tonne IAC, currently under construction at the Cochin Shipyard Ltd, will deploy about 30 combat aircraft mix of MiG-29K and LCA (Navy) in STOBAR configuration. The LCA (Navy) prototypes have General Electric F404 engines providing about 80 kiloNewtons of power that Indian Navy feels is inadequate for a carrier-borne combat aircraft. There is a possible alternative of LCA (Navy) being powered by GE F414 engines that provide 90 kiloNewton thrust to meet the Indian Navy's requirements. However, the repeated slippages of the project milestones is putting spanner in the Indian Navy's plans. After the first prototype was ceremonially rolled out in July 2010, the aircraft has suffered weight issues and problems with its landing and certain control laws, including sink rate parameters. On April 30, 2012, the LCA (Navy) finally undertook its maiden test flight for 22 minutes. There are serious misgivings that the indigenous LCA (Navy) Mk.1 may never actually land on an aircraft carrier. Therefore, India's first home-built carrier-borne fighter jet may hopefully be the LCA (Navy) Mk.2
Taking cognizance of the evolving technology, Naval Headquarters is probably in the process of drawing up the fresh Staff Qualitative Requirements for IAC-2 and the aircraft that should equip it. This could impinge upon the IAC-2's currently thought of air wing of MiG-29K and LCA (Navy). The approval for acquisition of Rafale as the IAF's medium multi-role combat aircraft has opened multiple vistas for Indian Navy's carrier-borne fighter aircraft. Those in the reckoning could be Boeing's F/A-18 Super Hornet and the Dassault's Rafale, both possessing the naval versions which operate in the catapult assisted take-off but arrested recovery (CATOBAR) mode. This would, however, entail ab initio re-visiting the design concept for IAC-2, of course with penalty of time for approval of the project.