The Indian Coast Guard's current plans include growth to about 100 air and 150 surface platforms. Vice Admiral M.P. Muralidharan, Director General, Indian Coast Guard, in an interview with SP's Naval Forces, spoke at length about capability and modernisation plans.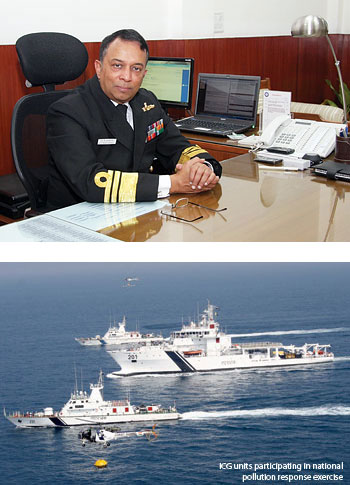 SP's Naval Forces (SP's): Post the Mumbai 26/11 attacks there had been a paradigm shift in the modernisation plans of the Indian Coast Guard (ICG) in order to revamp the coastal surveillance and security mechanism of the country. Would you like to highlight the major policy changes instituted in the charter of responsibilities assigned to ICG?
Vice Admiral M.P. Muralidharan (DG): Post 26/11, the Indian Coast Guard has been given additional responsibilities for coastal security in territorial waters. Coastal security by its very nature is a multiple agency responsibility that involves surveillance, intelligence gathering, dissemination of information and actual operations. The main agencies participating in coastal security along the Indian coastline include the Indian Navy, Coast Guard, Marine Police, state police, Customs, Central Industrial Security Force, State Fisheries, Intelligence Bureau, major and minor ports, State Maritime Boards and other related Central and state agencies. Each stakeholder has its individual charter of duties and responsibilities clearly defined so as to contribute towards overall coastal and maritime security of the nation. In order to better integrate the efforts, the Indian Coast Guard, in consultation with other Central and state agencies, has promulgated standard operating procedures (SOPs), which aim at enhancing coordination both at apex and field levels. Coastal security exercises are regularly conducted to validate procedures and also find shortcomings, if any. Fisher folk form a key ingredient of our coastal security mechanism and regular community interactions are undertaken so as to make them our 'eyes and ears'.
SP's: How would you like to assess the capability of ICG to effectively counter the increasing and dynamic challenges emanating from its area of operation?
DG: The changing nature of threat demands continuous and sustained vigil across the maritime frontiers. In order to maintain effective surveillance in our sea areas of interests, the Indian Coast Guard undertakes an average of 18-20 ships and 8-10 air sorties per day. The enhanced deployment of assets, backed by operative measures, such as extensive boarding operations, information sharing between stakeholders and employment of technology, result in enhanced domain awareness. Our Maritime Rescue Coordination Centres (MRCCs), in addition to saving precious lives during the course of numerous search and rescue (SAR) scenarios, pool information from various agencies, employing existing technologies such as satellite-based automatic identification system to swiftly respond to evolving scenarios. The successful identification, tracking and apprehension of "MT Enrica Lexie" and "MV Prabhu Daya" involved in maritime incidents, are recent examples.
SP's: Please elaborate upon the broad contours of additional responsibilities assigned to the ICG under the post-Mumbai 26/11 schemes approved by the Government of India.
DG: Post-26/11, while the Indian Navy was made responsible for overall maritime security, including coastal and offshore security, the Indian Coast Guard was designated as the authority responsible for coastal security in territorial waters. This included sea areas to be patrolled by the Coastal Police. The Director General Indian Coast Guard was designated as Commander, Coastal Command, and made responsible for overall coordination between Central and state agencies in all matters relating to coastal security. A key subset of the new scheme was coordination of efforts and intentions. Towards this, Joint Operations Centres, manned by the Indian Navy and Coast Guard personnel, were set up at various locations and inputs from various stakeholders are made available at these locations. In order to enhance surveillance, a chain of static sensors is being set up along our coast and in island territories to be monitored by the Coast Guard.
SP's: Force development and force accretion have a long gestation period for acquiring commensurate infrastructure and assets. Are you satisfied with the shipbuilding capacity of the Indian defence shipyards and their capability to meet the scheduled induction plans of ICG?
DG: There is no denying that maritime capability development involves a long lead-time. Shipbuilding is a complex process with associated skill, design and technological challenges. Indian shipyards have come a long way and have supported the growth of the Coast Guard over the years. As the Coast Guard takes on increasingly complex roles, such as pollution response with increasing 'time on task' for its assets, indigenous shipbuilding capability has commensurately progressed to integrate latest industry standards and technologies. Shipyards have developed adequate capacity and indigenous expertise to support the service through its future growth. The concurrent focus by shipyards on compressing delivery timelines and enhancing the efficiency of construction processes augurs well for future induction plans of the service. Indian shipyards have the capability and capacity to meet the shipbuilding requirements of the Coast Guard.
SP's: To bridge the capability gap for ICG on a short-term perspective, are innovative measures being adopted both for surface vessels and aviation assets?
DG: While the gap between desired and actual force levels is a modern budgetary reality, bridging this gap is a contemporary concern engaging most maritime forces. As far as the Indian Coast Guard is concerned, optimal exploitation of available assets and resources is a key component of its operational philosophy. Coast Guard acquisition plans focus on induction of multi-role highly versatile platforms to offset some of the limitations associated with numbers. Integrated platform systems, high level of automation and higher endurance and fuel-efficient platforms lend greater operational flexibility. Robust maintenance and repair philosophies enable more time for assets in the air and at sea. Modern sensor and communication suites with real-time information exchange allow better domain awareness. Last, but not the least, focus on better equipping and training of personnel enable assets to function optimally.
SP's: Kindly furnish the latest updates on the approved schemes for coastal surveillance, security and its schedule for operationalising the infrastructure network, assets and equipment.
DG: Post-26/11, efforts towards enhancing coastal security can broadly be classified as those relating to 'capacity building' and 'capability enhancement'. In terms of 'capacity building', the service has inducted a large number of assets, both surface and air. In addition to more than hundred ships and boats currently on order with various shipyards, new aircraft are under production at HAL. Concurrently, several acquisition proposals are under way. With induction of these planned assets, the Coast Guard would grow to approximately 150 surface platforms and 100 aircraft by 2018 almost double the existing numbers. In terms of infrastructure, two new Regional Headquarters, one District Headquarters and more than a dozen new stations have been added along the coastline since 26/11. Keeping in view the long-term training needs of the service, a Coast Guard Academy is being set up in Azhikkal, Kerala, to impart training in specialised subjects dealt with by the service. This is in addition to the conduct of common basic training with the Indian Navy, which has enabled greater synergy between the two maritime services over the years.
In order to enhance the capability and effectiveness of operations, domain awareness has been accorded requisite impetus. As stated earlier, a chain of static sensors is being set up for providing electronic surveillance in sensitive and high-density areas along the coastline. Phase-I of the project is likely to conclude by March 2013 and Phase-II would be launched shortly. Pooling of information and resources between multiple agencies using existing technologies such as automatic identification system and long-range identification and tracking has seen steady progress. Mechanism to monitor small craft, pleasure boats and dhows is being pursued in concert with other stakeholders. Regular costal security exercises with active participation of all stakeholders at national and state levels enable better coordination of efforts. Promulgation and continuous updating of the standard operating procedures and community interaction programmes, that I spoke about earlier, allow our efforts to be focused in line with altering threat perceptions and operational dynamics.
SP's: How do you visualise the ICG evolving in the future to undertake assigned roles and responsibilities?
DG: The Indian Maritime Zones are influenced by larger geostrategic dynamics of the region that impact India's maritime security. The continuously evolving nature of maritime threats poses several challenges. The ability to respond to the unpredictable nature of these threats is an aspect that would engage the maritime forces to a considerable degree in the future.
The Indian Coast Guard is currently witnessing a phase of growth commensurate with its roles and responsibilities. In parallel, the service is focused on consolidating this growth by creating support infrastructure that allows optimal utilisation of assets. Operation philosophies are being continually refined in concert with stakeholders so as to best address the threat spectrum. Technology remains a key enabler in this growth and would continue to be so in the foreseeable future. Integrating technologies to create a versatile and flexible force that can respond to a wide array of threats is a key imperative. Coordination of efforts with other maritime agencies and stakeholders is also a high priority. Surface and air support assets and infrastructure are planned to be acquired to meet the above needs. Current plans envisage growth of Coast Guard to about 150 surface and 100 air platforms. Supporting infrastructure would be 42 stations and 15 air units with induction of requisite manpower to meet these needs.