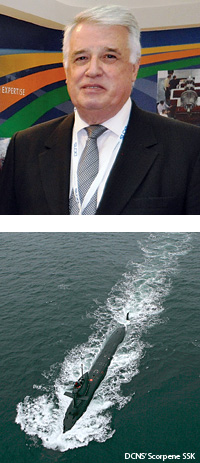 SP's Naval Forces (SP's): How successful has DCNS been in its endeavour to manage the indigenisation process under P75 programme so far?
Bernard Buisson (Buisson): DCNS is strongly committed to the indigenisation process under the P75 programme. In fact, we can proudly state that DCNS is one of the very few foreign companies to have invested and achieved high indigenisation levels and at no additional cost to Indian Navy/Ministry of Defence (MoD).
Despite having no contractual obligation to reach any specific level of local content, DCNS has strived to develop a sound base of qualified Indian companies to indigenise as much as possible the equipment forming an integral part of the submarine.
Today, more than 50 per cent of the Mazagon Procured Materials (MPM) originally manufactured and/or supplied by DCNS has been successfully subcontracted by DCNS India to Indian industries. Some factory acceptance tests (FATs) have already been successfully conducted in the facilities of these Indian vendors in the presence of Mazagon Dock Limited (MDL).
SP's: Can you elaborate more on the level of expertise developed by MDL as result of partnership with DCNS and under DCNS transfer of technology?
Buisson: MDL is the only Indian naval shipyard to have manufactured submarines in the past. However, the competencies developed have seen a pause for more than a decade. Human competences—when not maintained—disappear quickly.
Given the above-described gap in manufacturing load at MDL and the consequential loss of skilled manpower and expertise, MDL has been able to overcome expected and normal teething problems in hull manufacturing in a very short time. They are now able to manufacture pressure hulls faster than we can do in our facilities in France.
These pressure hulls are very sensitive and complex to manufacture. They are essential for the safety of the crews onboard, as they have to resist very high pressure at very deep depths.
After successful manufacturing of the pressure hulls for the six submarines, MDL is now in the process of performing the very sophisticated tasks of outfitting: equipment, cables, pipes, cradles being integrated in each section hull.
Soon all these tasks will be finalised, the learning curve will reach its plateau thus allowing MDL to be again the centre of excellence for submarine manufacturing in India.
MDL is able to manufacture additional submarines as fast and efficiently as we could do in our facilities in France.
SP's: What is the present level of indigenous content in each submarine?
Buisson: All six P75 submarines are manufactured at MDL Shipyard from the First of Class onward. MDL has successfully absorbed the complex transfer of technology to manufacture the sensitive pressure hulls, which will protect and ensure the safety of the crew at very high depths.
Some equipment that are fitted onboard are part of the MPM originally designed or supplied by DCNS. Their indigenisation—or manufacturing by Indian companies with genuine ToT—is on its way and progressing very well. More than 50 per cent of equipment originally designed or produced by DCNS have been or are being indigenised. Three contracts have already been signed with industrial partners and some equipment has been delivered to MDL.
Despite the fact that this contract was originally signed under the "Buy Global" procurement procedure and that offset procedures were not yet part of the Defemce Procurement Procedure, the level of indigenisation of the P75 is remarkable.
Indeed, the P75 is in fact a truly indigenous submarine. With over 50 per cent of DCNS supplied MPM items being indigenised and the fact that all the pressure hulls are manufactured at MDL, the level of overall indigenisation of this submarine is close to 50 per cent. This is similar to projects usually now procured under the "Buy and Make (Indian)" procedure.
As part of an extended indigenisation programme, DCNS is also selecting Indian companies for supply of equipment are not manufactured by DCNS, such as batteries, cables, water plant. MDL has to directly purchase these items.
DCNS is doing this additional indigenisation work at no extra cost for MDL/MoD.
SP's: What has been the strategy/method adopted by DCNS to manage the indigenisation process?
Buisson: In order to get the best cost-effective solution while guaranteeing the same level of quality as if the equipment were manufactured in our facilities, we have identified two to three local manufacturers for each type of equipment to be indigenised.
The process of identifying, auditing, qualifying and certifying all these companies is very long and costly. Once the industrial partners have been certified, the process of transferring them the TOTs, the production drawings and providing them with adequate training and technical assistance to help them produce the first equipment as per DCNS quality standards, is also very time consuming and costly.
In order to achieve all the above tasks and maintain real time responsiveness to the numerous requests of assistance from our industrial partners, DCNS has set up a task force composed of expatriates and Indian engineers in our headquarters in Mumbai and some of them based at the Indian companies production sites.
It is important to note that all these indigenisation contracts have been implemented without any additional costs to the Indian Navy/MoD. This is quite remarkable when one knows that indigenisation costs can often increase the price of equipment originally purchased directly from overseas up to 50 per cent.
The decision to invest in infrastructure and ToTs by DCNS and our Indian partners was more difficult to make as only four submarines can contractually benefit from the indigenisation of the existing P75 contract. We, along with our Indian partners, took a long-term view betting that followon orders of submarines would provide a reasonable return on investment.
SP's: A lot has been talked about the delay on the P75 programme. What are your views on this?
Buisson: The P75 project has suffered, as you know, some delays. But it is essential to keep in mind the reasons for these normal delays so that they could be avoided in the future. MDL had stopped manufacturing submarines for more than a decade before the P75 programme. Any shipyard confronted with such inactivity will inevitably rapidly lose the staff trained for such specific tasks and all the associated expertise required to manufacture a system as complex as a submarine.
On the other hand, it is remarkable that MDL has been able to catch up, hire new staff, train them and absorb new ToTs in only three years. MDL has now completed the manufacture of the pressure hulls for the six submarines. They are now able to manufacture new P75 hulls faster than we do it in our facilities in Europe and with the same quality level.
However, in case MDL does not receive a new order to manufacture more submarines, they will lose again their competencies.
With various ToTs for manufacturing the P75 pressure hulls and other specific related tasks now successfully absorbed and with the entire infrastructure now available for the P75 project, MDL is in a position to manufacture additional submarines very competitively and without any further delays.
SP's: Is DCNS providing AIPs on the last two Scorpenes of P75? What is the current status?
Buisson: We have provided the Indian Navy with some information on integration of AIP on the last two submarines with the objective to preserve the delivery schedules.
We would be totally ready to indigenise significant subsystems/components; some of which could be used for any other AIP system the Indian Navy might want to choose later on.