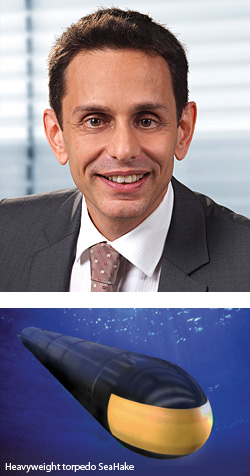 SP's Naval Forces (SP's): What are the activities Atlas is involved in? Can you tell us the background of Atlas and how it has evolved in the last few decades?
Khalil Rahman (Rahman): Atlas Elektronik is a 100-year-old marine electronics company and probably the world's leading sonar house. It is jointly owned by EADS and ThyssenKrupp, the largest conglomerates in Germany.
We have three major product lines:
Submarine Division making Sonar systems, combat systems and towed arrays to increase the listening range of submarines.
Weapons Division which is Europe's leading Torpedo supplier and the only provider that has all aspects of electric torpedo technology and can provide technology to India from the homing head to the fibre-optic cable.
Surface Division which has a large range of solutions in the areas of antisubmarine warfare and mine countermeasures amongst others.
In addition, we have a number of smaller divisions including a Hydrographic Division and Hagenuk, specialised in communication systems.
In terms of the evolution of Atlas, one of the most noticeable changes in the last few years has been the increasing globalisation of the company. Atlas has been actively entering new markets, whereas in the past, the company relied on traditional customers.
SP's: Are your systems compatible with the Russian platforms?
Rahman: Technically in many cases it is possible to integrate other sensors and weapons on to Russian platforms and indeed this is in the interest of the Indian Navy. The Indian Navy already has several Russian platforms with a variety of Western and indigenous equipment installed. In general, yes, but the specific case needs to be technically examined.
SP's: Which part of the world gives the largest share of business to Atlas?
Rahman: Obviously Germany is our home market and we have large established subsidiaries in the UK and Australia. But that is the historical picture. Looking forward, we see India and the USA as two of the largest and most important markets.
SP's: What relationship did you have with India and the Navy in particular so far?
Rahman: Atlas Elektronik has a long-standing association with India. Atlas has been present in India since the 1980s approximately. We supplied our equipment like the combat systems, the torpedoes and the sonar systems onto the Shishumar class submarines, which were designed by HDW.
The Indian Navy is currently upgrading the existing fleet of submarines—both the German and the Russian fleet. So we are involved in upgrading the complete suite of equipment on the German submarines. We've already upgraded two of the boats. For the Russian-built Kilo class we are bidding for the towed array sonar.
Atlas Elektronik sees a large potential in the Indian market and in view of the Indian Navy's fleet expansion plans, the company is looking at developing its longterm footprint in India.
SP's: What are the current focus areas you are pursuing for Indian market?
Rahman: We recognise India to be an important market, which has a very very ambitious programme of shipbuilding, both surface ships and submarines. Apart from the existing platforms, Atlas Elektronik is also interested in future build programmes in the country.
Talking about submarines, one of the important programmes that Atlas is looking at is to procure another 18 conventional submarines, the first six of which is called Project 75 (India). We will be bidding with our shareholder HDW for Projects 75 (India). Atlas is interested in all programmes where our technology has an application.
Among many projects, one important project that we feel will be of interest to India is the torpedoes. We are in fact the only European manufacturer that has the complete range of unique technologies, which we are willing to share with India, and are talking to various partners including the Defence Research and Development Organisation (DRDO).
Besides, a request for information (RFI) was issued last year for shallow water ASW craft, a small craft that is also tendering to a number of Indian shipyards. We expect the tender shortly. So we are talking directly to the Navy, to the shipyards, and to industry partners about how best to integrate our technologies onto these platforms.
Our aim is not only to deliver Germanbuild products to the Indian Navy but also to build a coalition of partners in India that will include both the public sector and the private sector, the shipyards and indeed organisations like DRDO to help the Indian industry develop localised solutions or solutions that are adapted to the needs of the Indian market.Our plan is to create a 100 per cent Atlas subsidiary in India, as this will help us in establishing a long-term footprint; both commercial and technical in the country.This is ongoing and should be operational within the next few months.
SP's: Have you worked towards the offset commitments which are mandatory as per the Defence Procurement Procedure? How do you view the offset obligations in India?
Rahman: Atlas is in any case looking at involving Indian partners for industrial development in India, irrespective of the offset requirements. As regards the obligations, these vary from tender to tender and it is difficult therefore to generalise. Like any supplier, we would like to see more flexibility in the offset rules and are encouraged by recent changes which we hope will continue to evolve and improve.
SP's: What is the unique selling point of Atlas Elektronik for Indian buyers? Why should your solutions receive careful attention versus the competition?
Rahman: Atlas has particular domain expertise in sonar technology. We may provide building blocks that an Indian partner could stitch together with an existing combat system that they have developed in order to provide a new platform or even upgrade an existing platform.
An important project that will be of interest to India will be the torpedoes. Atlas owns the IP on everything from the tip of the torpedo to the casket. As mentioned before, we are in fact the only European manufacturer that has the complete range of technologies. I can say very confidently that our heavyweight torpedo is the best torpedo in the world. It's already sailing not only on the German submarines but various export navies in Europe, Asia and elsewhere. The performance of this torpedo is clearly proven both in terms of range, speed and reliability. Besides we have some really unique technology, for example in batteries that give the range and speed, or in the fibre-optic wire-guidance system that we are willing to share with India.
We believe that a market and an economy like the size of India needs to develop its indigenous industry and will do it. We are looking at developing partnerships with India in order to allow India to develop an indigenous torpedo that integrates aspects of our technology. We see the torpedo defence system as a potential area. And we are talking directly both to the Navy and the partners.
SP's: What are your areas of responsibilities? Is your role confined to the Indian market?
Rahman: Our various products and services have a worldwide reach and are not just confined to India. Worldwide, we supply the complete functional chain from sensor-to-shooter with sonar, integrated combat system, heavyweight torpedoes, mine disposal weapons and underwater vehicles (remotely and autonomously operated) for conventional submarines and mine warfare vessels.
In partnership with others, we provide system integration services for surface combatants (supplying the sonar, combat management and navigation systems) for offshore patrol vessels, corvettes and frigates. With our integrated radio and communication systems we are able to connect all naval ship and shore-based platforms into a network-based environment.
Based on these existing capabilities, using state-of-the-art technology, we offer tailored solutions for the market of maritime security in terms of vessel traffic control, coastal surveillance and hydrography.