By Rear Admiral Sushil Ramsay (Retd)


Senior Editorial Advisor, SP's Naval Forces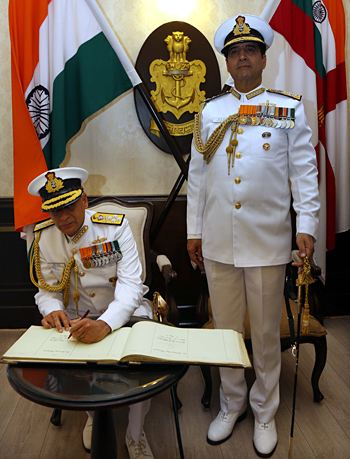 Admiral Sunil Lanba, a Naval Thoroughbred and until recently the Flag Officer Commanding-in-Chief, Western Naval Command, has assumed the high office of the Chief of the Naval Staff on May 31, 2016, consequent upon superannuation of Admiral RK Dhowan.
Born on July 17, 1957, Admiral Sunil Lanba was commissioned on January 1, 1978, into the Executive Branch of the Indian Navy. A Navigation and Direction specialist, he has served onboard numerous ships in both the Eastern and Western Fleets. His career spanning nearly four decades includes tenures at sea, ashore at various Headquarters, Operational and Training establishments, as well as tri-services institutions. His sea tenures include commands of INS Kakinada, a specialised Mine Counter Measure Vessel, INS Himgiri, the indigenous Leander Class Frigate, INS Ranvijay, a Kashin Class Destroyer and INS Mumbai, the indigenous Delhi Class Destroyer. He has also been the Executive Officer of the aircraft carrier, INS Viraat and the Fleet Operations Officer of the Western Fleet.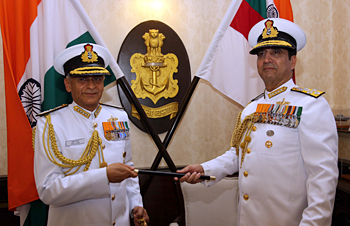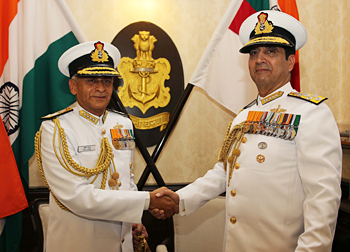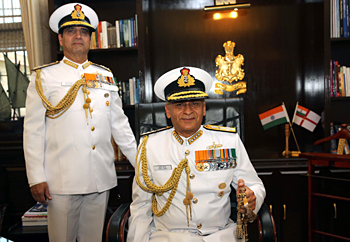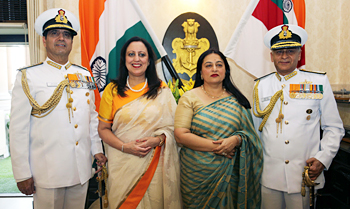 An alumnus of the National Defence Academy, Khadakwasla, Defence Services Staff College, Wellington, College of Defence Management, Secundrabad and Royal College of Defence Studies, London, Admiral Lanba's career has been enriched with his vast experience at sea, training, operational and tri-services tour of duty both within India and with international navies.Before taking over as Flag Officer Commanding-in-Chief, Western Naval Command, he was Flag Officer Commanding-in-Chief, Southern Naval Command, Vice Chief of the Naval Staff and the Commandant, National Defence College, New Delhi.
As a Training Officer at the National Defence Academy, Directing Staff at the College of Defence Management and as the Commandant of the National Defence College, he has been deeply engaged with professional training, shaping future leadership and skilling of the officers of the Indian Armed Forces.
On elevation to flag rank he has held several significant capacity and capability assignments for the Indian Navy. He was responsible for transformation in training methodology for the future Indian Navy as the Chief of Staff, Southern Naval Command. Thereafter, he took on the mantle of the Flag Officer Sea Training, where he ushered changes to enhance battle effectiveness of ships and rationalised combat manning onboard. Later, he took over as the Flag Officer Commanding Maharashtra and Gujarat Naval Area and implemented several significant coastal security initiatives along with multi-agency co-ordination mechanisms that have since ensured safe seas and coastal areas.
On promotion as Vice Admiral, he has been the Chief of Staff, Eastern Naval Command, and Commandant of the National Defence College. In his capacity as the Vice Chief of Naval Staff, he streamlined the frame work for transformation of Indian Navy's combat capabilities and infrastructure development as well as tri-services initiatives towards enhancing integration and jointness.
He is a recipient of Param Vishist Seva Medal and Ati Vishist Seva Medal for meritorious service and is also the Honorary Aide-de-Camp to the President of India.
Admiral Sunil Lanba, a son of a former naval officerisfirst to rise to become the Chief of the Naval Staff. He is also the first Mayo College, Ajmer alumnus to rise to become the Chief of any of the armed forces of India.
After assuming the reins of Indian Navy Admiral Sunil Lanba declared that his combat-ready force would continue to ensure the country's huge maritime interests remained safe and secure from all threats. He said, "The men and women who man the Indian Navy are professionally trained, committed and patriotic. They are committed to ensuring that our national interests are safeguarded anywhere, anytime and everywhere."
In an Interview during February 2015, as the Vice Chief of Naval Staff his perspectives on the Indian Navy were published in SP's Naval Forces (2/2015), excerpts of which areplaced below:
"Use of high-end technology for force level planning enhances naval capabilities and, therefore, there has been a constant effort to study the trend of technological advancements and their induction. Further, science and technology is influencing war fighting tactics to a great extent and many countries are carrying out extensive research to innovate, design and develop high-tech weapons and sensors which would bring a sea change in the conduct of naval warfare in the future. Technological self-reliance, therefore, is critical for India's quest for global power status."
"The enhancements of indigenous capabilities continue to remain the bedrock of Navy's development in all dimensions namely, surface, air, underwater, EW, and space. One of the core thrust areas of the Navy is the development of Network Centric Operations capabilities, for both operational and support echelons. This would facilitate enhanced Battle Space Awareness and informed decision making at all levels. A robustly networked force rides on state-of-the-art communication infrastructure, to ensure real time data exchange with suitable security overlays. This development has had its share of challenges like availability of niche technology, a developing defence industry and import and licensing regimes. These challenges are being mitigated through proactive engagement with respective stakeholders and a thrust on the 'Make in India' policy."
"We are acquiring platforms and assets in accordance with our long-term plans. The induction programme is continuing apace and over the next few years we expect to induct a wide variety of ships, submarines and aviation assets. The acquisition process has its own complexities and gestation time. However, we in the Indian Navy are committed to creating and sustaining a combat ready, technology enabled and networked force, capable of safeguarding our maritime interests and projecting combat power in our areas of interest."
"The Indian Navy is committed to making the indigenous submarine construction programme a reality with support from all stakeholders in Government of India and the industry, both public and private sector. This is a technologically complex project where the knowledge and the industrial efforts are focused on absorption of technology under Project 75, consolidation of expertise gained thus far and seek additional transfer of technology in areas where required. The Project 75 programme is at an advanced stage of implementation, with the construction of six Scorpene class submarines in progress at the Mazagon Dock Limited (MDL). The deliveries are expected to start from September 2016. As far as Project 75 (I) is concerned, it is being vigorously pursued with a focus on increasing the indigenous content in line with the 'Make in India' initiative of Government of India. In order to beef up submarine force levels in addition to commissioning of new acquisitions some submarines in the existing inventory that were approaching end of their service life are planned for medium refit with life extension. This would ensure that our submarine force levels remain viable."
"Although creation of infrastructure has a long gestation period due to associated issues of land acquisition and procedural bottlenecks, I am happy to share with you that we are poised for major growth with rapid strides being made in expanding the naval base at Karwar, expansion of the Indian Naval Academy, setting up of Forward Operating and Operational Turnaround Bases at Tuticorin, Paradip, and in our island territories. Specifically, with regard to facilities for SSNs/SSBNs, we have plans in place for setting up an operating base on the East Coast for basing these strategic sub-surface assets. Also, there are plans to set up additional facilities for berthing the indigenous aircraft carrier on the East Coast."