Building indigenous capability in software for our defence systems is an area that needs urgent attention if we are to truly achieve indigenisation in the defence sector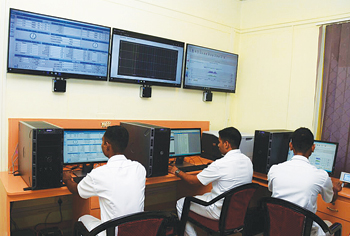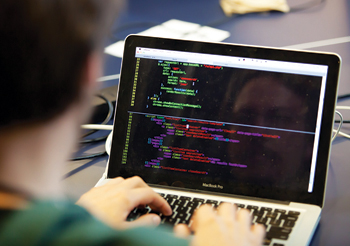 (Top and Above) Software in the defence sector in India was mainly the preserve of DRDO and DPSUs. However, private sector vendors have started demonstrating their considerable potential, both in the quality of their software, as also their cost-effectiveness.
Software is everywhere on the modern-day battlefield. It drives our weapon systems, sensors, command, control and communication systems, intelligence networks, logistics systems, and indeed, the entire back-up of national infrastructure required to support military operations in war and in peace. This is evident from the fact that the percentage of dependence on software in modern weapon systems has increased from negligible amounts in the 1970s, to over 90 per cent in the latest combat aircraft, ships and submarines. As our defence systems become fully networked, and as we move towards greater automation, our dependence on machine learning (ML) and artificial intelligence (AI) is also increasing, thereby increasing not just our efficiency and effectiveness in combat and during peacetime operations, but also our vulnerability to disruption through cyber warfare. In fact, our ability to respond against future threats of hypersonic weapons, directed energy weapons, and even biological warfare, will be based on our ability to generate reliable and safe software solutions for our systems. Therefore, the requirement of indigenous capability in software in defence systems is today inescapable.
Software used in the defence environment can be categorised under three broad heads. The first are Enterprise Systems, which are very large-scale software systems, used across an entire organisation, for purposes such as accounting, email, travel, human resources management, etc. These are generally based on commercial software (suitably modified after being purchased or licensed). The second category is Business Systems, which are smaller versions of Enterprise Systems, for purposes such as software development, service-specific logistics, intelligence sharing, etc. The third category is Combat Systems, which are applications unique to the security space and are used in combat operations. These systems can be further divided into Mission Systems (such as combat management systems and combat aircraft computers) and software applications embedded into individual Weapon Systems. Each category of software has different acquisition, development, customisation, testing, integration, updating and security requirements, which need to be catered for during the entire lifecycle of the system or the equipment.
It is well known that India is a world leader in the development and export of information technology (IT) services, consulting and business process outsourcing (BPO), being ranked third world-wide in 2021. The National Association of Software and Service Companies (NASSCOM) have played a key role in this development, with able organisational support from the Government of India over the past three decades. India's IT industry accounted for eight per cent of India's GDP in 2020 and the IT and Business Process Management (BPM) industry's revenue is estimated at $227 billion in 2022, an increase of 15.5 per cent year-on-year. Of this, the domestic revenue of the IT industry is estimated at $49 billion and export revenue is estimated at $178 billion. The IT sector is also a major employer, with over 50 lakh people employed directly in the sector in India alone. However, India's software product industry has a much smaller share of $13.3 billion in 2022 (of a total global software market of $593.40 billion in 2022), with a CAGR of 10 per cent. As per NASSCOM, this is likely to touch $30 billion by 2025, an ambitious target, but one that is achievable, given India's talent pool in software.
While India is rising slowly, but steadily, as a major producer of commercial software, there is still a long way to go, as far as software for defence applications is concerned. As an example, unlike the commercial field, none of the Indian software powerhouses figure in the top ten Aerospace and Defence software vendors, most of which are either US-based or from Europe (not counting the Russian and Chinese defence software sector, which is insular). Indian software development companies (and individuals), have, however, played a key role in software development of western weapon systems, with most work consisting of the out-sourcing of specific packets of software, which are later integrated by the equipment manufacturer. In a 2022 study with Deloitte, NASSCOM has stated that India is the seventh largest Aerospace and Defence (A&D) market in the world with a total market opportunity of $70-72 billion over the next 10-14 years. Of this, it expects that 'Platform Electronics' is likely to comprise $58 billion and 'System of Systems' $12-14 billion, in all of which software will be a key component. In fact, the Global Aerospace and Defence software applications market is estimated to reach $7.5 billion by 2026, as compared to $6.3 billion in 2021, growing at a compound annual growth rate of 6.2 per cent.
Government should fund R&D efforts in the country in computer programming, AI and ML, autonomy, quantum computing, networks, manmachine interfaces and cyber security by setting up 'centres of excellence', either independently or in reputed academic institutions and select armed forces training establishments
Currently, software in the defence sector in India is mainly the preserve of the DRDO and Defence Public Sector Undertakings (DPSUs), such as BEL, BDL, etc, who are the designers or manufacturers of major defence equipment and systems, with some parts being out-sourced to private vendors. Significant successes have been achieved by this methodology, with the software development of the LCA Tejas being done mainly by the concerned DRDO Laboratories, with some packets being outsourced to private vendors. In recent years, improvements have also been made in the Defence Acquisition Procedure (DAP) 2020, to facilitate the acquisition of ICT products and software for defence applications, which allows appointment of consultants for turnkey projects and contains provisions for trials, information security, annual maintenance contract and obsolescence management. Similarly, the Defence Procurement Manual (DPM) 2021 has an updated chapter on ICT procurement, including equipment, goods and services, which also allows the appointment of a consultant for complex ICT projects, change management to cater to rapid advances in technology, provisions to ensure information security, etc. As a result, private sector vendors have entered the defence market in India and started demonstrating their considerable potential, both in the quality of their software, as also their cost-effectiveness.
However, software for defence applications has several peculiar characteristics, which makes it more difficult for commercial production. Firstly, embedded software in the defence and aerospace market has strong safety and security requirements. This requires that the source code be kept closely guarded and ideally developed by the designer or manufacturer in-house. This also means that the tools, languages and operating systems used by military and aerospace software engineers have to be suitable for generating absolutely reliable software that can meet the stringent safety and security requirements. Hence, the normal tools used for generation of consumer-level software, such as the Microsoft Windows operating systems, the full C++ languages and the entire set of Java libraries are not suitable for most defence applications, though there is a growing trend to use it in certain applications, such as simulators, due to cost considerations. Secondly, unlike consumer applications, where software bugs can be fixed in an ongoing manner, the software ported on to weapon systems has to be fail-proof from the word go. Therefore, it requires detailed documentation and extensive testing on a simulator or test-bed, such as an 'iron bird', before it can be deployed in the field. The need for reliability is important not just because of the lethality and cost of the systems involved, but also because of their inaccessibility once deployed, such as satellites and ships or aircraft overseas. Since writing software for defence applications is costly and requires specialised manpower, it is also desirable that there be continuity in the vendor supplying the software, so that it can be upgraded as required, rather than having to be re-written from scratch. The requirements of infrastructure, human resources and time drive up the costs of developing such systems. These issues will only be magnified with the introduction of autonomous systems, incorporating ML and AI. The third problem facing defence software companies in India is the fact that they are a 'level-two' industry and can secure a contract only after the OEMs secure their contract. Finally, there needs to be an assurance of stability of sourcing software for key equipment over successive generations, to enable retention of human expertise, provide maintenance support and ensure regular upgrades over its life-cycle.
All the above factors are inhibitors to growth of the defence software industry in India, though ways and means are merging to circumvent this problem. These include the setting up of joint ventures with both domestic and foreign OEMs, such as Safran, Boeing, Rolls-Royce, Honeywell, Texas Instruments, Sikorsky, etc, for production of software solutions, as well as embedded software in electronics components, which are doing very well due to their cost-effectiveness vis-à-vis western companies. Such joint ventures now also need to emerge with both private and public sector companies in the defence space in India. The cost of infrastructure and talented manpower for such enterprises requires to be kick-started by the Government of India by funding a few centres, which could then become a repository of expertise for domestic public and private companies to tap (as was done for the commercial IT sector in the late 1980s). The initial investment would be more than returned in terms of savings in import, as also building up the capability to export. In time, such centres could become independent, as business opportunities and the domestic defence eco-system expands, which is inevitable, given the soaring demand for software in every sphere of military activity.
As the public and private sector in defence in India matures and starts producing more indigenous weapon systems, the current process of developing real-time, mission-critical, embedded software for Combat Systems will also need to be modified. While the DRDO has done most of the heavy-lifting thus far, that model will not be sustainable in the long run (except for some critical and sensitive software), purely due to the costs involved in recruiting and retaining the requisite human resources across a wide range of software requirements. We would do well to adopt the western model, where government agencies such as DRDO, invest in research and development into new technologies, tools and methodologies for software development, environments including simulation environments, modelling, automated testing and validation tools. They can then specify the type of software and standards required for every equipment or system, as also the development process desired to be followed. The Government should also fund R&D efforts in the country in computer programming, AI and ML, autonomy, quantum computing, networks, man-machine interfaces and cyber security by setting up 'centres of excellence', either independently or in reputed academic institutions, such as the IITs, IISC, NITs, select armed forces training establishments, etc. Individual Services also need to maintain their own talent pool for software development by creating specific branches with adequate upward mobility to design critical software that cannot be outsourced, carry out independent vulnerability testing of software supplied, and effectively manage industry vendors.
In the long run, original equipment manufacturers (OEMs) need to develop their own human expertise in source code management, with the capability to build, review, test, de-bug, release and launch and upgrade the software for their equipment. A key factor for achieving this is human resource management, which should follow the commercial software model, where software engineering and management roles are clearly demarcated. A good example is the model followed by Lockheed Martin, the world leader in defence software, which has its own 'Software Factory' meeting the US Department of Defence criteria, including security standards, and claims to deliver software at the 'speed of relevance', using existing government open, standards-based architecture. Setting up such a 'factory' will, of course, not be feasible for smaller companies, who could establish joint ventures with Indian software companies, or utilise the 'centres of excellence' (once established). The DPP will also require to be modified to enable such joint ventures to be approved in the years ahead.
While the Indian defence industry is a long way from achieving the software expertise of its western, Chinese or Russian counterparts, India's global success in commercial software offers an example for a 'big leap forward' in the defence software sector. As part of the Government's focus on Atmanirbhar Bharat, building indigenous capability in software for our defence systems is an area that needs urgent attention, if we are to truly achieve indigenisation in the defence sector. This is an initiative that cannot wait – for it would not be an overstatement to say that victory on the battlefields of the 21st century will depend to a large extent on the side with better and more reliable software in its weapon systems.