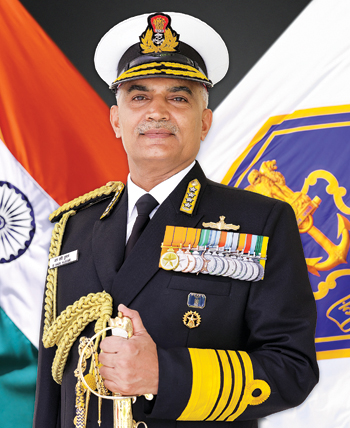 Under the leadership of Admiral R. Hari Kumar, Indian Navy lays highest priority on developing its human resources into 'human capital'
SP's Naval Forces (SP's): Last year, you had mentioned the Navy is working on a roadmap for unmanned systems. Please can you share an update on the same?
Chief of the Naval Staff (CNS): The Integrated Unmanned Roadmap was released by the Defence Minister in October 2021. It provides a comprehensive unmanned systems roadmap in consonance with Indian Navy's concept of operations and is a guiding document for capability development for unmanned systems from 2021-2030. To align industry and requirement of the Navy, Indian Navy (IN) Vision Document for Unmanned Systems was released by the Prime Minister on July 18, 2022 during the Swavlamban seminar. This document provides details of unmanned systems that the IN envisages to induct by 2030. The focus of the document is to provide guidance as a capability development document to industry partners to synchronise their development efforts in line with requirements of the Indian Navy.
SP's: What all Indian Navy does to boost the morale and towards the welfare of its human resource, its sailors and their families?
CNS: Our Human Resource is the major force enabler of the Indian Navy and thus is undoubtedly our most valuable asset. Towards boosting the morale and welfare of the Human Resource, we in the Indian Navy have incorporated the SHIPS FIRST approach in our functioning. The 'H' signifying 'Happy Personnel' in SHIPS FIRST highlights the focus of the Indian Navy to meet the welfare of our personnel. Further, all units of the Indian Navy operate under the concept of Divisional System and as a cohesive unit. This time tested and robust system ensures that all personnel of the unit work as a motivated and taut team. All HR related issues are thus addressed through the Divisional system. Additionally, various policies and directives are in force to ensure the welfare of the families of Naval personnel so that continuous steadfast support is available for the men in uniform from the near and dear ones.
SP's: What is your vision for the Indian Navy, in terms of
Its projection in front of the World;
Its Combat Capabilities; and
Its Human Resources?
CNS: As the principal manifestation of India's maritime power, the Indian Navy plays a central role in safeguarding and promoting India's security and national interests in the maritime domain. The overall vision of the Indian Navy remains to be a 'Combat Ready, Credible, Cohesive and Future Proof' Force. This overarching vision drives all our endeavours.
First, Projection in front of the World. Our vision in this regard straddles multiple Lines of Efforts – focused on a broad trinity of remaining the 'Preferred Security Partner' and 'First Responder', while concurrently enabling 'Collective Maritime Competence'.
"We work towards enhancing capability of friends in the Region. We have so far gifted/leased 11 ships/ boats, five aircraft, one submarine and have trained over 15,000 personnel from 46 countries."
Towards being a Preferred Security Partner, our engagements are based on a shared goal of enhancing the region's maritime security quotient. Some of the aspects that underscore our commitment include conduct of Coordinated Patrols (CORPATs) – we undertook 16 such operations with our friends in the past year; anti-piracy patrol in the Gulf of Aden since 2008; Exclusive Economic Zone (EEZ) Surveillance for Island Nations in the IOR, upon their request; participation in Bilateral and multilateral exercises – the last year saw us participate in 58 such exercises.
As regards being the First Responder, the Indian Navy has remained at the forefront in providing assistance over a wide spectrum of situations, including those related to natural disasters, medical emergencies, critical technical situations, and incident responses, among numerous others. To mention just a few aspects, our actions in the aftermath of the Tsunami in 2004, were an indicator of our capability and intent – where our units were deployed far and wide across Asia to render assistance. Even during COVID, where the world was largely looking inwards, India and the Indian Navy looked outwards as well to provide assistance to our friends. During this, as part of Mission SAGAR, we provided food and medical aid to 15 countries. In addition to natural calamities and pandemic related responses, we also remain poised to assist in a host of other situations. For instance, we undertook various Search and Rescue operations; conducted numerous Medical Evacuations; and rendered assistance to vessels in distress at sea. These are just a few operations that our deployed units undertake, contributing to being the First Responder.
Coming to Collective Maritime Competence. The Indian Navy, as part of broader Government directions, is collaborating and cooperating with likeminded navies to strengthen, what we call, Collective Maritime Competence. To this end, the Indian Navy established Information Fusion Centre as the hub of maritime security information in the IOR, through white shipping exchange agreements with 22 countries and one multi-national construct. We work towards enhancing capability of friends in the Region through provisioning of assets and installation of coastal radar chains – we have so far gifted/leased 11 ships/boats, five aircraft and one submarine. We also undertake training of personnel from friendly foreign navies – we have so far trained over 15,000 personnel from 46 countries.
"As a 'Blue-water force', considering the vast area of operations, operational philosophy centered on sea control and growing threat in the IOR, the Indian Navy has a requirement of three operational aircraft carriers"
Second, Combat Capabilities. Our vision is to remain a multi-dimensional, multispectrum networked force in order to fulfill our responsibilities across our doctrinal roles, viz., Military, Diplomatic, Constabulary, and Benign. While we have a credible force level, as we move forward, it is our endeavour to retain sustained focus on enhancing our capabilities and capacities, with primary focus on 'Ordnance on Target'. This 'ordnance-centricity' is the central driver to refining our capability perspective plans. In this endeavour, we are guided by the vision of 'Atmanirbhar Bharat', since reliance on external sources places evident limitations on our options, particularly in the evolving complex geo-political scenario. This will also ensure that our supply chains are not disrupted as a fallout of global events. Towards this end, our focus is on 'Made in India, and Made exclusively for India' security solutions. The Navy's 'Naval Innovation and Indigenisation Organisation' (NIIO), launched in August 2020, and the Technology Development Acceleration Cell (TDAC), have taken significant strides to foster Aatmanirbharta in the field of Defence. To synergise our Atmanirbharta initiatives, we are following an all-encompassing endeavour called SPRINT (Supporting Pole-Vaulting in R&D through iDEX, NIIO and TDAC) - a single window for exchanging ideas, innovating, and inducting cutting edge technology.
As we move towards a 100 per cent Atmanirbhar Indian Navy, we remain cognisant of the long lead time and high investment costs. We continuously assess the threat environment and technological trends, to identify the major thrust areas and required critical capabilities. Few of the major thrust areas that have been identified include, Maritime Domain Awareness, Network Centric Operations, Power Projection and Sea Control, Joint Operations, New and Evolving Technologies, etc.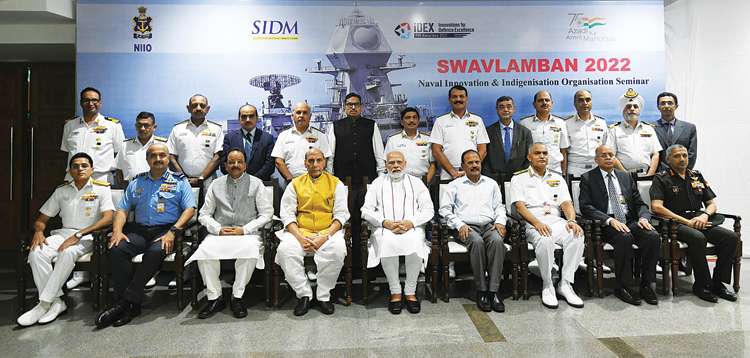 'Swavlamban', the maiden seminar of the Naval Innovation and Indigenisation Organisation (NIIO), was held at New Delhi on July 18-19, 2022
The Navy understands that we are an aspirational growing power, where military budgets will obviously be balanced against developmental, social, and welfare oriented imperatives. Therefore, we look at maximising budget allocation through a detailed capability perspective plan, that brings out exactly what is needed, how much is needed and by when. This ensures that we remain well equipped to tackle the envisaged threats. The sum total of meticulous planning and prudent spending is that the Navy remains Combat Ready, Credible, Cohesive and Future-Proof, as our budget is translated into desired capabilities and capacities.
Third, Human Resources. Our vision is to enable transformational Reforms in Human Resources towards being a 'Cohesive' and 'Future Proof' Force. The Indian Navy maintains a highly motivated force. Our men and women remain at the core of all our endeavours, and the Indian Navy lays highest priority on developing its human resources into 'human capital'. The concept of People, Assets and Combat Efficiency (PACE) will remain central to the reforms in human resource development. Towards this, the most significant have been the Agnipath Scheme and induction of women across all ranks. While Agnipath is a transformational initiative for the Armed Forces, it will also play a vital role in the growth, prosperity and transformation of our Nation. As a steady stream of trained, disciplined and motivated young Agniveers, having completed their Service, join the national workforce, the benefits to society and Country will become evident through their contribution to nation building. Coming to induction of women across all ranks. Women are already undertaking diverse roles and shouldering responsibilities in the Navy, including combat roles. Today, there are 28 women officers who are posted onboard frontline warships of the Indian Navy. Moreover, it is the first time that we have permitted induction of women under the Agnipath scheme. Up to 20 per cent of the initial batch of Agniveers will be women, assigned to various branches in the Indian Navy. We, therefore, would need to be fully prepared in all respects to induct and absorb women across a wide spectrum of roles and responsibilities.
SP's: Can you please indicate on the status of P-75(I) programme?
CNS: The RFP for the Project-75(I) has been issued to the two Indian Applicant Companies viz MDL and L&T on July 20, 2021. The case is being progressed as per the guidelines of the Strategic Partnership Model defined in the Defence Procurement Procedures. The bidders had raised certain concerns on some clauses of the RFP and the same have been resolved by minor changes to the RFP. The amendments have been issued to the Bidders post approval by the DAC. Post receipt of the response to the RFP, the process of Technical Evaluation and Commercial Negotiations will follow.
SP's: The Indian Navy has been, historically, largely self-reliant in terms of achieving its modernisation goals and capabilities using majority of indigenous resources. In view of the recent push by Government of India towards Atmanirbharta
(a): What all are the initiatives?
CNS:
Indian Navy's (IN) indigenisation drive over the last few years has resulted in achieving substantial Atmanirbharta in the field of Hull, Machinery and electrical/electronic equipment. The Navy has been constantly interacting with the DRDO, PSUs and Industry to promote and nurture the indigenisation drive. Over the past years, a number of major systems/equipment, spares and sub-assemblies have been developed and a large number of cases are in various stages of execution. IN has earmarked 4,700 items in inventory as import substitutes to be developed indigenously. Further, Indigenisation Roadmaps have been developed to layout long-term plan for IN for indigenisation for foreign origin ships Aircraft Carrier Vikramaditya, Talwar Class ships, P-75 submarines and Tankers.
IN has been a strong proponent of Indigenisation and considerable ground has been covered in the 'Float and 'Move' categories of Naval platforms. Concurrent impetus is also being accorded to self- reliance in the 'Fight' component. Towards this, existing Government of India (GoI) policies and initiatives are being harnessed to utilise the full potential of Indian Industry and Academia.
With the thrust given to 'Make in India' and necessary policy support by the GoI, IN has leveraged new schemes viz., Make, TDF, iDEX, etc. Multiple channels are being used in both capital and revenue procurements to increase indigenous content and to indigenise equipment and systems. Presently, 91 projects are being steered under the 'Make in India' schemes through active engagement with more than 100 Startups/ MSMEs.
(b): Which all are the areas, Navy is pursuing further?
CNS:
With a long-term vision to undertake indigenisation holistically, from 'Conceptualisation to trials and induction', we have setup an umbrella organisation called Center for Indigenisation and Self-Reliance (CISR) cell at Coimbatore. CISR cell has become functional from April 1, 2022 and will closely interact with the Industrial Corridors towards fulfilling IN's indigenisation needs.
As our long-term indigenisation plan a document called the 'SWAVLAMBAN' was released by the Defence Minister in August 2020 and has been uploaded to IN's website for the industry.
As a short-term plan, IN maintains a list of more than 300 items on the 'srijandefence' portal (www.srijandefence.com) which are envisaged to be indigenised within the next three years. We receive overwhelming response from the industry based on this database, and have completed indigenisation of more than 50 items in the last 18 months.
We also conduct periodic "Industry Yatras", wherein we reach out to the Industry Bodies and local industries at the State/District levels. This is done with an aim to actively assess their capabilities and identify mutual areas of cooperation with IN.
The IN is also exploring recent advancements in defence technologies like Direct Energy Weapons, Unmanned vehicles, Artificial Intelligence & Big Data Analytics, Smart Sensors, Multi-Function Radars, Long Range Guidance Systems, Composite Materials, Hydrogen based technologies and Green Energy Practices. With the help of DRDO and industry, we are also harnessing these technologies for Naval applications.
SP's: Now that the IAC-1, INS Vikrant has been inducted and is sailing in the waters, what is your vision for Navy's aircraft carriers' strength? Also in view of the fact that Chinese Navy (PLAN) operates 4 active aircraft carriers?
CNS: As a 'Blue-water force', considering the vast area of operations, operational philosophy centered on sea control and growing threat in the IOR, the IN has a requirement of three operational aircraft carriers. This is also important towards sustaining our Maritime Dominance in all three geographical expanse of the Indian Ocean Region.
Towards countering emerging challenges in the Maritime domain, it is important to achieve a balanced 'force mix' for undertaking Roles, Missions and Objectives in our primary and secondary areas of interest, and also facilitate Out-of-Area Operations, which is being addresses in our Perspective Plans.