On August 9, Indian Navy's Southern Naval Command (SNC) at Kochi launched Operation 'Madad' for assisting state government. In the flood where Kerala lost around 450 people, Indian Navy was one of the first responders.

Chief of the Naval Staff Admiral Sunil Lanba supervising the relief operations in progress; Relief material being loaded on a naval helicopter for distribution.
When the disaster struck the 'God's own Country' Kerala in the second week of August, the state government in this moment of distress and disaster called the Centre for help. Responding to the call, Government of India sent out armed forces and National Disaster Response Force (NDRF) to help the state machinery. Going beyond their call of duty and risking their life and stretching the equipment to their operational limits, working round the clock ignoring exhaustion, Indian men and women in uniform performed as if they were god sent saviour of Kerala, winning heart of all and sundry along the way.
In the flood where Kerala lost around 450 people, Indian Navy was one of the first responders. It all began when on August 8 many parts of the state received over 1,000 mm of rain which forced the authorities to open floodgates of over 30 dams in the state. The massive flow of water in the rivers coupled with the massive downpour led to rivers breaking their banks and ravaging everything which came in its way. Nothing could stop rivers on the rampage. Such was the flow of water even small rivulet became harbingers of death and destruction.
On August 9, Indian Navy's Southern Naval Command (SNC) at Kochi launched Operation 'Madad' for assisting state government. It was running two relief camps with community kitchen for 3,000 people at Aluva and Kochi. Over 1,50,000 food packets and around 50,000 kg of relief material has been distributed by the Navy to the stranded and needy. INHS Sanjivini, the hospital ship of Indian Navy was in the standby for medical help at Kochi. In addition, Navy's support ship INS Deepak delivered 900 tonnes of fresh water at Kochi. Similarly, on August 20 INS Mysore reached Kerala from Mumbai carrying emergency kits, food, water and life jackets. Indian Navy has deployed its Sea King, Dornier, Dhruv and Chetak helicopters.
Naval personnel's stupendous and selfless acts have a buzzed the social media. Not for the first time, Indian Navy has done similar work during other natural calamities as well. On August 17, Indian Navy chopper piloted by Cdr Vijay Verma 321Flight airlifted a pregnant lady and evacuated her to the Navy's hospital ship INHS Sanjivini, which has been deployed as part of the rescue and relief operation, where she delivered a baby. Amidst much gloom and despair, Navy brought happiness to the family and to everyone who saw the act on the social media.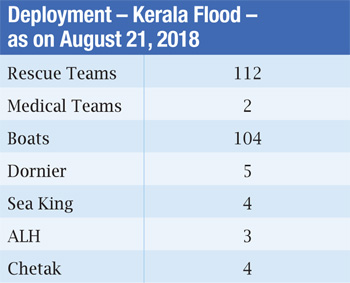 This is was not just one of act, there are many such wonderful stories to tell. Similarly, naval pilots landed a SeaKing chopper over roof top to evacuate stranded people. Any pilot can tell that landing a heavy helicopter in such space as rooftop where he is not sure of his sides is a very risky situation. In spite of all odd, testing his skills and machines to its limit, he did it.
Once the water receded, Southern Naval Command (SNC) terminated Operation Madad, the largest ever humanitarian and disaster relief (HADR) operation undertaken, "that lasted close to 16 days, with a total of 16,843 persons having been rescued, of which 15,670 were by boat, while 1,173 had to be airlifted. The efforts reached a peak with 92 rescue teams with Gemini boats deployed in a day. The aircraft were also able to undertake air sorties from daybreak to dusk without stopping." The Western and Eastern Naval Commands also participated in the operation.

Before scaling down of the operation on August 20, Indian Navy had deployed 112 rescue teams and two medical teams, 104 boats, three Dornier aircraft and 11 helicopters including — four Seaking, four ALH Dhruv and three Chetak.
On August 29, Chief of the Naval Staff (CNS) and Chairman Chiefs of Staff Committee (COSC) along with the Vice Admiral A.K. Chawla, Flag Officer Commanding-in-Chief, Southern Naval Command (SNC) paid a visit to Muttinakam village in Varapuzha Panchayat of Ernakulam district to review flood relief and rehabilitation work being carried out.
Speaking to the people, CNS "emphasised that all naval personnel including himself were connected with Kerala by an umbilical cord with the 'Janamabhumi' as all personnel are trained under the SNC based at Kochi prior to becoming full-fledged naval personnel, and reiterated that he had been closely monitoring the situation over these past several days and that the Navy had deployed its personnel and assets from across the Navy during the crisis and that the focus now is on relief activities."
Adding further he said that Indian Navy has selected two localities – Muttinakam in Varapuzha Panchayat and Cheriya Kadamakudi in Kadamakudi Panchayat, based on inputs received from the local administration, wherein rehabilitation initiatives were proposed to be undertaken to restore the area. Later during the visit, CNS also handed over a cheque of 8.9 crore to CM Disaster Relief Fund as a voluntary contribution from the salaries of naval personnel.