China is sensitive when another nation challenges its autonomy of the South China Sea. The last freedom of navigation operation' (FONOP) exercise by US resulted in China accusing the US of "serious political and military provocation".
Chinese PLA Navy ships during a grand maritime parade in the South China Sea. It was the largest naval parade ever carried out by the Chinese PLA Navy, with 48 ships and 76 aircraft taking part in. Chinese President Xi Jinping, who is also General Secretary of the Communist Party of China (CPC) Central Committee and Chairman of the Central Military Commission (CMC), inspected the whole event.
China unfurled its grand design for the South China Sea and Taiwan by carrying out maneuvers by the Chinese Air Force in South China Sea and Western Pacific, calling them a "rehearsals for future wars." In a statement made on March 25, the Chinese Air Force said that it had dispatched H-6K bombers and Su-30 and Su-35 fighters, as well as other aircraft, for separate combat training missions in an unspecified area of the South China Sea and through the Miyako Strait between Okinawa and Miyako Island. Exact dates were not disclosed. Japan scrambled their fighters after the Chinese Aircraft flew over the Miyako strait. This was a reaction to US Navy's destroyer coming as close as 12 nautical miles to a artificial island built in the strategic waterway to score a point for 'freedom of navigation operation' (FONOP). However China had provoked world wide opposition when it unilaterally announced the establishment of its East China Sea Air Defense Identification Zone (ADIZ) on November 23, 2013. It was defined as a zone that allowed a coastal state to "identify, monitor, control and react to aircraft entering this zone with potential air threats."
US has been following the policy on Freedom of Navigation since 1983 to exercise and assert its navigation and overflight rights and freedoms on a worldwide basis that is consistent with of Law of the Sea (LOS) Convention. FONOPs is one of the key methods used by US challenges maritime claims which are contrary to international law. Since October 2015, the US has conducted seven FONOPs that seek to challenge specific Chinese claims in the area.
China claims almost the entire South China Sea (SCS) with overlapping claims by Philippines, Vietnam, Malaysia, Taiwan and Brunei. Both China and Taiwan claim almost the entire SCS and indicate their claims with what is known as the Nine-Dotted Line or Nine–Dash Line. This claimed boundary virtually overlaps every other country in the region. China is going ahead with rapid and large-scale land reclamation works on seven of the Spratly Islands and has also built infrastructure including runways, and ports that can be used for military purposes. China is sensitive when another nation challenges its autonomy of the SCS. The last FONOP exercise by US resulted in China accusing the US of "serious political and military provocation". US has been critical of China for its man-made islands in the SCS and fears that the outposts could be used to restrict free movement of shipping including important sea lanes through which about $3 trillion in global trade passes each year. China has disputed this claim by defending its actions as it has absolute sovereignty over the area and the construction of posts are for self defence only.
China's largest display of Maritime Power in SCS
China's Central Military Commission held the country's largest ever display of maritime military power in the SCS during end March and beginning of April. It featured China's most advance naval platforms including its first carrier strike group based on the air craft carrier Liaoning. The PLA Daily reported that Forty-eight warships, 76 aircraft and more than 10,000 sailors and soldiers took part in the parade which was hailed as "the biggest maritime military parade since the foundation of the People's Republic of China in 1949 and a heroic display of the PLA Navy in the new era." Also on display was the most advanced weaponry of the Chinese People's Liberation Army (PLA). The maritime parade was reviewed by the China's President Xi Jinping, who is the general secretary of the Communist Party of China (CPC) Central Committee and also the Chairman of the Central Military Commission. Xinhua News Agency reported that while addressing the troops, Xi said that the need to build a strong navy "has never been more urgent than today," and he called for efforts to build a first-class navy in the world.
It was the first maritime military parade held in the South China Sea and was open to the public. China's aircraft carrier, the Liaoning, joined the parade for the first time. It was reported that all combat systems of the PLA Navy and 10 air echelons joined the parade. The most advanced warships, including the Liaoning, type 052D destroyers, type 052C destroyers, type 071 amphibious transport dock and type 093 submarine took part in the parade. The maritime display of China's might was to announce that China has arrived on the world stage as an emerging naval power and is fully capable of guarding its maritime interests. This display should also act as a deterrence to other nations who want to challenge China in the region.
The PLA Daily reported that Forty-eight warships, 76 aircraft and more than 10,000 sailors and soldiers took part in the parade which was hailed as "the biggest maritime military parade since the foundation of the People's Republic of China in 1949
The destroyers who took part in the parade subsequently sailed towards Taiwan Straits to conduct similar manoeuvres. China's Fujian Maritime Safety Administration had announced earlier that live-fire drills would be conducted in the Taiwan Straits on April 18.
Force Projection
Conducting such a display of maritime might in SCS and the straits of Taiwan indicate China's future plans and some experts go to the extent of stating that it is a dress rehearsal for operations if required to be conducted in the SCS and the Taiwan Straits in the future. Some even commented that it was to take Taiwan back at the right opportunity. The display of air power as a prelude to the naval exercise was also related to Taiwan. There is perennial tension between China and Taiwan as. China sees Taiwan as a breakaway province but Taiwan considers itself as an independent, sovereign state. Both China and Taiwan have displayed their maritime might in the Taiwan Strait during April. Song Zhongping, a former member of the PLA's Second Artillery Corps, told the South China Morning Post that China is planning to resolve the Taiwan issue. "The ground force's aviation drills in Fujian, the air force's flying over the 'first island chain' and the Liaoning full-voyage exercises all indicate that the PLA has a comprehensive battle plan for Taiwan." He added that, "it seems like the exercise near Fujian was relatively small, but actually, there were several joint operational drills happening in different areas around Taiwan at the same time. "The comprehensive, joint operational drills suggest the PLA is not just targeting one area, but the whole region." It's a theory supported by a second military expert, who did not wish to be named but told the newspaper the drills were "undoubtedly" part of preparations by China to take back Taiwan by force if necessary. Ma Xiaoguang, spokesman for the State Council Taiwan Affairs Office, said in a response to a question during a news conference about whether "military force for reunification" should be employed said that, "the recent live-fire drills carried out by the PLA have sent an explicit and clear message that we aim to pursue peaceful reunification with sincerity and great efforts, but we have the resolve, the confidence and the ability to defeat secessionist attempts in any form, to safeguard national sovereignty and territorial integrity." Ma said the drills targeted a "Taiwan independence" force, and the government aims for a peaceful and steady cross-Straits relationship and to protect the common interests of people on both sides of the Straits. "Wang Hailiang, a researcher of Taiwan studies at the Shanghai Academy of Social Sciences said that, "it (the live-fire drill) is a warning to the US, to Tsai Ing-wen (President of Taiwan) and Lai Chingte (Premier of Taiwan),".
Key Defence Technologies Which Are On China's Radar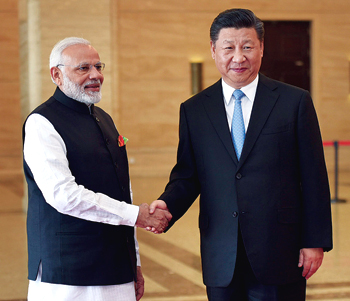 Prime Minister Narendra Modi with President of the People's Republic of China, Xi Jinping in Wuhan, China, on April 27, 2018.
It is well known that China is investing heavily in key military technologies. Indications are that this investment will grow over the years as China wants to catch up with US. Some key developments are:
Nuclear Powered and other Naval Platforms. China's Shipbuilding Industry Corporation (CSIC) has stated in February this year that that it plans to accelerate the process of developing nuclear-powered aircraft carriers and new-type nuclear submarines. He Lin, an academician of the Chinese Academy of Engineering, said that "in 2025, noise on a nuclear submarine will be largely reduced, and Chinese nuclear submarines' performances will be improved to world class level." The other technologies relate to quiet submarines and comprehensive electronic information systems for naval warfare. Plans are afoot to have China's first nuclear-powered aircraft carrier inducted into service by 2025. China had already managed to refurbish a former Soviet aircraft carrier Liaoning and is in the process of developing another aircraft carrier of their own design, now doing sea trials in the Bohai Sea – for delivery to the navy by the end of the year. It has not yet been named but is called Type 001A which was under construction in Dalian. Plans are also underway to build a second carrier in Shanghai. At present, only the US (10) and France (one) are operating nuclear-powered aircraft carriers. President Xi Jinping has also elevated "resurgence of the Chinese nation" into a constitutional goal.
Naval Weapons. Electromagnetic Railgun is alos in the advance stage of development and is neck to neck race with the US for this. It is reported that the railgun is undergoing trials on a warship.
Stealth Aircraft. The Military Balance has hinted that China may break US' monopoly on stealth aircraft soon. The Chinese Chengdu J-20 aircraft is potentially posing a challenge to F-35.
Global Maritime Presence
China and Russia have been holding joint maritime exercises since 2012 to show the world that they do not stand alone. They had their first joint naval exercise in the Baltic Sea last year under the backdrop of heightened tensions between Russia and the West. The NATO alliance, which has six member nations on the Baltic, stated that the naval exercise was being monitored as a routine action. Chinese and Russian commanders insisted that the exercises were not aimed at any third country. The exercise in the Baltic was part of Joint Sea 2017. In September Joint Sea 2017 was held in the Sea of Japan and for the first time in the Okhotsk Sea. It was also reported that . five Chinese vessels had passed within about 12 nautical miles of the Aleutian Islands after a joint Russian-Chinese military exercise. As per military experts, Chinese ships did not violate international law, which allows countries to transit other nations' seas under what is called "innocent passage." Chinese navy has also shown their presence in the Mediterranean and of the Coast of Sudan. China's military base at Djibouti is supported by their Navy. This is similar to the transiting of US ships through the Strait of Hormuz, off the coast of Iran. China's maritime exercises in the Baltic Sea, Mediterranean and in the Sea of Japan is a 'tit for tat' manoeuvre against US.
Indian Perspective
India's disputes with China include the disagreement of the border, Tibet, Taiwan and closer relations with US, Australia and Japan. It feels that it is much stronger than India economically and militarily and thus should be able to dominate the region. China's Belt and Road Initiative (also known as One Belt, One Road (OBOR)) is one of President Xi's most ambitious foreign and economic policies which India has notagreed to join. India also feels that China-Pakistan Economic Corridor (CPEC) will bring the Chinese Navy on its door step. China is very sensitive of US, India, Japan and Australia ganging against it in joint naval exercises and also the Quadrilateral Security Dialogue. It encourages Pakistan to wage a hybrid war against India which includes infringing cease fire norms on the border , terrorism and cyber warfare. However, Prime Minister Narendra Modi went to China at the end of April to meet Chinese President Xi Jinping in an informal summit at Wuhan which had no set agenda except to reset the relations after the Doklam plateau stand off. It was reported that President Xi has agreed to a similar summit in India in 2019. Narendra Modi is now going to Russia to have a informal summit with President Putin. The result could be a new blue print for India's foreign policy for balancing its relations with East and West, similar to the UPA Government's approach.