Amphibious aircraft are also suitable for combat missions, such as rapid and precision induction and de-induction of troops along the undefended coastlines for covert / diplomatic or force projection operations, etc
For evacuation of Indians stranded in Yemen an expensive force of three frontline warships which included guided missile destroyer and a frigate, two C-17 aircraft of the Indian Air Force (IAF) and two passenger ships were pressed into service. The C-17 and the Air India flights operated from Djibouti whereas the ships ferried the evacuees from Sana'a. A total of about 4,000 Indian were evacuated over a period of about one month at prohibitive cost and enormous risk and danger. With a transit time direct to the Yemen coast of about four hours, from Mumbai, amphibian aircraft would have completed the evacuation in perhaps 100-120 sorties within a week by landing directly at the Yemen coastal areas.
On August 14, 2013, INS Sindhurakshak sank alongside to a devastating fire on board. Whilst there are several rescue systems available on alongside berths, in addition to other important shore support firefighting facilities, the Indian Navy would not have been able to organise a rescue effort had the incident occurred out at sea. For most effectively combating such fatal eventualities an amphibious aircraft can be positioned with divers, welding sets and experts to save the submarine and more importantly, its crew in shortest possible time. Thus they become invaluable for maritime humanitarian assistance and disaster relief (HADR) and search and rescue (SAR).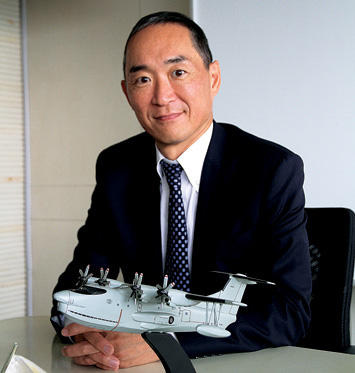 Yasuo Kawanishi, Director, Executive General Manager (Business Development & Amphibious Aircraft Programme) and Managing Director ShinMaywa, India
SP's Naval Forces met Yasuo Kawanishi, Director, Executive General Manager (Business Development & Amphibious Aircraft Programme) and Managing Director ShinMaywa, India, and Kanji Ishimaru, Director, Member of the Board and Senior Managing Executive Officer, ShinMaywa.
During the brief interaction Kawanishi highlighted the capabilities and significant characteristics of US-2. He shared the experiences of the pilots who flew this amphibian aircraft and found that the US-2 is far easier to fly than the US-1A. US-2 has improved operational performance – the pressurised cabin creates a comfortable space for the rescued, as well as the crew. Another reason why the US-2 is enjoying high popularity is its significantly longer cruising distance. The considerable extension of its maximum unrefuelled range has allowed a greater number of applications.
Kawanishi added that only three countries currently make amphibian aircraft: Japan, Canada, and Russia. However, only the US-2 can meet all of the diverse performance requirements in the market, namely, the capability to land on the ocean, carry a large number of people, and cover long distances.
Kawanishi hoped that through exhaustive acquisition process and detailed technical and technological scrutiny and evaluations, capability and utility of a versatile platform like US-2 will be acceptable to the Government of India, as a first time acquisition of military hardware from Japan.
Of particular relevance to the Indian Navy, and in fact all navies that operate long range maritime reconnaissance and patrol aircraft, such as the P-8I of the Indian Navy and AWACS aircraft of IAF, or deckbased MiG-29K, or shore-based maritime interdiction aircraft such as the MiG-29 or Su-30 or the Jaguar, will have amphibious aircraft to conduct a near all-weather high speed rescue operation for the entire crew of a ditched aircraft. Similarly, the rescue of a crew of distressed ship or submarine is faster and surer with amphibious aircraft than using ships or even helicopters.
Amphibious aircraft are also suitable for combat missions, such as rapid and precision induction and de-induction of troops along the undefended coastlines for covert/diplomatic or force projection operations, etc. Availability of such an enterprising asset provides huge amount of confidence among the crew, assuring them of very good chance of recovery even at sea.
Amphibious aircraft are also being used as airborne firefighters carrying several tonnes of sea water to douse fires ashore or on oil rigs. Amphibious aircraft can also support remote communities in distant islands or remote land frontiers which are in proximity of deep lakes and rivers with logistics and medical support.
Amphibian aircraft have multifarious applications for naval forces and as the technology is maturing these aircraft are under induction by several navies including China which would possibly put a 60-tonne amphibian aircraft in the Indian Ocean region waters by next year.
With the advent of modern technology in amphibious aircraft, it is only natural that the Indian Navy has now sought to re-acquire this unique capability, to truly realise its 'Blue Water' capability.
For India, aspiring to regional power status, the Indian Navy must not only be able to address the immediate security needs of the country but must also be able to contribute in benign and constabulary operations in its area of interest and influence for the regional good. From a maritime perspective this power status contributes to burden sharing towards protection of global public goods and the oceanic commons to achieve firstly, freedom of navigation and safety at sea; secondly, promote regional stability through an open and participative security architecture; thirdly, proactively alleviate suffering during disasters in the littorals of friendly nations: and, finally a constabulary capacity to maintain order at sea for the common good of the region.
Whilst ships, submarines and aircraft are all qualified in some way or the other for fulfilling the above missions each of these platforms are also limited by some capability gap or the other. Modern amphibious aircraft make possible a range of options not achievable by any one type of platform. Its unique multi-modal design permits airborne, seaborne and land operations in a single platform, thus it is a highly effective force multiplier for developing a proactive capability to ensure safety of ships and crew, security of the sea lines of communications, stability of the littoral states and the ability to exercise sovereignty over owned seas and access to the global commons in accordance with international maritime norms.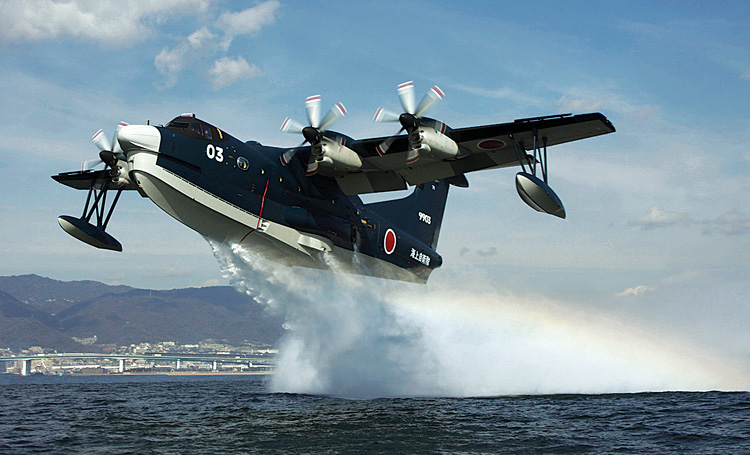 ShinMaywa's US-2i amphibious aircraft
India's Acquisition Plans for US-2i Amphibious Aircraft
India has revived the stalled project to acquire a dozen Japanese US-2i amphibious aircraft, worth around Rs. 10,000 crore. The leaders of the two countries are engaged in taking forward the $1.65-billion US-2i amphibian search and rescue aircraft deal. The Japanese have offered to not only 'Make in India' for the world, but the parts for the aircraft will be manufactured in India, setting up maintenance, repair and overhaul (MRO) and re-exports. However, sources indicated, "That there is still no clarity about the number of aircraft that will be manufactured in India and what components will be allowed to be exported."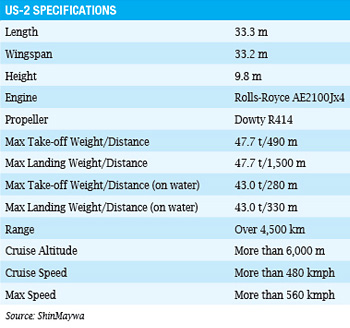 It is evident that the collaboration on the US-2, between India and Japan, is at the international level of immense diplomatic and strategic import, whilst at the domestic level the downstream benefits are across the military, technological, economic and social sectors. The Indian Government has been keen on acquiring the ShinMaywa US-2i amphibious aircraft from Japan as part of their expanding bilateral strategic partnership, with both nations wary of China's assertive behaviour in the Asia-Pacific region.
It was during Prime Minister Modi's visit to Japan in 2014, for talks with his Japanese counterpart Shinzo Abe, that the two directed the Joint Working Group to "accelerate progress in the discussions and preparations for a road map for the development of the Indian aircraft industry through the US-2i aircraft cooperation".
From a technology perspective the final assembly, integration and delivery of the aircraft from a manufacturing facility in India will leap frog India to amongst the few nations in the world with the ability to build sophisticated amphibian aircraft. One offshoot of this technology induction would be the ability to design and build the next generation amphibian aircraft for providing a civil use platform that would link the island territories directly with the main land without recourse to runways which damage the sensitive ecology of the islands. This would open up the tourism trade and rapidly develop these off lying islands. The US-2 induction has the potential to partner with the National Aeronautics Laboratory in the design and production of the Regional Transport Aircraft which could well be amphibian catering to not only internal routes but also exclusive and difficult to access island resorts across the globe from a variety of destinations.
From an economic perspective the Japanese offer to manufacture the US-2 in India in the private sector will build up the aeronautics supply chain and create a cluster of high technology micro, small and medium enterprises, servicing not only the US-2 but also global aircraft and helicopter manufacturing companies quite like the Suzuki model which galvanised the automobile industry in India. The potential for export of the US-2 aircraft to third countries under mutual agreement between India and Japan as well as the supply of sophisticated aero structures to global aircraft manufacturers can open a multibillion-dollar market. This would offset the defence import bill to some extent. In addition, while the amphibious aircraft is a force multiplier for maritime forces the time has come when India needs to carry out a serious study towards the relevance of 'flying boats' in easing the ever increasing demand of civil air traffic in the near future. The opportunities are many but options are limited. Civil operations of a credible amphibian platform designed to suit Indian market could surely be one solution. Of course key operational parameters such as very short take-off and landing ability, high sea state operations, good payload, long range and high speed flight is a necessity for successful operations.
From a social perspective the US-2 induction would open the manufacturing sector with much needed high skill jobs. Apparently, Japan has also offered to train Indian technicians in Japan in aeronautics and avionics. Thus there would be genuine capacity building and capability development in India. India's island territories have virtually no scope for runway construction and consequently the inhabitants are denied simple medical and modern amenities. Requiring neither runway nor other airfield facilities modern amphibian aircraft can safely land within a few metres from the coast or islands and relief material and teams can be ferried ashore through integral boats requiring no logistic support from the shore.
Conclusion
Amphibious aircraft combine the capabilities of rapid surveillance and prompt response, whether for relief or arrest, in a single platform. Such a capability is not available on any other platform. The modern amphibious aircraft is thus a veritable force multiplier since they fulfil a multitude of missions in a single platform. Unlike helicopters and aircraft, amphibious aircraft can land at the location and enforce both the will and the law of the country and thus are a platform of choice for fulfilling the four key requirements, namely freedom of navigation and safety at sea; promote regional stability through an open and participative security architecture; proactively alleviate suffering during disasters in the littorals of friendly nations: and a constabulary capacity to maintain order at sea for the common good of the region.