The development of naval variant of Barak-8 missile systems is progressing most satisfactorily with a series of successful onboard test firing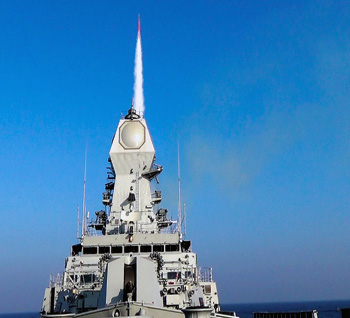 A long-range surface-to-air missile Barak-8 fired from INS Kolkata
Barak means 'Lightning' in Hebrew. This Hebrew word has been chosen by the Israel Aerospace Industries (IAI) to develop surface-to-air missile systems. Under an inter-governmental agreement between India and Israel, a joint venture has been established for the development of surface-to-air missile systems. Subsequent to the abandoned indigenous missile development programme Trishul, a new joint development project was launched by the Indian Defence Research and Development Organisation (DRDO) and IAI. Barak-8, also known as the long-range surface-toair missile (LR-SAM), has been designed to defend against any type of airborne threat including aircraft, helicopters, anti-ship missiles and UAV as well as cruise missiles and combat jets up to a maximum range of 70 km. However, consequent to very successful launch of its earlier variants of short-range surface-to-air and medium-range surface-to-air missile systems the maximum range of Barak has been increased from the initial plan of 70 km to now 90 km, following "range upgrade discussions" between India and Israel during November 2014.
Barak-8 was jointly developed by IAI, DRDO, Israel's Administration for the Development of Weapons and Technological Infrastructure, Elta Systems, Rafael and other companies. Bharat Dynamics Limited (BDL) will produce the missiles. The Israeli Navy has commenced equipping its Sa'ar 5 corvettes with the system, the first refitted vessel being the Israel Naval Ship Lahav. The Sa'ar 4.5 flotilla will be next for the upgrade. The first 32 missile array will be fitted on the Indian Navy stealth guidedmissile destroyer, INS Kolkata.
Background
Barak-8 is based on the original Barak-1 missile and is expected to feature a more advanced seeker, alongside range extensions that will move it closer to mediumrange naval systems like the RIM-162 ESSM or even the SM-2 Standard. Israel successfully tested its improved Barak-II missile on July 30, 2009. The radar system provides 360-degree coverage and the missiles can take down an incoming missile as close as 500 m away from the ship. Each Barak system, comprising missile container, radar, computers and installation, costs about $24 million. In November 2009 Israel signed a $1.1-billion contract to supply an upgraded tactical Barak-8 air defence system to India.
Characteristics
IAI describe Barak-8 as "an advanced, longrange missile defence and air defence system" with its main features being:
Long range
Two-way data link (GPS S band)
Active radar seeker missile
360-degree coverage
Vertical launch
Multiple Simultaneous Engagements
Barak-8 has been described as a powerful point defence anti-ballistic missile due to its combination of advanced capabilities.
Detail characteristics. The Barak-8 has a length of about 4.5 m, a diameter of 0.225 m at missile body, and 0.54 m at the booster stage, a wingspan of 0.94 m and weighs 275 kg including a 60-kg warhead which detonates at proximity. The missile has maximum speed of Mach 2 with a maximum operational range of 70 km, which was later increased to 100 km. Barak-8 features a dual pulse rocket motor as well as thrust vector control (TVC), and possesses high degrees of manoeuvrability at target interception range. A second motor is fired during the terminal phase, at which stage the active radar seeker is activated to home in on to the enemy track. When coupled with a modern air defence system and multi-function surveillance track and guidance radars (such as the EL/M-2248 MF-STAR AESA onboard the Kolkata class destroyers) Barak-8 is capable of simultaneously engaging multiple targets during saturation attacks.
Barak-8ER
It has been reported that an extendedrange (ER) variant of the Barak-8 is under development, which will see the missiles maximum range increased to 150 km. Designed to engage multiple beyond visual range threats, the low launch signature Barak-8ER is understood to retain the same autopilot/inertial navigation system and active radar seeker guidance as the Barak-8, although some modifications to the software and to the missile control surfaces are likely. The booster increases the length of the missile at launch from its current 4.5 m to nearly 6 m, although the length in flight after the booster has been jettisoned may be slightly less than the base Barak-8 missile, if a TVC is not present. The missile diameter and fin spans are thought to be the same as the base Barak-8. The booster weight is currently unknown, although the missile's weight after the booster has been jettisoned is the same as that for the current Barak-8 configuration.
As per available reports the initial operational capability (IOC) for Barak-8ER will first be declared for the naval variant, followed by IOC for the land variant. While the details of the launch customer for Barak-8ER have not been announced, it is speculated that the existing customers for Barak-8 will be interested in this configuration because it offers additional capability to their current system. The missile is expected to equip the Indian Navy's future Project 15B, Visakhapatnam class guided missile destroyers.
Flight Tests
Major Milestones
In May 2010, the Barak-II missile was successfully test-fired at an electronic target and met its initial objectives. The second test of the missile was held in India later in 2010.
On November 10, 2014, the Barak-8 was successfully test-fired in Israel with all integrated operational components for both the marine and land system.
On November 26, 2015, a successful test was conducted on a drone target.
On December 29, 2015, and December 30, 2015, the Indian Navy successfully testfired the Barak-8 missile from INS Kolkata. Two missiles were fired at high speed targets, during naval exercises which were undertaken in the Arabian Sea.
On June 30, 2016, India test-fired a land-based version of Barak-8 SAM for the first time from defence integrated test range, off the Chandipur, Odisha, successfully hitting the PTA. The missile was again test-fired for second time around noon where it again successfully hit a PTA over the Bay of Bengal. The test-firing of the missile was jointly carried out by the Indian defence personnel, DRDO and IAI.
On July 1, 2016, the medium-range SAM, land-based version was tested for the third time from the integrated test range at Chandipur and the missile successfully hit a PTA, proving its reliability.
On September 20, 2016, India successfully test-fired surface-to-air missile Barak-8.
The development of naval variant of Barak-8 missile systems is progressing most satisfactorily with a series of successful onboard test firing. Its induction on Kolkata class guided missile destroyers is at the final stages. Encouraged by the progress of the joint development project, Barak-8 has also been approved for induction onboard Project 15B, Visakhapatnam class.