There are many military missions in this role like Sea Control, Sea Denial, Blockade, Power Projection, Compellence, etc, which have indirect fall-out for the protection of the maritime trade
A visit, board, search and seizure team from the guided-missile destroyer USS Pinckney
India has a coastline of 7,516.6 km, 2.5 million square km of exclusive economic zone (EEZ) and mining areas allotted under United Nations Convention on the Law of the Sea (UNCLOS) is about 2,000 km from the southern most tip of India. About 90 per cent by volume and more than 70 per cent by value of India's trade moves through the maritime domain including its 12 major ports and 197 minor ports. The traffic handled by the ports during 2014 was 5,55,503 tonnes (5,45,790 tonnes in 2013). India's Shipping Ministry estimates that about 24 Indian-flagged merchant ships travel the Gulf of Aden every month. Although this accounts for only 13 per cent of India's trade (the remainder is carried by foreign ships) however the crew of most foreign-flagged vessels include Indian nationals, as India has about 1,00,000 seafaring community (about six per cent of the world). In September 2008, a merchant ship travelling from Hong Kong to Europe was attacked by pirates and taken to the Somali coast. Its crew had 18 Indians as crew. This was the turning point when the Indian Government became alive to the situation and ordered the Indian Navy to take necessary anti-piracy measures. During November 2008, Indian Navy received the UN approval to enter Somali waters to combat piracy.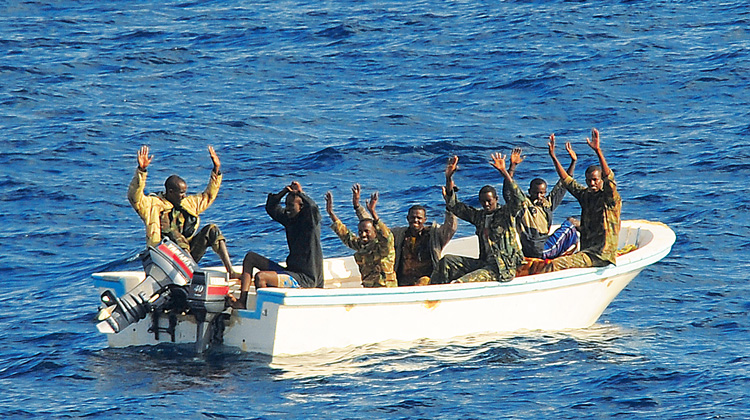 Suspected pirates keep their hands in the air as directed by the guided-missile cruiser USS Vella Gulf (CG 72) as the visit, board, search and seizure team prepares to apprehend them
Role of Indian Navy
It has four main roles as follows:
Military
The primary role of all navies is military in character and is to ensure that no hostile maritime power can degrade own national security and interests. Inherent to the military role is the use of threat or force at and from the sea. This is also applicable to the Indian Navy where its military role also includes safeguarding India's national interests, providing maritime security, protecting mercantile marine and maritime trade. There are many military missions in this role like Sea Control, Sea Denial, Blockade, Power Projection, Compellence, etc, which have indirect fall-out for the protection of the maritime trade. Missions specially focused on maritime trade are SLOC (sea lines of communication – a term describing the primary maritime routes between ports, used for trade, logistics and naval forces) Interdiction, SLOC Protection, Special Operations to Counter Piracy, Protection of Offshore Assets and NCAGS (Naval Coordination and Guidance of Shipping) Operations.
NCAGS. US Navy defines NCAGS simply as "to enhance the safety of merchant ships and to support military operations." NCAGS involves protection of commercial shipping and advice to the commander on maritime trade. It also provides merchant ships detailed information of any threat, presence of navy for protection and contact for emergencies.
SLOCs. The force that holds the SLOCs controls the seas. The strategic importance of SLOCs and sea control itself has been understood since naval warfare first moved into blue water. Control of straits is thus a corollary of SLOC and thereby ensuring safe movement of maritime trade.
Diplomatic
As per the Indian Navy, naval diplomacy entails the use of naval forces in support of foreign policy objectives to build 'bridges of friendship' and strengthen international cooperation on the one hand, and to signal capability and intent to deter potential adversaries on the other. Signaling 'naval capability' also indirectly protects maritime trade.
Benign
Examples of benign tasks include humanitarian aid, disaster relief, search and rescue, ordnance disposal, diving assistance, salvage operations, hydrographic surveys, etc.
Constabulary
The role of constabulary envisages law enforcement and for the navy it implies law enforcement on the sea. The constabulary role of the navies world over has increased due to increase of maritime crime and a third of world navies perform this as their key role. The constabulary role envisages that naval forces are deployed to enforce the law of the land or enforce regulations as mandated by international law. Force is only employed for self-defence or as a last resort. The objectives of constabulary role are Coastal Defence, Security of EEZ and Good Order at Sea. The mission includes Counter-terrorism and Policing. The tasks involved to carry out the mission is counter-infiltration, anti-piracy, anti-poaching and anti-trafficking. The Indian Navy has been made responsible for the overall maritime security, which includes both coastal and offshore security duly assisted by the Indian Coast Guard (ICG), State Marine Police and other Central and state agencies. The area of responsibility is divided in which the local marine police is responsible up to 22 km from the coast, ICG from 22 to 370 km from the coast and the Indian Navy beyond 370 km. However, this is not a rigid demarcation and will depend upon the operational situation.
Security of EEZ
There is more than 2.5 million square km of EEZ. The EEZ is a sea zone prescribed by the UNCLOS over which a state has special rights regarding the exploration and use of marine resources, including energy production from water and wind. The mining areas allotted under UNCLOS is about 2,000 km from the southern most tip of India. The ICG is directly responsible for the EEZ.
Good Order at Sea
There is a requirement to protect and control maritime trade in the Indian Ocean region and other maritime areas which are of economic interest to India. Asia's rise in economy and military power, globalisation, technology and many other factors guide nations as how to protect their maritime trade and commercial interests. Threats to the maritime environment effects the maritime operational matrix. This has been so since the world launched its first boat to trade goods. Council for Security Cooperation in the Asia-Pacific defines Good Order at Sea as "which ensures the safety and security of shipping and permits countries to pursue their maritime interests and develop their marine resources in an ecologically sustainable and peaceful manner in accordance with international law." Hence, a lack of Good Order at Sea is evident if there is illegal activity at sea or inadequate arrangements for the safety and security of shipping. Recent developments in regional waters still indicate a general lack of Good Order at Sea. Seafaring nations have joined hands through various organisations to implement Good Order at Sea. Good Order at Sea underpins and supports maritime trade and commerce.
Role of the Indian Coast Guard
ICG was formally established on August18, 1978, and operates under the Ministry of Defence. It is responsible for EEZ, for economic exploitation of maritime resources. The Maritime Zones of India Act was passed on August 25, 1976. Under this Act, India claimed 2.01 million sq km of sea area in which she would have exclusive rights for exploration and exploitation of resources, both living and non-living, at sea. ICG also has in its charter ensuring the safety and protection of artificial islands, offshore terminals, installations and other structures and devices in any maritime zone; protection to fishermen; anti-smuggling operations and other matters like measures for the safety of life and property at sea. The ICG works in close cooperation with the Indian Navy, the Department of Fisheries, the Department of Revenue (Customs) and the Central and state police forces.
Security at Sea
Shipping is the most important means of carrying out global trade and commerce. It can also be very vulnerable to multiple threats which effect Good Order at Sea and disrupt the smooth flow of trade. International Maritime Organisation (IMO) has recognised that the best way of improving safety at sea is by developing international regulations that are followed by all shipping nations. IMO thus issued a new version of the International Convention for the Safety of Life at Sea (SOLAS), which is considered the most important of all treaties dealing with maritime safety. Unfortunately the vastness of the oceans makes this a very challenging task. The threats to maritime domain are:
Piracy and Armed Robbery
The movement by sea of large volume of commercial freight and its mandatory movement through maritime choke points, such as the Panama Canal, Suez Canal, Strait of Hormuz, Strait of Bab-el-Mandab, the Malacca Strait and the Bosphorous Strait invite piracy. Regional cooperation among states has an important role to prevent piracy and armed robbery against ships. As per Oceans Beyond Piracy, the total global cost of suppressing piracy in 2013 was $3.2 billion which implies that international community spent $139.1 million for each attack that took place in 2013.
Somalia and the Gulf of Aden. The Gulf of Aden is a key waterway for shipping, especially for the Persian Gulf oil as about 11 per cent of the world's seaborne petroleum passes through the Gulf of Aden on its way to the Suez Canal or to regional refineries. India receives about $50 billion in imports and sends $60 billion in exports through this area annually. Piracy has been predominant in the seas off Somalia and the Gulf of Aden between 2005 and 2012. There has also been an increasing number of attacks in the Gulf of Guinea. The Djibouti Code of Conduct was adopted in 2009 for Repression of Piracy and Armed Robbery against Ships in the Western Indian Ocean and the Gulf of Aden. India was an observer at this meeting. Joint patrols by multinational naval coalitions in the form of Combined Task Forces 150, 151 and 152 are examples that are responsible for conducting counter-piracy and counter-terrorism operations wherever required. Due to such efforts Somalia-based piracy has shown a significant decline after its peak in 2011 but still Somali pirates attacked 23 vessels in 2013. During the last decade or so 554 incidents off West Africa were reported to the IMO, majority of the attacks being carried out in the territorial waters involving vessels at anchor. The aim was theft and not hijacking or kidnapping for ransom as was the case in the Indian Ocean. However, the maritime traffic is still at risk.
Malacca Strait. Malacca Strait is located between Malaysia, Singapore and Indonesia. It is one of the world's most important international shipping routes, with 65,000 vessels passing through annually, carrying about one-third of the world trade and half of global energy supplies. It also connects Indian Ocean with the Pacific. This region has a reputation of piracy with most cases reported are 'hit-and-run' robberies of fishing boats and commercial vessels. The Regional Cooperation Agreement on Combating Piracy and Armed Robbery against Ships in Asia (ReCAAP) was concluded in September 4, 2006, by 14 contracting countries for this region in which India was also a member. This also includes the ReCAAP Information Sharing Centre for sharing of piracy-related information. Piracy peaked in 1990 and 2014 was a bad year for merchant shipping in this region. As per ReCAAP, 183 actual or attempted attacks took place in South East Asian waters during 2014. On June 11, 2014, an oil tanker Orkin Harmony, carrying 6,000 tonnes of petrol valued at $5 million was hijacked and was located a week later. When threatened the pirates slipped away with whatever loot they could grab. The crew was safe expect for one cook who was injured. Such incidents indicate that the guard cannot be lowered and concerted effort is required by all nations of the region to stem out piracy and armed robbery.
Current status. According to statistics compiled by Control Risks, during 2014 maritime piracy and armed robbery increased by 26 per cent which is the highest since 2011. Somali pirates accounted for a mere 4 per cent of global activity, attacks in the Gulf of Guinea reduced by 12 per cent but increased in Americas. Overall, Asia accounted for 30 per cent of the global piracy, with the most attacks in 2014 after a decade. The alarming situation for India was that criminal activity peaked during this period in the territorial waters of Indonesia and Bangladesh which brings it on India's doorsteps.
Maritime Terrorism
Maritime terrorism has a political goal thus unlike pirates, they attack ships which are symbolic of a nation's naval power, or are economic targets, or can be used as a weapon. As a response to the 9/11 attacks, the International Ship and Port Security code came into force on July 1, 2004, as a result of 9/11 which stipulated that merchant ships in international trade were required to be certified to a certain security standard.
Smuggling
This includes drugs, arms, people (both in transit and for destination, like the recent incidents in East Asia and near Italy) and any other contraband.
Other Threats
These include trafficking, illegal fishing including irregular and unreported, marine pollution, maritime accidents and security of seafarers and mercantile marine. The last is most important for maritime trade.
Some Other Asia-Pacific Organisations
Indian Ocean Naval Symposium (IONS). The IONS is a voluntary initiative that seeks to increase maritime cooperation among navies of the littoral states of the Indian Ocean region. It has 23 countries as members including India.
Heads of Asian Coast Guard Agencies Meeting (HACGAM). HACGAM provides a platform for pan-regional cooperation and was a take off from the Regional Senior Experts Meetings of Coast Guard Agencies of Asia which were held for combating piracy and armed robbery against ships. The first meeting was held in Tokyo in June 2004 and involved 17 nations including India. The first HACGAM in South Asia was held at Delhi on October 3, 2012.
Indian Ocean Rim Association. Their charter is to promote the sustained growth and balanced development of the region and of the member states. Maritime Safety and Security is one of key roles. It has 20 countries as members including India.
Western Pacific Naval Symposium (WPNS). They are a series of biennial meetings of the Pacific nations to discuss naval matters held on even numbered years. A WPNS workshop is held on odd numbered years in between the symposiums. Twenty-five countries have been participating including India.
Council for Security Cooperation in the Asia-Pacific (CSCAP). CSCAP is a non-governmental (Track II) process for dialogue on security issues in the Asia-Pacific. Membership in CSCAP is on an institutional basis and consists of member countries. Current membership comprises Australia, Brunei Darussalam, Cambodia, Canada, China, the EU, India, Indonesia, Japan, the Democratic People's Republic of Korea, the Republic of Korea, Malaysia, Mongolia, New Zealand, the Philippines, Russia, Singapore, Thailand, Vietnam and the United States.
Some Examples of Anti-Piracy Operations
After clearance from the United Nations during 2008, Indian warship has been consistently stationed in the Gulf of Aden for escorting Indian-flagged ships apart from providing protection to ships of other countries. An Internationally Recommended Transit Corridor (IRTC) 490 nm long and 20 nm wide has been recognised for use by all merchant vessels through which the ships are escorted. According to a report, 1,603 ships (175 Indian-flagged and 1,428 foreign-flagged from different countries) were escorted by Indian naval ships in the Gulf of Aden between October 2008 and January 2011. During this deployment for anti-piracy operations, the Indian naval ships managed to prevent 31 piracy attempts on merchant vessels. But the Gulf of Aden is not the only area where the Indian Navy was deployed. Since 2009 it has also deployed ships and aircraft regularly for anti-piracy patrols in the EEZ of Maldives, Seychelles and Mauritius at the request of these governments. Indian Navy has also been active in the East Arabian Sea as this region saw increased piracy from November 2010 onwards. Within four months, 120 pirates were arrested and 73 fishermen were rescued. This threat was more critical as it was closer to Indian shores. On January 28, 2011, an ICG aircraft while responding to a distress call from the CMA CGM Verdi, located two skiffs attempting a piracy attack near Lakshadweep. Seeing the aircraft, the skiffs immediately aborted their piracy attempt and dashed towards the mother vessel, MV Prantalay 14 (hijacked Thai trawler), but the Indian Navy managed to catch them resulting in killing 10 pirates, apprehending 15 and 20 Thai and Burmese fishermen being rescued. In a joint operation of the Indian Navy (INS Tir) and the ICG (CGS Samar) captured another hijacked ship MV Prantalay 11, captured 28 pirates and rescued 24 Thai fishermen.
Conclusion
Indian Navy continuously carries out patrols, goodwill visits and joint training to display a show of force, increased their presence in affected regions and integrate with other navies of the region for the safety and the security of the maritime domain. The current two-month deployment of the Eastern Fleet to East Asia is being carried for this reason. ICG carries out similar functions in its area of responsibility where applicable. With the present thrust on 'Make in India' policy by Prime Minister Narendra Modi, the maritime trade is bound to grow in the coming years and so will be the importance of security of the maritime trade.