Modern multi-role helicopters operate nearly autonomously in reconnaissance, anti-submarine warfaer, anti-shipping, transport, SAR and logistic roles
purchase abortion pill online
usa
buy
abortion pill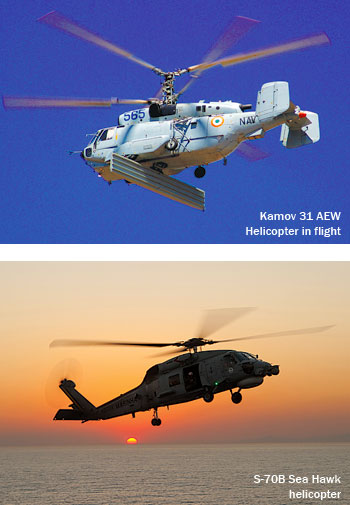 Helicopter is an ideal platform for maritime role as it can easily operate from a ship deck, hover for a long time and fly nape of the sea/earth to avoid radar detection. During World War II, Flettner Fl 282s were used by Germany and Sikorsky R-4s were used by the US for reconnaissance. R-4 and R-5 helicopters were employed by US and UK forces from navy cruisers and battleships by first supporting and later replacing catapult-launched observation aircraft. They were also used to recover pilots who ditched near an aircraft carrier. The helicopter's payload and endurance increased with improved technology thus the role of anti-submarine warfare (ASW) was added to it. In the early stages, helicopters operated as weapon delivery platforms with target information provided from ships. The development of the turboshaft engine and solid state electronics in the 1960s was a major milestone in the evolution of helicopters as this allowed smaller helicopters, such as the Westland Wasp, to operate from smaller vessels. Solid state electronics enabled helicopters like SH-3 Sea King to be equipped with integral dunking sonar, radar and magnetic anomaly detection equipment. This gave the helicopter very short reaction time to respond to any threat without waiting for directions from other ships. The need to carry two helicopters on board ship effected the design, both of the ship as well as the helicopter. Maritime helicopters are navalised for operations on the sea which includes enhanced protection against saltwater corrosion, protection against ingestion of water and provision for forced ditching at sea. Modern maritime helicopters such as the SH-60 Seahawk and the Westland Lynx are designed to operate from frigates destroyers and similar ships. In the US regardless of the mission, each helicopters utilises state-of-the-art computer, sonar, radar and air-to-ground weapon technology. Modern multi-role helicopter operate nearly autonomously in reconnaissance, anti-submarine warfare, anti-shipping, transport, search and rescue and logistic roles.
Indian Navy's Helicopters
Indian Navy employs helicopters nearly on all its ships. Some class of ships like Delhi can carry two helicopters, Talwar class and offshore patrol vessels can carry one helicopter each, landing platform/dock INS Jalashwa can carry six helicopters and aircraft carrier INS Vikramaditya can carry 12 helicopters. Indian Navy's operational fleet has more than 80 ships of all types which can carry helicopters ranging from one helicopter (like Talwar class) to a maximum of 12 on INS Vikramaditya which include light utility helicopters (LUH) to multi-role helicopters (MRH). Apart from the requirement for the ships, they also need helicopters for their marine commandoes. The Indian Navy has the following type of helicopters on its inventory:
Chetak
Advance Light Helicopter (ALH)
Sea King 42-(B/C (Sea King 42C is for Marine Commando Flight)
KAMOV-28
KAMOV-31
Naval Utility Helicopters (NUH)
Chetak. This helicopter is originally Aloutte III manufactured by Aerospatiale of France. It has an operational speed of about 185 kmph, service ceiling of about 3,200 metres and a range of about 540 km. Chetak was first inducted into the IN during 1961 and since then has been the main stay for all non-lethal roles. It is being manufactured by the Hindustan Aeronautics Limited (HAL) under licence. They are also in service with the Army and the Indian Air Force. Chetak has been in service for many decades, have been upgraded many times but still need to be replaced urgently due to their obsolescence.
ALH Dhruv. ALH is an indigenous helicopter produced by HAL and the basic version is meant to replace Chetak. Its operational speed is about 290 kmph, service ceiling about 8,380 metres and range of about 830 km. Variants based on Dhruv platform are light combat helicopter and light observation helicopter which are under development. Navy received its first ALH around March 2002 and the first Dhruv squadron was raised on November 12, 2013. The Navy has some misgivings of its ASW capability thus it is keen on acquiring Dhruv only in multi-role utility helicopter.
NUH. In 2012 a RFP was issued for 56 NUHs with option for 28 additional orders. The RFP stipulated a maximum take-off weight of about 4.5 tonnes, capable of being lightly armed for anti-shipping and ASW role and have state-of-the-art design. It should be able to operate from land and sea by day and night. The possible contenders were Eurocopter's AS565 MBe Panther, AgustaWestland's AW-109LUH, US' Bell and Kamov of Russia. AugustaWestland's alleged bribery case has thrown the proverbial spanner in the procurement. The procurement saga of the utility helicopters and their variants has a long history of twist and turns. Just to recap:
The Ministry of Defence (MoD) issued its first RFP for 197 helicopters in 2001 for urgent replacement of the Cheetah and Chetak helicopters, which had been in service for about four decades. Bell 407 and Eurocopter AS 350 B3 were short-listed and after the trials, it appeared that Eurocopter had won the race but the Government put the deal on hold to investigate allegations regarding the role of two senior army officers and a senior bureaucrat in pushing the deal for Eurocopter. No officer was punished and a fresh acquisition process was started. It was a major embarrassment as the French Foreign Minister visited India during end of 2007 to finalise the deal before it was to be signed in the presence of the former French President Nicolas Sarkozy, who was to be the chief guest during the Republic Day Parade 2008. It was understood that the Navy may also acquire them subsequently.
Subsequently MoD wanted to club the requirement of the Army and the Air Force for better bargaining and came to a requirement of a total of 312 helicopters.
Subsequently it has also been reported in the media that the Defence Acquisition Council (DAC) has approved the induction of 695 helicopters in the near future which include 384 light, 80 medium-lift, 22 attack, 16 anti-submarine warfare, 15 heavy-lift and 12 VVIP helicopters from foreign vendors, while another 166 will be the indigenous Dhruv ALHs. This appeared just a wish list with only the VVIP's contract finalised for 12 helicopters. After the delivery of three helicopters, news of kickbacks emerged and the deal was cancelled with India recovering the full bank guarantee. Fate of the three helicopters already delivered is not known and chances of them just being wasted away is quite likely.
From the above it clearly emerges that either the Ministry of Defence is not really serious of acquiring the helicopters or find it difficult to manage a large global defence tender. Meanwhile DAC's recent meeting under Defence Minister Arun Jaitley has cleared 32 HAL Dhruv helicopters for the Navy and Coast Guard. The RFP floated in 2012 for 56 LUH has made no headway.
MRHs
Sea King42 (A/B/C). They are manufactured by Westland Helicopters, has an operational speed of about 207 kmph, service ceiling of about 3,500 metres and range of about 1,230 km. Sea King helicopters were acquired by the Navy in the late 1960s for enhanced surveillance, ASW and search and rescue roles, and are now obsolete thus need replacement. Sea King42B was acquired in 1982 They have a problem of spares and a few numbers were to be up graded with day and night capability, equipped with better anti-ship missiles and operate in an all-weather environment. Sea King 42C is with Marine Commandoes, were acquired in the late 1980s and have troop carrying capability.
Kamov-28. Kamov-28 is manufactured by Kamov of Russia, has a operational speed of about 265 kmph, service ceiling of about 5,000 metres and range of about 975 km. It is capable of carrying out search, detection, tracking, engage surfaced and submerged submarines. The helicopter's avionics suite includes an integrated flight navigation system and a sighting system which provides all-weather navigation, submarine detection, weapons control, return flight to the mother ship and landing approach. It has been in service with the Indian Navy since the mid-1980s and is now getting obsolete.
Kamov-31. Kamov-31 is manufactured by Kamov, has operational speed of about 200 km, service ceiling of about 3,500 metres and range of about 590 km. The Ka-31 takes the Kamov capabilities even further by enabling real-time network-centric warfare for the Indian Navy. The latest out of the stable is Kamov Ka-31, airborne early warning (AEW) helicopter, recognised as a force multiplier in true sense. As the AEW version of Sea King was considered too expensive thus Kamov-31 was acquired from Russia in 2003. Some more were acquired in 2009. Kamov-31's belly-mounted NIIRT E-801M Oko (means eye) radar folds down and starts rotating. It can then detect 30-40 targets over a much larger horizon. The AEW capability is most critical for the Indian Navy as its ships are not big enough to operate a fixed-wing AEW aircraft.
Survey of Global MRHs
There are many MRHs in service in US, Europe and the Russian Federation. Some examples are:
Sikorsky's Sea Hawk series. Sikorsky's Sea Hawk series is a multi-mission US helicopter which is based on the UH-60 Black Hawk and is a member of the Sikorsky S-70 family. The US Navy uses the H-60 airframe under the model designations SH-60B, SH-60F, HH-60H, MH-60R, and MH-60S which can be deployed aboard any air-capable ship. They all are capable of all primary and secondary roles envisaged in a MRH. The latest Sikorsky and Lockheed Martins' MH-60R Seahawk® helicopter is considered the world's most advanced maritime helicopter. Mission gross weight for Surface Warfare (SUW) is 21,290 lb (9,657 kg), Maximum takeoff gross weight is 23,500 lb (10,681 kg), Mission endurance (SUW) is 3.30 hours, has a dash speed of 140 kts (about 260 kmph) and can carry anti-ship missiles, torpedoes and .50 calibre guns. The sensors include second generation integrated AAS-44 Forward-Looking Infrared system for expanded night vision and Hellfire targeting capability, new APS-147 multi-mode radar with long/short range search Inverse Synthetic Aperture Radar imaging and periscope detection modes, Integrated AQS-22 Airborne Low Frequency Sonar with expanded littoral and deep-water capability including concurrent dipping sonar and sonobuoy processing capability, military-off-the-shelf based mission and flight management computers, Advanced ALQ-210 Electronic Support Measures system for passive detection, location and identification of emitters and many other features.
NH Industries' NH90. NH90 makes extensive use of composite materials which make it lighter, reduces corrosion and reduces routine maintenance. NH90 is the joint effort of France, Germany, Italy, and the Netherlands. Portugal joined later on. The NH90 is produced in two variants i.e. Tactical Transport Helicopter for troops, and the NATO Frigate Helicopter (NH90NFH) for naval utility and anti-submarine. NFH is equipped with modular avionics system integrated with full glass cockpit, fly-by-wire control system with four axis autopilot and mission aids. It can operate in all-weather conditions both by day and night. Its flight envelope is from sea level to 6,000 metres. It is in service since 2006 and is on the inventory of 14 nations.
Navy plans for acquisitions of MRHs
Indian Navy had made plans to procure MRHs for their immediate requirement as well as their long-term requirement as follows:
Immediate requirements. Indian Navy had floated a RFP for 16 MRHs with options clause for 8 more, to replace Sea King 42 and 42A (phased out during 1990-91) for Sikorsky's S-70B and NF Industries' NH-90. It appears that no progress has been made on this RFP. It also does not figure in the first DAC meeting chaired by Arun Jaitley.
Long-term requirements. Indian Navy had plans to equip all ships and air squadrons with MRHs which were commissioned from 1997 onwards. It also included the requirement for ships which were to join the fleet as per the 14th Naval Plan until 2020. Accordingly it started the process of acquisition as per the DPP by issuing a RFI for the procurement of 123 MRHs about a couple of years back. They were termed Naval MRH(NMRH). The role was classic for MRHs i.e. ASW, anti-shipping and special operations. It should also carry out the secondary role of electronic intelligence and multi-role NUH. Highlights of the specifications were:
State-of-the-art aeronautics, avionics and armament.
Latest sensors which can detect, identify and classify all surface and subsurface targets. Also should be able to detect air targets.
Should be capable of air to air refueling.
Maximum all-up weight should be between 9 and 12.5 tonnes.
Should be able to operate from all Indian Navy's class of ships.
No progress has also not been made on this RFI. Thus it can be safely concluded that neither the NUH, MRH and NMRH are likely to figure on the inventory of the Navy in the next decade or so expect for limited quantities of Dhruv. The ships currently are sharing helicopters due to their shortage. The situation will get more acute as this paucity will grow as more and more helicopters are discarded due to obsolescence. The blue water Indian Navy will then have to operate with much reduced helicopter support which will result in comprising their safety and security at sea.