Government must think of developing self-dependency in weapon systems by providing an enabling environment and congenial ecosystem to foreign partners to be able to establish defence facilities in India.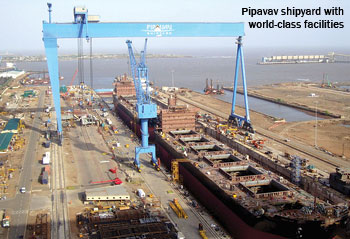 In its sixth edition since inception, the Defence Procurement Procedure 2013 (DPP 2013) has, for the first time, provided clarity on how indigenisation is to be achieved. However, while the articulation of this long cherished dream of self-reliance is in perfect harmony with idealism, the path towards its accomplishment may not be as easily achievable as the document aims through definition.
Till recently, the business of procurement did not consider the private sector capable of, or "reliable enough", to deliver requisite hardware in terms of weapon platforms or specialised systems. This led to the business of 'nominating' defence public secter undertakings (DPSUs) for such procurements that were intended to be produced indigenously. The risk of attendant time and cost overruns in the case of new technologies was never given forethought and sometimes even quality of the final product was questioned by the customer (the defence services). For decades therefore, we have continued to rely on the import option for most capital procurements while the Indian private sector waits in the wings to capture some opportunity to seriously compete and prove own worth. They feel that they have, so far, not been considered as partners in the business of defence production in India. What, then, is the answer to the business of true indigenisation that could reverse the current import – homegrown ratio of 70:30 to a satisfying 30:70 and will result in conspicuous strategic benefits? Without doubt, the answer lies in determining the components of, and establishing a defence industrial base in India.
First one needs to understand the full meaning of this construct. When originally coined, the term Defence Industrial Base – DIB for short – drew direct lineage from political science and implied a government's industrial assets that directly or indirectly produced hardware for the armed forces. Today's definition from the US military establishment describes this term as "the worldwide industrial complex that enables research and development, as well as design, production, delivery and maintenance of weapon systems, subsystems, components or parts to meet US military requirements".
In our case, however, psychologically even now the term is taken to mean its original significance – that of being the Government's industrial assets or, the public sector including PSUs and ordnance Factories. Its genesis lies in the initiation of the state-owned industry in the early 19th century when the East India Company established the Cossipore Gun and Shell Factory. Every ordnance factory that came up thereafter, added to the Government's kitty of defence production network. The chain of DPSUs that surfaced post-independence, served to strengthen the view that the only network of industries that could be relied upon to support indigenous Defence production was the public sector. In other words, the 'business' of defence was considered as being the sole responsibility of the government's establishments as none else could be relied upon to deliver. This feeling has continued to persist amongst all stakeholders despite details to the contrary in consecutive editions of the DPP. Contents of the latest edition have sought to change this perception and make the private sector an equal partner.
To say that the Indian private sector is capable of contributing to high technology needs of India's defence forces, would be an understatement. An industry that has taken the world by storm from pharmaceuticals to automobiles and electronics to information technology, imbibing cutting edge technologies through joint ventures and produce contemporary weapons is certainly not a tall order. To take stock of the national potential for design, development, production and support of defence platforms and equipment, we need to clearly understand capabilities of both, the public and the private sectors in India.
Despite being amongst the top 10 military spenders in the world, India has not progressed in creating a DIB, to move towards assured self-reliance. Therefore our annual imports still cost us between five and six billion dollars. There are two primary reasons for this situation. Firstly, one has to remember that we missed the industrial revolution. The other is the total dependence on the public sector for most of our indigenous effort. One has to contrast this situation with other large spenders – in both developed as well as the developing world. In all such countries, large defence industries support national needs and even earn foreign exchange through export of defence equipment. In India, on the other hand, defence requirements are met primarily through a mix of imports and government owned facilities (PSUs/ordnance factories).
Each year, we spend between 40 and 42 per cent of our total defence budget on equipment purchases/modernisation. Despite the existence of nine DPSUs and 39 ordnance factories, the products from these units meet only about 10 per cent of the total annual modernisation requirement of our defence services. While some of these industries provide a few capital goods, much of their produce includes ammunition and low-end stores. The three types of DPSUs that produce true capital products are HAL; BEL/BDL/ECIL/BHEL; and, the defence shipyards. There too, HAL has been engaged in "licensed" production of aircraft which begins in each project with CKD assembly and gradually moves towards in-house production with outsourcing of some components of airframe/avionics from the market. Only some projects have had complete indigenous production of major items like engines.
In the case of DPSUs, true transfer of technology (ToT) is yet to be witnessed in any contract with a foreign principal. Most contracts find only an "industrial arrangement" thus leaving these PSUs at their existing threshold of technology. The case of defence shipyards, however, is better. A bulk of the naval platform is produced with indigenous raw material and build-technology that has been harnessed through five decades of experience. Thus, almost 70 per cent of a ship by volume is of indigenous content. However, when it comes to value, almost 35 to 45 per cent of the cost of a frigate or destroyer still gets spent on import of propulsion systems, most weapons, some sensors and special equipment.
Though, it must be emphatically stated that the one conspicuous success story in the state owned sector is that of the conventional and strategic missile arsenal – developed by DRDO and produced by PSUs like the Bharat Dynamics Limited (BDL).
The private sector has mainly been involved in supply of raw materials, semi–finished products, components and spare parts to defence PSUs, ordnance factories, base workshops of army, base repair depots of air force and dockyards of the navy. Amongst the large private sector Defence players are Tatas (TCS, Tata Motors); Larsen & Toubro; Bharat Forge; Godrej; HCL; Kirloskar; Mahindras; Ashok Leyland; Wipro. These are mainly involved in supplying customised software, vehicles, machinery including gensets and propulsion engines (licensed production). None of them have yet entered into weapon–sensor development or specialised engineering items like indigenously developed propulsion systems. Why? Because they haven't got the opportunity despite having got requisite licences. Many times the reason points to the chicken and egg paradigm. The government will trust a private player only on the basis of past expertise or a proven product. The private industry cannot afford to set up an expensive assembly line without orders/assured returns.
Since enunciation of the first Industrial Policy after independence until the year 2002, munitions, aircraft and warships were meant to be the exclusive preserve of the public sector. It is only a couple of years ago that the private sector was permitted to enter (bid) areas of military systems/platforms. Yet, in 2005, the Standing Committee on Defence had to record that despite 55 years of independence; procurement of capital equipment remained reliant on imports. Eight years later, the story is no different and the inherent inertia may well keep it that way in the future as well, unless full participation by the private sector is witnessed soon. This is so because despite opening up to the private sector, a level playing field is not perceived by many hopefuls in that sector. Before it comes to tendering in big-ticket acquisitions like warships or missile systems, many a times the prerogative of 'nominating' DPSUs has (so far) been exercised. This trend neutralises competition and introduces time and cost overruns caused by inadequacies of the system. This monopoly has also meant that the private sector has neither had the incentive nor the opportunity to introduce cutting edge technologies – whether through ToT tie-ups or through their own innovation. Statements by the Raksha Mantri, in the run up to the latest DPP have instilled the confidence that the practice of nominations will now be a thing of the past.
In the case of Naval orders, a few private shipyards like Pipavav, Bharti, ABG etc have recently entered the business of shipbuilding – but all in the non-weapon category, like offshore patrol vessels (OPVs), training ships and yard craft. Another industry major, L&T, has established exclusive expertise in submarine construction and in specialised vessel construction and holds promise in warship construction as well. The field of warship construction does not require an assembly line, but only expertise in integration; therefore it is easier for existing commercial shipyards to venture into this field.
An important aspect of neglect of the private industry is that most of the intermediate and component level suppliers fall in the category of medium, small and micro enterprises (MSMEs). Small and medium enterprises play a vital role in the economic development of any country. But in advanced economies they form the upstream chain for supply of parts to the original equipment manufacturers (OEMs). In India, since there are hardly any OEMs of complete weapon systems or platforms, MSMEs have been expanding in numbers – only as suppliers of components, sub components and spare parts for PSUs, ordnance factories and a few big companies in the private sector itself. It is estimated that there are over 6,000 Indian MSMEs "registered" in this category – destined to supply only subassemblies as per the current trend.
A few large Indian companies have been granted licences for production of weapon systems and associated equipment, but they have rarely had the opportunity of bidding or winning contracts. Overall, the large number of MSMEs and a very few big players ultimately contribute only 10 per cent of the total turnover of the Indian defence industry and an even smaller percentage thereof for modernisation!
By measure of value, our PSUs have the lowest per capita productivity quotient. As per official statistics in the year 2010-11, this value was assessed at only Rs. 15 lakh per employee per annum for PSUs/ordnance factories as against Rs. 30 lakh being the national average for our private industry. In fact some industries like those engaged in electronics and automobiles have posted a near Rs. 40 lakh per capita figure over the last few years. The start point, therefore, for the public sector to turn around, must be "doubling" of efficiency! And since most of our defence industry (public sector) pertains to the mid- to high-technology arena, with a little infusion of manufacturing technology and funds, this is not a difficult proposition. The next step must be to lift the private sector from supply of only raw materials/ semi-finished products, parts and components, to the status of OEMs – whether through JVs, tie-ups or through indigenous development. The third step should be quick and easy grant of industrial licences (a mandatory requirement for defence vendors in India) to encourage new entrants to launch their products into the defence inventory. Currently, vendors lament a near six to 18 months wait for a licence (sometimes even denied after a long wait), followed thereafter by a hiatus of orders which in many cases is almost permanent! If survival of the PSUs/ordnance factories is a fear, perhaps a PPP model can be introduced for some (only some) major procurements over the next decade. But thereafter all must be treated as independent (equal) entities. Hopefully by that time, the PSUs should become as efficient and as technology hungry as their private counterparts. Programmes dedicated to skill upgradation of manpower must be introduced to prepare the large workforce in many PSUs and ordnance factories, for the workshops and products of tomorrow.
The last cap of 26 per cent in FDI in defence production was seen as a 'negative' by many in the industry. The recent upgradation to 49 per cent is encouraging as a step in the right direction for attracting foreign capital and accompanying technology from developed shores. However, many in the private sector feel the FDI cap must have liberal approval procedures. Only then will FDI generate interest in foreign manufacturers and prospective Indian partners. JVs cannot be established without liberal FDI regimes. And the easiest route for imbibing cutting-edge technologies is the FDI route. There are, of course, voices within the private sector that feel FDI should not be encouraged for defence as it will dilute the Indian boards and make Indian industry too dependent on foreign partners. These voices are in a minority and will get muted by the overwhelming 'ayes' for liberal FDI in defence.
The private sector should actually be leveraged as a strategic asset and helped in assuming full partnership (not just 10 per cent stake as at present). After all it is the private sector that has pushed the economy through advanced manufacturing, engineering and world-class products in information, communication and telecommunication fields apart from becoming a promising manufacturing hub with already a lead in global production of several types of machines. In addition the private sector has made India a leader in IT and ITES domains. This complimentarily can become a catalyst for indigenous development in defence related technologies and invite foreign partners' interest.
At the moment, there is negligible export potential for products made by the defence industry as they are not many items that evoke global interest. Once the private sector develops the experience and harnesses contemporary defence related technologies, these could be used for pushing exports. An automatic spin off would be a huge job creation potential apart from an organised ancillary/downstream industry. Taiwan and Turkey are conspicuous examples as are developed countries of the West.
The Defence Procurement Procedure was first issued in 2002 to streamline the acquisition process and transform efficiency and transparency of defence acquisitions. It has been revised and amended in several iterations since, the latest being DPP 2013. The best way to realize the true aims of this edition would be to have an "oversight" board or commission – comprising of a mix of independent professionals/economists and senior MoD functionaries – to frequently review/audit and put in place correctives.
Over the last few years, defence needs have been opened to the private sector and foreign investment. The aim has been to bring about a major restructuring and development of the defence industry. Yet, there remains a huge untapped potential of the private sector. Looking at the vast network of defence PSUs and ordnance factories, one would think that their capacity and workforce (nearly 1,80,000 skilled personnel) should be sufficient to cater to most requirements of Indian armed forces. However, capability of DPSUs and ordnance factories has remained insufficient to match the growing demands of technology. The reasons were cited in the opening paragraphs of this article. Despite having missed the industrial revolution, we can still make up by aggressively rejuvenating the public sector through infusion of technology by way of PPP tie-ups and JVs. Surely, we are capable of much better outputs and this country deserves the fruits of its true potential – hidden in the private sector as well as in the public sector, and, more importantly in the PPP model! Skill upgradation of the public sector work force is very essential. The private sector must be made full and equal partner in the defence industrial base. MSMEs must be encouraged to participate and get active membership of the supply chain for products. Lastly, half the battle will be won if the process of initiation of private players is accelerated and made "market friendly". Single window clearances for approvals and licences must be introduced to encourage those waiting to obtain industrial and/or weapon manufacturing licences.
Nations accord the highest importance to building a vibrant DIB so that they achieve strategic autonomy through political independence, enjoy the economic advantage in procurements and obviate denial regimes in times of crisis. Self-sufficiency or self-reliance are terms that become meaningful only when a competitive and well spread out Defence industry is allowed to flourish within the country. Encouraging big players to assume OEM status and win contracts will also prove beneficial in enhancing economies of scale through efficiency of the shop floor. The answer clearly lies in unleashing the latent and the conspicuous capability quotient of the DIB which must list all public and private sector players capable of contributing to the needs of Indian defence forces.
The author is a former Flag Officer Commanding-in-Chief, Eastern Naval Command