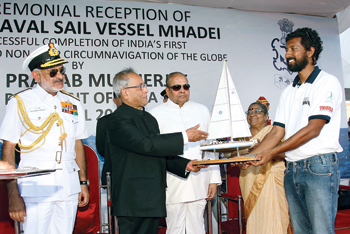 Indian Navy's Lt Cdr Abhilash Tomy wrote a new chapter in India's rich maritime history by becoming the first Indian to circumnavigate the earth under sails—solo, non-stop and unassisted. He embarked the Indian naval sailing vessel Mhadei on November 1, 2012, and set sail from Mumbai harbour to undertake a voyage no Indian had attempted before and few had dreamt of. In fact, so far, less than 80 people in the world have successfully completed such a voyage. The enormity of the feat can be gauged by the fact that in comparison, over 500 people have been to space and over 5,000 have climbed Everest.
Lt Cdr. Abhilash Tomy, a Dornier pilot, arrived at the historic Gateway of India to a rousing reception by brightly dressed schoolchildren and was accorded a ceremonial welcome by President Pranab Mukherjee, who is also the Supreme Commander of the Armed Forces on April 6. The Governor of Maharashtra K. Sankaranarayanan; Chief of the Naval Staff Admiral D.K. Joshi, Flag Officer Commanding-in-Chief, Western Naval Command, Vice Admiral Shekhar Sinha were also present to receive the new sailing icon.
"To sustain a long voyage of over 150 days at sea, solo, non-stop, unassisted and sailing through some of the most treacherous oceans of the world is a remarkable feat. This rare achievement showcases the spirit of determination, resolve and courage of both the individual and the organisation he represents," said the President. He added, the solo circumnavigation, apart from being a physically arduous task, also requires very high standards of knowledge of navigation meteorology and boat maintenance. "The circumnavigator not only gets tossed around by the rough seas but also has to fight solitude and the imponderables of life at sea, away from civilisation. Battling wave heights of 9-10 metres and wind speeds in excess of 100 kmph coupled with Antarctic chills can be an extreme test of human endurance," said the President.
"I am sure that this achievement of Lt Cdr Abhilash Tomy will continue to be a source of inspiration for future generations of young seafarers. His epic voyage has placed our nation into the ranks of a few select countries whose citizens have been successful in braving such an arduous voyage," the President added. "To undertake crossing of the three Capes, i.e. Cape Leeuwin, Cape Horn and Cape of Good Hope, alone requires courage, determination and grit of the highest order," the President said, lauding the Navy officer's spirit. Responding to the welcome, Lt Cdr Abhilash Tomy said, "It is fulfilment of a 14-year-old dream and four years of hard work. This difficult voyage was made possible by efforts of lots of people." He singled out his aide Mohammad Alam, and stated, "He was the person I missed during these 150 days." Later, talking to reporters, Lt Cdr Abhilash Tomy said that the scariest moment of the voyage was when he encountered the rough sea near the Cape of Good Hope. Lt Cdr Tomy switched off his boat's engine on November 1, 2012, soon after leaving the Mumbai harbour and switched it on again on April 6, 2013, to get the boat alongside the Gateway of India.
He has sailed around 23,100 nautical miles, crossing the Indian, Southern, Pacific and Atlantic Oceans. His route, from West to East, took him south of the continents of Australia, South America and Africa, thus rounding the three "Great Capes" — Cape Leeuwin in Australia, Cape Horn in South America and Cape of Good Hope in Africa.
Admiral D.K. Joshi informed that it was Pranab Mukherjee who had sanctioned the 'Sagar Parikrama' project as the then Defence Minister. The vessel was custombuilt for the Indian Navy and christened after river Mhadei in Goa in 2009. This was its second solo circumnavigation trip within a span of four years, the first being skippered by Cdr Dilip Donde.