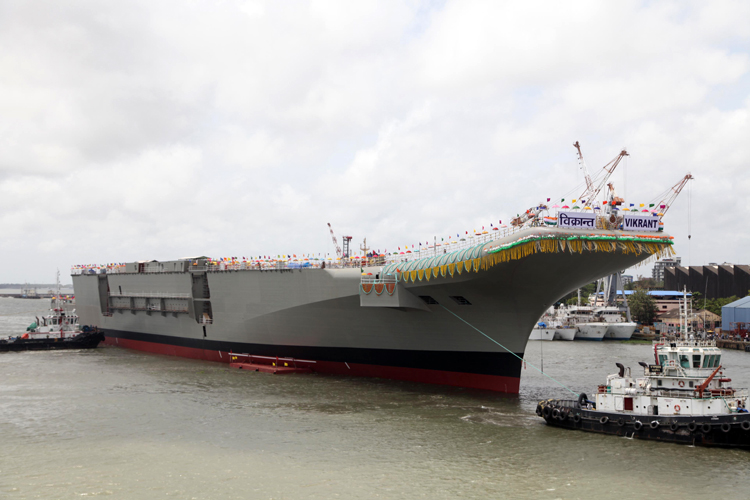 IAC Vikrant
Indian military acquisition is a sorry tale of delays. Indian Navy has been at the fore front of indigenisation and acquisition of assets. Although with delays, Navy, unlike the other two services, has been acquiring platforms regularly. Its intent is to operate three carrier battle groups, where one carrier each would dominate the Bay of Bengal and Arabian Sea and one carrier would be at the dockyard for refit or maintenance.
Thanks to the paucity of funds, India has never been able to achieve this ambitious objective. Today, Indian Navy, for the first time, is having two simultaneous Aircraft Carrier (ACC) programmes and one operational carrier. But due to constant delays in the carrier programmes, one is not sure whether the third ACC will enter the service before the decommissioning of the existing one.
The lone operational carrier INS Vikramaditya, joined Navy on November 16, 2013 after a delay of over five years and a cost escalation of $ 800 million. For a period of four years, till the decommissioning of INS Viraat in 2017, India had two operational carriers. This became a possibility after a gap of 16 years after the decommissioning of INS Vikrant in 1997. After the commissioning of INS Viraat in 1987, India for a decade operated two carriers INS Vikrant and INS Viraat.
The under construction, INS Vikrant - Indigenous Aircraft Carrier -1 (IAC-1)- indigenously designed and developed, was called Air Defence Ship -1 under Project 71, is at least three years away from joining the Navy. On December 1, while addressing the annual Navy Day press conference, Indian Navy Chief Admiral Sunil Lanba said, "Work on Indigenous Aircraft Carrier, IAC 1, is progressing well and I am hopeful that the ship would join the Navy by 2020." However, Comptroller and Auditor-General (CAG) in a report had said that the completion of the ship is expected by 2023. Sanctioned in January 2003, the keel of IAC-1, being built at government owned Cochin Shipyard, was laid in February 2009 and was launched on August 12, 2013. The ship was originally expected to join service in 2018.
IAC-2 story so far
IAC -2, likely to be called as "INS Vishal", is expected to be a 65,000 tons conventionally powered vessel with catapult launched but arrested recovery (CATOBAR) to launch aircrafts from its deck. In May 2015, Defence Acquisition Council (DAC) allotted Rs 30 crore for the planning of the project. The specification of the project is yet to get nod from the government and is still more than a year away from approval.
Speaking on the IAC-2, Admiral Lanba, in an interview to SP's, had said: "The design and construction of an aircraft is indeed a complex process. Choices with regard to the type and capabilities of the carrier borne aircraft, propulsion, tonnage, etc. are often difficult to make since each option has its unique advantages."
"At the same time, financial prudence is an equally important consideration. We have invested significant efforts in evaluating each of these aspects critically. Recent technological advancement in the field of aircraft construction has also been examined thoroughly. We have arrived at a conclusion that the IAC-2 should be a step ahead from IAC-1 in terms of capabilities. Accordingly, we have approached the government for a go ahead for the project. Modalities for construction and timelines would be worked out separately once the design aspects are finalized," he added.
Based on the facts in hand, what time line should one expect IAC-2 to follow?
'Vishal' is a new ship not a follow on order of INS Vikrant. It is not only going to be a bigger vessel but also with new design features like that of catapult launch, a shift from ski jump which India has been operating. With new design comes new challenge. The project will go through every possible problem that arises while constructing a design to built ship.
Since, there is going to little similarity between the two ships of IAC-1and 2, one can expect repetition of all the challenges that the shipyard faced while constructing of IAC-1. Things will further get complicated as Navy do not intent to fly MiG-29K and is looking for different aircraft. A Request for Information was sent out by Navy sometime back.
The approval for construction of INS Vikrant was given by the Cabinet Committee on Security (CCS) in May 1999, with revisions in October 2002 and July 2014. The design and construction of the ship was sanctioned by the government in January 2003. The keel of the ship was laid on 28 February, 2009 by then Defence Minister AK Antony and was launched on August 12, 2013.
From sanctioning of the project in 2003 to expected availability in 2023, INS Vikrant would take two long decades. Similarly, Indian made French Scorpene submarine came almost half a decade late. Taking cue from these projects one can say that IAC-2, with its new design, should take not less than 15 years. One can assume it to be available not before 2030, provided all necessary approvals are given as early as possible.
Last year, when INS Vikramaditya went for maintenance refit, India was without any carrier for eight months. Till INS Vikrant becomes operational, India will have to face similar situations. This is not a very comfortable situation for any navy with expanding area of responsibility.
Any further delay will make the armaments and aircrafts technologically one generation behind the upcoming technologies which are expected to be operational by 2030 with leading militaries. Keeping in mind the expansion of Chinese Naval presence in Indian Ocean and its robust aircraft carrier programme, having three ACC is becoming a must for India. China is expected to have two operational carriers by 2020. Construction of third ACC, an 80,000 tons vessel, with electromagnetic catapults with conventional power is expected to enter service around 2030.
In the time line of 2030, when China is expected to have three operational carrier groups, India must have INS Vishal in its service. For this, government must give Acceptance of Necessity (AoN) to IAC-2 which does not seem possible as the design of vessel has not been frozen. AoN is expected to take not less than a year from finalisation of design.
One is left to wonder, whether the delay is because government is looking for advanced technology from abroad or is there a shortage of fund for initiating the project or government is waiting for the delivery of the INS Vikrant from the Cochin Shipyard?
The 4th meeting of the Joint Working Group on Aircraft Carrier Technology Co-operation (JWGACTC), formed under the Indo - US Defence Trade and Technology Initiative, took place in India from October 29 to November 3, this year. One of the major outcomes of four meetings JWGACTC is the Indian plan to go for Electromagnetic Aircraft Launch System (EMALS) CATOBAR for IAC-2. The working group is expected to meet again in 2018.
Government will have to come up with well thought out plan, with an achievable time line for 'Vishal' to keep the cost escalation within manageable limit and without hampering the availability of funds for other programmes. Carrier programmes are notorious for prohibitory delays and cost escalation. To support the long term strategic objectives of India, it is necessary for Ministry of Defence to master the time bound execution of these programs.