The marine version of the French fighter aircraft demonstrated the ability to operate from Indian Navyís aircraft carrier Vikrant which has recently set out for its crucial third set of sea trials.
RAFALE M (MARITIME VERSION)
In lieu of the constant activities concerning the security of the nation, defence forces of India are getting the much needed attention and going through the required technological upgradation. The most recent step towards that is the French manufacturer Dassault Aviationís Rafale maritime fighter jetís demonstration for the Indian Navy at the shore-based test facility (SBTF) at INS (Indian Navy Ship) Hansa in Goa. The marine version of the fighter aircraft successfully carried out a demonstration ski-jump to showcase its capabilities to operate from Indian aircraft carriers, especially its suitability to operate from indigenous aircraft carrier Vikrant. A ski-jump is basically an upward-curved ramp that allows aircraft to take off from a runway that is shorter than the aircraft's required takeoff roll. Ski-jump is a pivotal capability required to operate from Indian aircraft carriers.
Ski-jump is a pivotal capability required to operate from Indian aircraft carriers.
According to reports, the Rafale maritime fighter is likely to undergo an intensive 12-day test campaign at the INS Hansa facility, which features a 283-meter-long runway with a ski-jump. French defence minister Florence Parly indicated that France will be interested to supply the carrier-based jets during her visit to India last month. Earlier, an inter-governmental agreement was signed between India and France in September 2016 for procuring of 36 Rafale fighter jets for the Indian Air Force, 33 from which have been delivered.
The Rafale maritime fighter is the main weapon system of the French aircraft carrier Charles De Gaulle and has also displayed its interoperability with U.S. aircraft. French aircraft carrier and American carriers use CATOBAR while Indian carriers employ STOBAR which is why foreign fighters have to display this capability as a basic requirement. Carrier-based fighters majorly have three categories ó STOVL (short take-off and vertical landing), STOBAR (Short Take-off but Arrested Recovery) and CATOBAR (catapult take-off but arrested recovery).
India is also considering the Boeing F/A-18 for this requirement and the same is expected to hold trials in March.
Four planes were in contention for the deal which included Rafale (Dassault, France), F/A-18 Super Hornet (Boeing, US), MIG-29K (Russia) and Gripen (Saab, Sweden). India is also considering the Boeing F/A-18 Super Hornet (F/A-18) for this requirement and the same is expected to hold trials in March. The Boeing Super Hornet is a proven carrier-based multi-role fighter for the U.S. Navy. Last year, the aircraft accomplished a successful launch from the ski-jump ramp at Naval Air Station Patuxent River, Maryland which is a significant validation to demonstrate the Super Hornetís suitability for the Indian aircraft carrier.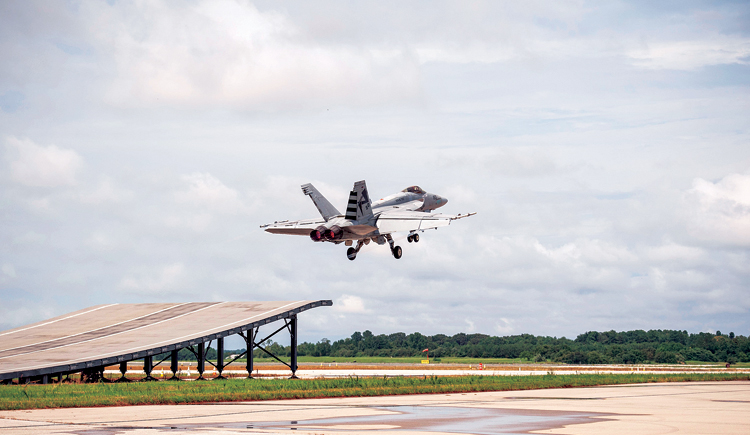 Boeing F/A-18 Super Hornet (F/A-18)
Originally, both the Rafale-M and F/A-18 are designed to operate from carriers with a catapult launch mechanism. Hence they need modifications and thus trials are happening to ensure their suitability. Both Dassault and Boeing are hoping for the massive deal from the Navy that hopes to purchase at least two squadrons of new fighters to operate from its aircraft carriers. A government-to-government agreement is likely to be signed based on the aircraft selected to pace up the process.
The Indian Navy is looking to induct new fighters that would replace the in-service MiG 29K.
In 2017, a Request for Information (RFI) was issued by Indian Navy to foreign players for 57 new fighters. The new aircraft would replace the in-service MiG 29K that have thrown some challenges when it comes to their service. This evaluation is also part of the larger Multi Role Carrier Borne Fighter (MRCBF) programme. The first test flight of the indigenous twin-engine fighter is likely to take place before 2026 and join the Indian Navy before 2031. The Indian Navy is planning to procure a batch of fighter jets for IAC (Indigenous Aircraft carrier) Vikrant that is likely to be commissioned in August. Aircraft carrier Vikrant, the largest warship to be built in the country, set sail for crucial sea trials ahead of its scheduled induction into the navy later this year.Vikrant has made India part of a special league of countries that have the capability to build aircraft carriers. This includes only the US, the UK, Russia, France and China.
IAC Vikrant moves on for the third set of sea trials
At present, IAC Vikrant is undergoing important sea trials. After two successive high profile visits by the President and Vice President of India, IAC Vikrant is now heading out for the next set of sea trials. While the maiden sea trials held in August last year established propulsion, navigational suite and basic operations, the second sea trial later in October-November witnessed the ship being put through its paces in terms of various machinery trials and flight trials. The ship in fact was out for 10 days proving its sustenance in the very second sortie. Several seamanship evolutions were also successfully cleared during the second sortie, reported the official press release. Having gained adequate confidence in the shipís abilities, the IAC now sails to undertake complex maneuvers to establish specific readings of how the ship performs in various conditions. In addition, various sensor suites of the ship would also be tested.
IAC Vikrant boasts 76 per cent of the equipment being indigenously sourced and is expected to be commissioned in August this year as the nation celebrates 75 years of Independence.
The IAC is being established as a success story on numerous counts. The carrier boasts 76 per cent of the equipment as indigenously sourced. The close engagement between the design teams of the Indian Navy and Cochin Shipyardhas been highlighted as a high-point in the largest and most complex warship ever to be built in the country. The ship being been able to carry out basic flying operations from its very first sortie itself is a landmark in Indian warship construction history. On successful completion of this series of progressive sea trials, the ship is scheduled to be commissioned as INS Vikrant later this year, as the nation commemorates ĎAzadi ka Amrit Mahotsaví.