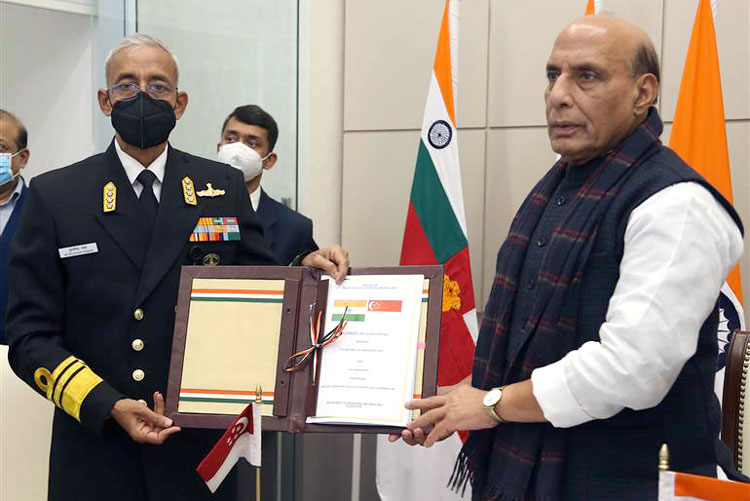 INDIAN DEFENCE MINISTER RAJNATH SINGH AND THE MINISTER FOR DEFENCE, REPUBLIC OF SINGAPORE, DR. NG ENG HEN VIRTUALLY WITNESSING THE SIGNING OF THE AGREEMENT
As Singapore Navy augments its underwater war fighting assets, it has entered into a significant agreement with the Indian Navy, which will come to the rescue of Singaporean submarines in times of crisis or a major accident. Similarly, Indian Navy can also count on Singaporean submarine rescue capabilities while roaming in South China Sea. This cooperation agreement for submarine rescue, will also enable Indian Navy to enhance submarine patrol in the South China Sea region.
An agreement to this effect was signed on January 20, 2021 after the conclusion of India-Singapore defence dialogue led by Indian defence minister Rajnath Singh and Singaporean defence minister Dr Ng Eng Hen. Jointly chairing the virtual fifth defence ministers dialogue, Rajnath Singh and Dr Ng Hen expressed satisfaction at the growing defence ties between the two countries. Both sides reviewed the progress of various bilateral defence cooperation initiatives being pursued over the last year and expressed commitment to further elevate the scale of defence engagements between the armed forces as well as in the areas of defence technology and industry. During the dialogue the two ministers discussed the new areas of potential cooperation and articulated their vision in this direction.
Indian Navy has, in recent years, acquired much desired new capabilities in submarine rescue. In 2016, Indian Navy had entered into a 193 million pound agreement with the British firm JFD to supply two third-generation fly away rescue systems and both were delivered in late 2018 . Since then Indian Navy has completed final sea acceptance trials. Prior to this Indian Navy had an arrangement with US Navy to provide rescue and support services to Indian submarines. Only a select few countries have this kind of capabilities.
The contract with JFD included Deep Search and Rescue Vehicles (DSRV), Launch and Recovery Systems (LARS) equipment, Transfer Under Pressure (TUP) systems and all logistics and support equipment required to operate the service. The contract includes a 25 year all encompassing maintenance support service.
After the induction of this rescue system, the then Indian Navy Chief Admiral Sunil Lanba had said, " The DSRV induction is a landmark event and it marks the culmination of years of focussed efforts of the Navy, in acquiring niche submarine rescue capability . With these capabilities, the Indian Navy has joined select league of navies that operate such systems.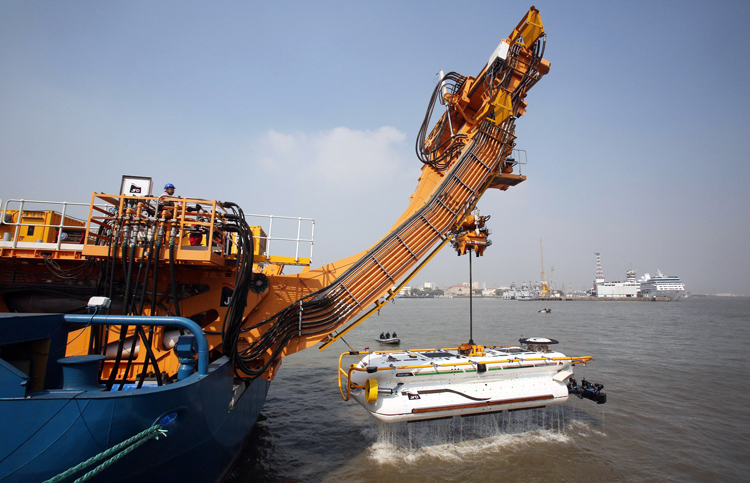 DEEP SEA RESCUE VEHICLES ACQUIRED BY THE INDIAN NAVY
Since, Singapore is India's strongest strategic ally in South East Asian region, it is significant that the two maritime powers have joined hands to allow seamless operations of each other's underwater platforms. Singapore already has a deep rescue vessel named MV Swift Rescue, which was inducted in 2008 which helped Singapore emerge as the first maritime power in South East Asia to possess submarine rescue facility. The agreement with Indian Navy will supplement both navies capabilities in rescue of submarines in deep distress.
As Indian and Singaporean Navies already enjoys strong navy to navy cooperation, this latest agreement will go a long way in further strengthening links with a South China Sea maritime power. Though Singapore Navy is not a big naval force, it has a robust capability to deter any aggression in its waters.
Singapore Navy possesses four powerful submarines, two of which belong to Challenger and two to Swedish Archer Class. With these capabilities, the Singapore Navy is one of the more capable maritime forces among South East Asian countries. In recent years, Singapore has been looking to further boost its fleet by inducting new attack submarines from Germany's Thyssen Krupp Marine Systems. The new submarines of the Invincible class are expected to be delivered starting this year. In this backdrop, Singapore's move to enter in submarine rescue cooperation agreement with Indian Navy is significant.
The navies of the two countries have developed intimate relations over the decades and presently the two navies are annually conducting anti submarine warfare exercises called Singapore – India bilateral maritime exercises (SIMBEX). Besides, the two countries are also cooperating in the domain of Air Force and Army.