Navantia has awarded SAFT a contract to cooperate in a R&D project named "BALIT" for the development of latest-generation Lithium-ion batteries for submarines that are aimed to deliver 20% more energy density than last-decade Lithium-ion battery technologies.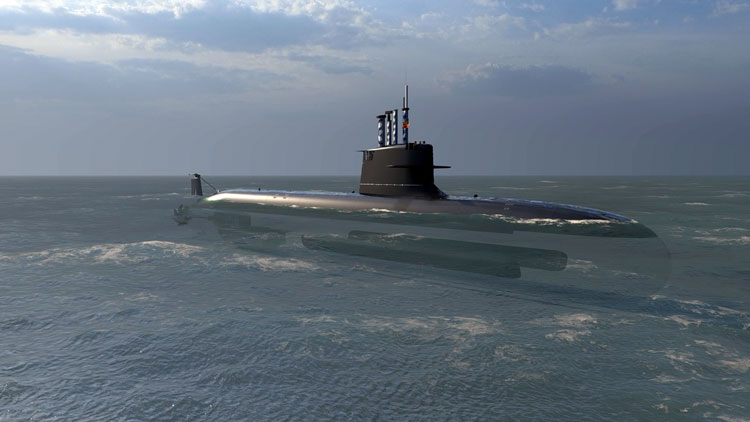 THE S80 PLUS SUBMARINE DESIGNED BY NAVANTIA
The award follows a survey of international companies with background in Lithium battery technologies, with the viewpoint of developing next-generation batteries, which could be implemented into future submarines. Navantia has been studying the integration of LIB technologies over the last few years. Project 'BALIT' will consider Navantia's design for P75(I) India as baseline design for implementation of the new batteries.
India's Project 75(I) is the most important and strategically significant naval program being undertaken by the Ministry of Defence (MoD), involving the construction of six conventional submarines for the Indian Navy. Navantia's proposal is based on the S80P class, currently under construction by the Spanish Navy in Cartagena, Spain, with the first unit launched during the first quarter 2020, therefore providing a low-risk and modern design, very close to the Indian Navy requirements.
Navantia S80P submarine design is fitted with a latest-generation AIP system developed by Navantia in cooperation with Abengoa and Collins Aerospace, named BEST (Bio-Ethanol Stealth Technologies), which enables upto 3 weeks underwater operation with low-consumption profiles. The combination of such AIP system, together with next-generation Lithium-ion Battery (LIB) systems is complementary, since LIB systems are ideal for full speed scenarios facilitating quick entering or exit from warfare scenarios. Long underwater patrol periods combined with high speed possibilities bring tactical capabilities to a new level.
BALIT aims to develop and integrate prismatic Lithium Manganese Iron Phosphate (LFMP) cells. Such batteries discharge voltage and provide higher energy density than other LIB technologies developed during the last decade, combined with excellent safety performance and greatly increased thermal stability with significantly improved overcharge tolerance. LFMP LIB battery life cycle profile is superior to previous technologies, thanks to its excellent structural stability, close to lithium iron phosphate, significantly superior to ternary material; excellent high temperature cycling stability, superior to Lithium ion manganese oxide and outstanding electrochemical performance under low temperature.
Another advantage of this type of prismatic batteries is that they shall be compatible with the future solid state batteries, permitting easy replacement by such technology when available.
Navantia and SAFT plan to complete the first stage of the study within a 12-month period.