| | |
| --- | --- |
| | The Author is former Chief of Staff of a frontline Corps in the North East and a former helicopter pilot. He earlier headed the China & neighbourhood desk at the Defence Intelligence Agency. He retired in July 2020 and held the appointment of Addl DG Information Systems at Army HQ. |
During a state visit to the US in June 2023, Prime Minister Narendra Modi said, recalling his words to Russian President Vladimir Putin, "I have said directly and publicly, this is not an era of war, but it is one of dialogue and diplomacy and we all must do what we can to stop the bloodshed and human suffering".
Ukraine
The reference, of course, was to the war in Ukraine that was already into its sixteenth month then, having started on February 24, 2022. Unrelenting NATO expansion becoming a 31-member block from 15 at the end of cold war has been the casus belli of this forever war. The Ukraine situation reminds the world about the 1962 Bay of Pigs standoff when the USSR placed its missiles in Cuba, barely 90 miles from the US coast and the way the world came to the brink of a nuclear war.


NATO countries continue to supply Ukraine with modern weapons risking an escalation in the war
Cut to October 2023 and this war has seen a dangerous escalation as Ukraine has possibly used US -supplied long-range missiles known as ATACMS armed with cluster bomblets for the first time, targeting Russian warplanes and ammunition depots. Cluster munitions pose an immediate threat to civilians during conflict by randomly scattering submunitions or bomblets over a wide area and a convention banning the use of cluster bombs has been joined by more than 120 countries.
The ever-growing footprint of NATO with US Patriot missile system, M142 HIMARS rocket artillery and M777 howitzers, Abrams tanks, Bradley and Styker fighting vehicles, UK Challenger tanks, German Leopard tanks, Turkish Bayraktar TB2 armed drones, US-made and Denmark and Netherlands supplied F-16 warplanes which are due end of the year makes the theatre even more volatile and combustible. A small spark through a misstep encounter, say over the Black Sea where Russia has ordered fighter jets armed with Kinzhal hypersonic missiles to patrol, can spiral out of control anytime. The war has turned China into a 'Friend with No Limits' with Russia. Iran is supplying Russia with drones and North Korea has delivered ammunition and missiles.
Ukraine's use of ATACMS is a dangerous escalation in a sixteen-month war
This ratcheting up risks causing devastating destruction in NATO countries in the immediate neighbourhood of Ukraine and Russia such as the Baltic states of Estonia, Latvia and Lithuania as well as Poland and Romania should the war escalate. China will most likely wade in to support Russia along with Iran and North Korea. It would ensnare Russian ally Belarus which hosts a significant arsenal of Russian nuclear weapons now. Sensing the perilous path ahead, some NATO member countries like Finland and Slovakia have thrown out the ruling regimes in elections and distanced themselves from Kiev. With Middle East up in flames, support for Ukraine may simply wind down, helping Russia to mop up.
Israel
A relative calm since the 2006 Lebanon-Israel war in the Middle East has been rudely broken with the October 7, 2023 carnage inflicted by Hamas. Hamas fired some 7,000 rockets from Gaza overwhelming the supposedly impenetrable Israeli air defence system 'Iron Dome'. Infiltrating across the border by breaching the fence and using paragliders and boats, Hamas brutally butchered 1400 innocent Israeli civilians and has taken over 200 hostages.
Unprecedented violence by Hamas in Israel has shattered a decade of relative calm in the region
The response from Israel has been swift, forceful and even more brutal as expected. Caught off-guard, Israel's hawkish Prime Minister Benjamin Netanyahu has launched Operation Iron Swords and called up over 300,000 reservists. Punishing Israeli airstrikes in Gaza has so far killed over 5000 Palestinians and another 15,000 wounded. Hundreds of buildings have been reduced to rubble and a total blockade of food, electricity and water has left the two million Gaza population reeling in dire humanitarian crisis.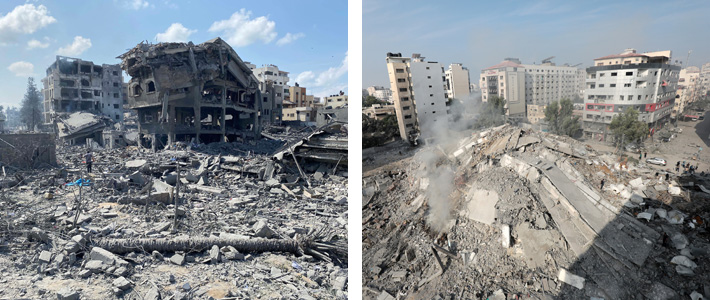 Parts of Gaza city are in complete ruins with thousands dead after the recent Israeli airstrikes
Iran backed Hezbollah has opened a second front to the north in Lebanon. Iran, Egypt and Turkey have threatened to jump into the inferno and called upon all Islamic countries to coalesce around the cause of Palestine. Religious wars are often the most bitterly fought and hardest to halt. While the US, UK and the west as also India have firmly sided with Israel, Russia and China have called for immediate ceasefire largely aligning with the 56 members OIC block.
Taiwan
In the Indo-Pacific, the gamble today essentially rivets around Taiwan. Taiwan is the biggest producer of the world's most advanced chips needed to make phones and drones, set up supercomputers and cellular networks, and even build new weapons. Strategically, a Chinese -controlled Taiwan would enable China to interdict air and sea routes in the East China Sea and increase China's ability to strike at targets in Japan or Guam. Conversely, US and allied forces would be pushed further afield, with their bases under even greater threat of Chinese missile or aircraft attack.


(File Photos) PLA Eastern Theater Command conducting joint training exercises around Taiwan
The Chinese Communist Party (CCP) has never controlled Taiwan, which before the end of World War II had spent centuries being colonised by the Netherlands, Spain, China and Japan. Thus, the Chinese 're-unification' agenda of President Xi Jinping is spurious, resting on the fact that at the conclusion of World War II and the defeat of Japan, Taiwan was placed under the control of the Republic of China (ROC) on behalf of the WWII Allies. In 1949–1950, the CCP drove the ROC Kuomintang (KMT) government out of China and into Taiwan. Since then, it is under 'self-rule'. Xi has drawn a red-line on any claims to independence under a muscular 'One-China' policy.
Taiwan continues to be the epicenter of a high-stakes geopolitical gamble being played out in the Pacific
Aggressive militarisation of the islands in the South China Sea has pitted contesting maritime neighbours like Japan, Philippines, Malaysia and Vietnam at loggerheads with China. The American push to maintain freedom of navigation through frequent patrolling and formation of alliances such as the AUKUS and QUAD to checkmate China as well as the trade wars have heightened tensions.
Prognosis
Where does India stand with regard to these three hot-spots? In the Ukraine conflagration, it has taken a nuanced stand as Prime Minister Modi's statement suggests. It has continued to import huge amount of discounted Russian oil under special payment arrangements despite tremendous American pressures. As Chair of the G20, India hammered a Delhi Declaration condemning wanton destruction of life and property in Ukraine without explicitly naming trusted long-time ally Russia. But in the Israel-Hamas flare-up, India has firmly condemned the 'terrorist' attack on Israel and appears siding steadfast with Israel and its US-led western backers. There is little to speculate on how India shall be placed should a conflict situation develop around Taiwan keeping in view its long-standing territorial dispute and tense border situation with China. It is also a member of the QUAD. On balance, let us say that we must not be swayed by one-sided narratives and must continue to protect our core national interests.
India is walking a diplomatic tightrope in navigating these three global flashpoints
The two World Wars have already taken a heavy toll on humanity. However, since the end of the Cold War, efforts to establish a world without arms and armed conflict have failed. Today's wars are mostly conducted without regard for civilian lives, the Geneva Conventions regulating armed conflict, or the interests of host populations in whose name they are fought. Why do present-day politicians, generals, governments, UN organisations and the galaxy of groupings like G7, G20, BRICS, OIC or the SCO appear incapable or uninterested in making peace?
Is a Third World War slowly unfolding?