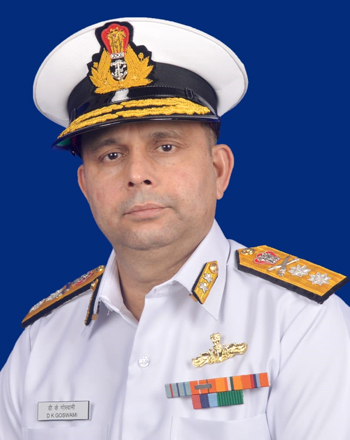 Rear Admiral Deepak Kumar Goswami
Rear Admiral Deepak Kumar Goswami took charge as the Admiral Superintendent, Naval Dockyard (ASD), Mumbai on July 31, 2023 from Rear Admiral KP Arvindan, AVSM, VSM.
RAdm Deepak Kumar is an alumnus of Naval College of Engineering, INS Shivaji and was commissioned into the Indian Navy in November 1988. He holds a B-Tech Degree in Marine Engineering and M-Tech Degree in Computer Science from IIT Madras. He is also a graduate of College of Defence Management (CDM), Secunderabad and National Defence College, Delhi.
In a career spanning 35 years, RAdm Deepak Kumar has served the Indian Navy in various capacities with distinction, that includes appointments at IHQ MoD (Navy), Command Headquarters, Naval Dockyard, Mumbai and Naval Ship Repair Yard. He has served onboard Guided Missile Frigates Godavari, Gomati and Beas. His staff appointments include tenures at the Directorate of Information Technology and Directorate of Personnel. The Flag Officer has served as Manager and Deputy General Manager in Naval Dockyard, Mumbai, as Command Engineer Officer at HQENC, Command Refit Officer at HQWNC and as Commodore Superintendent of Yard, Naval Ship Repair Yard, Port Blair. He was appointed as Directing Staff at the CDM on completion of Higher Defence Management Course at the institute.
On being elevated to the Flag rank, the officer was appointed as Admiral Superintendent, Naval Ship Repair Yard, Karwar on 19 March 2021 and hereinafter took over the reins of Naval Dockyard, Mumbai as the ASD.
Rear Admiral KP Arvindan, superannuates on 31 July 2023, on completion of an illustrious career spanning 36 years of commissioned service in the Indian Navy.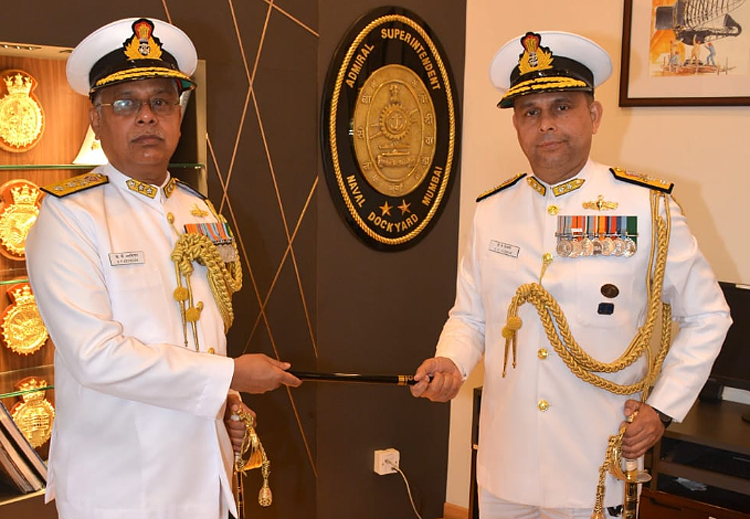 Rear Admiral Deepak Kumar Goswami took charge as the Admiral Superintendent, Naval Dockyard (ASD), Mumbai on July 31, 2023 from Rear Admiral KP Arvindan