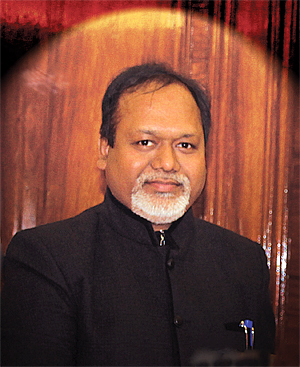 This issue coincides with the Aero India Show 2019 being held at Bengaluru from February 20-24. The show is one of the largest in Asia and mainly displays military aircraft, helicopters and unmanned aerial systems. India's prowess in air power and development of aerial platforms is also on display. In all, a total of 57 aerial platforms will be on dynamic or static display. Navy is the only branch of military which employs subsurface, surface and aerial platforms.
The fleet air arm is a key component of the Navy's combat power. Thus the lead article is on the current and future status of the Indian Navy's Fleet Air Arm. The author argues convincingly that a well-balanced and credible naval air arm plays a significant role in building a true-blue water capability and strategic reach, thus the Indian Navy's Maritime Doctrine has rightly incorporated comprehensive modernisation plans for its Fleet Air Arm through a twopronged approach. Firstly implementing mid-life upgrades and the upgrade of existing aerial platforms and secondly through the acquisition of state-of-the-art aerial platforms. The author reviews all the aerial platforms held and what the future holds for them. In technology development, India is well on its way to design and launch its home grown aircraft carrier but is still aeons away in developing its own carrier based fighter.
The article on surface ship naval technologies covers stealth, littoral combat ship design, sensors and armament. Stealth technology construction techniques include prevention or partial prevention of detection by one or more of radar, visual, sonar, and infrared methods. These techniques are a spin of technologies use for aerial platforms. India's annual Budget is once again here and as usual there is a marginal increase in Aircrafts and Aeroengines to the tune of 500 crores and for Naval Fleet there is an increase of 869 crores- the key elements of the Navy. Media had reported that with the 2019 budget, the Government is unable to pay for committed liabilities which implies that the past capital allocations have not kept up with the fiscal requirements thus this problem has arisen which requires a very careful review.
During the election year all governments also splurge in populists schemes. Unmanned Aerial Systems (UAS') are very versatile and can be used in a variety of roles to continuously carrying out of reconnaissance and surveillance, and acquiring of domain intelligence. It can also carry out limited domination with the use of armed UAS'. UAS' can be employed in all weather conditions by day and night without endangering any naval personal. They can thus be employed in dull, dirty and dangerous missions. An article on India's quest for naval UAS' including armed one like the General Atomics Aeronautical Systems' Guardian although its details are not known. The Navy also lacks in rotary ship based UAS' but there seems to be no progress. This issue just about wraps up with highlighting some key acquisitions of 2019 and the usual news digest. Happy reading and hope to see you discerning readers at Hall E, Stall Number 1.5.